Raiders cornerback Trayvon Mullen reacts to Jon Gruden resignation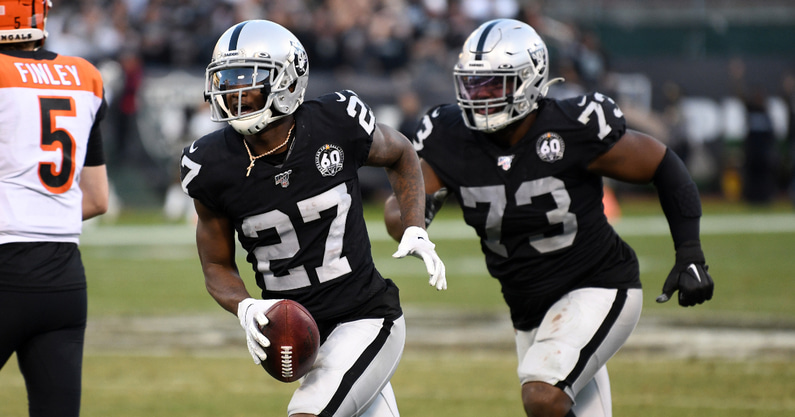 Las Vegas Raiders cornerback Trayvon Mullen on Tuesday afternoon posted a farewell message to former head coach Jon Gruden, who resigned after a slew of old racist, homophobic and otherwise offense emails were unveiled, and the former second-round pick appeared to express support of his former head coach.
Mullen posted a picture of himself and fellow Raiders cornerback Nate Hobbs celebrating a play. At the time of publication, the caption reads, "it's about how you finish, got you JG."
Though it remains unclear if the "JG" is in fact referencing Gruden, the post — which came less than 24 hours after his resignation — seems to back Gruden in light of recent events. Hobbs expressed support in the comments of the post, writing "you turn me up."
Mullen was amidst the best start to a season in his young NFL career, tallying 16 tackles (14 solo stops), one interception and four passes defended in just three games played. However, Mullen on Oct. 9 was placed on the Raiders' injured reserve with a toe injury that he suffered in Week 4 against the Los Angeles Chargers.
A product of Clemson, Mullen was selected by Gruden and the Raiders in the second round, with the 40th-overall selection in the 2019 NFL Draft. He posted 94 tackles, 4.5 tackles for loss, four interceptions and 12 pass breakups in 41 appearances for Clemson, starting just 26 games. He was a second team All-ACC selection in 2018, his junior season and final year with the program.
Gruden resigns from Las Vegas Raiders after email release
Las Vegas Raiders head coach Jon Gruden informed his staff last night that he planned to resign as the Raiders head coach. Gruden's resignation comes after uncovered emails showed the Raiders head coach used racist, misogynistic and homophobic language.
His resignation was accepted by Mark Davis, the Raiders' owner. He signed a ten-year contract in 2018 worth $100 million, and he had led the Raiders to a 3-2 start to the 2021 season. It was his second stint with the franchise, previously serving as the Oakland Raiders head coach from 1998-2001.
Two news stories were released in a one-week span that led to Gruden's downfall. First, the Wall Street Journal described an email sent by Gruden back in July of 2011, which contained the use of a racist trope directed at NFL players of association executive director DeMaurice Smith.
"Dumboriss Smith has lips the size of Michelin tires," Gruden wrote in the email that has since launched an investigation, per Andrew Beaton of The Wall Street Journal.
Then, on Monday, The New York Times detailed in a report that Jon Gruden made more offensive comments in emails over the course of his career.
"Gruden's messages were sent to Bruce Allen, the former president of the Washington Football Team, and others, while he was working for ESPN as a color analyst during "Monday Night Football." In the emails, Gruden called the league's commissioner, Roger Goodell, a "faggot" and a "clueless anti football pussy" and said that Goodell should not have pressured Jeff Fisher, then the coach of the Rams, to draft "queers," a reference to Michael Sam, a gay player chosen by the team in 2014," The New York Times wrote.