Building a juggernaut: All-access with Super Bowl-winning QB Trent Dilfer at rising national giant Lipscomb Academy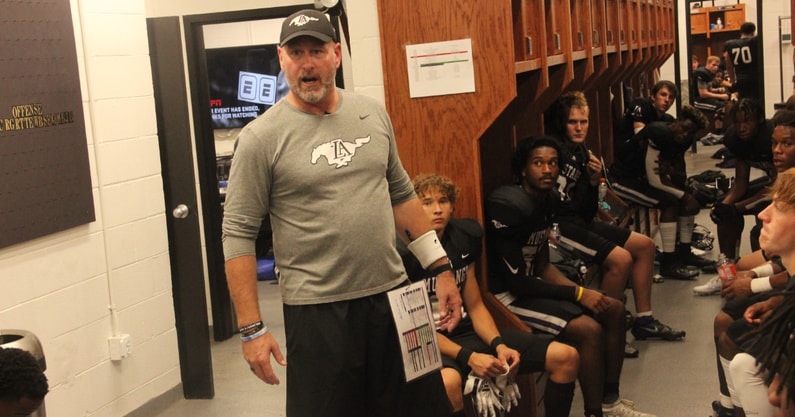 Coach Trent Dilfer and the Lipscomb Academy staff gave On3 an exclusive all-access look at the Mustangs during a week in mid-August. It provided a behind-the-scenes view of the program's college-like infrastructure, its star-studded coaching staff, its comprehensive strength and nutrition program and its growing talent pool that previews the national power — and recruiting hub — it could become.
NASHVILLE — Sprawled out in a baby blue button-down dress shirt, khaki pants and white-and-tan sneakers, Trent Dilfer is smiling broadly as he leans back in his chair and puts his feet up on his desk.
That seat is more throne than chair.
Dilfer, a Super Bowl-winning quarterback with the Baltimore Ravens and a former nine-year ESPN analyst, is sitting in his office, tucked away in the top corner of the McCadams Athletic Complex. With his "Lion Queen" by his side, a 2-year-old rescued pit bull mix named Nala, it's as if Dilfer is overlooking his kingdom at the Lipscomb Academy football stadium.
If he looks closely, the coach can see what he's created — a rising giant on the trajectory of becoming one of America's best high school programs.
Building a juggernaut
Dilfer and ESPN parted ways in 2017, and he was looking for a new challenge. He felt he could make an impact at the high school level, and he chose to take over at Lipscomb Academy in 2019.
After the Mustangs had gone a combined 3-19 in the previous two seasons, Dilfer gave them a complete facelift. In his first season, they finished 7-6 with a state semifinal appearance. Last season, an 0-2 start gave way to an 11-3 record and state runner-up finish. In year three, the program could be on the cusp of a potentially transformative season.
"I didn't have any goals; I had a vision for what it could become," Dilfer said. "I had expectations of how to get there. Both those things are happening as well, if not better, than I thought."
Dilfer is the coach, but he runs the team as a sort of CEO. He prefers to call this a company instead of a program because of the extensive web of departments that make it run. That's clear after getting a long look at the day-to-day operations and big-picture dealings.
There's Dilfer's role as glad-hander with the boosters and other potential donors, his way of commanding respect from his staff and players, his sometimes subtle but often explosive intensity on the sidelines (an intensity that came with controversy two weeks after On3 spent time with the program, which we will get to later), the complex offensive schemes he is in charge of as the play-caller and the admiration his players and their parents have for him — all of that is noticeable.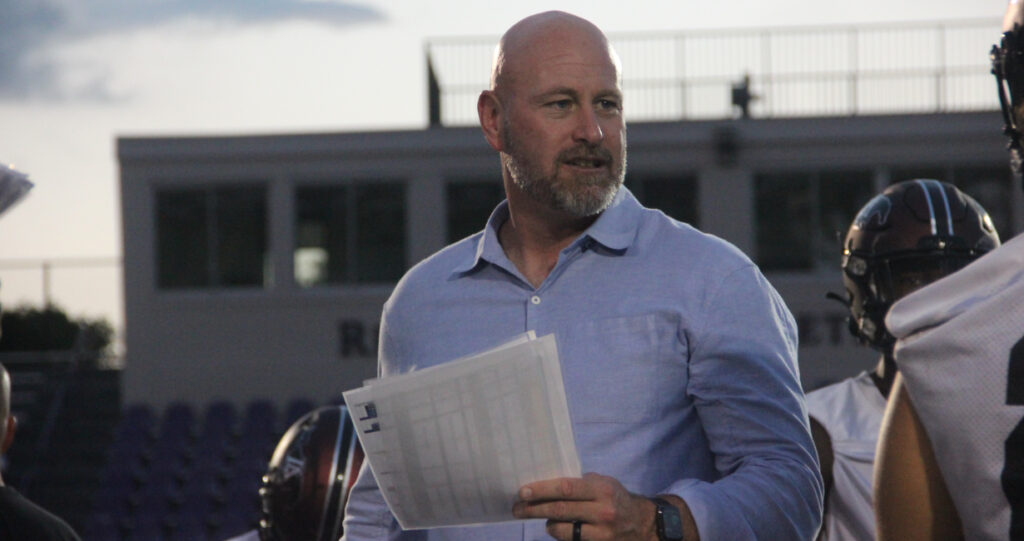 It's clear to see Dilfer wears the crown here. But this is more democracy than monarchy, and Dilfer is more president than king. Or, as he puts it, he is more of an overseer.
"I say this jokingly, but they know it — it's not a democracy," Dilfer said. "I will make the final decision. But I hardly ever do. I have that ability to do it. There's going to be a time when I need to make a decision. I never get there because I have so many good people around me that you never end up having to make some authoritarian decision. It's 99.9 percent collective."
Dilfer is the face of the Mustangs. But the inner workings are just as important.
There are three moments that Dilfer knows were the biggest in establishing Lipscomb. First was the McNamara family — son Cade is the quarterback at Michigan — moving to Nashville from Reno, Nev., and "culture builder" Kyle McNamara (Cade's younger brother) going from zero offers to earning a spot as a Michigan receiver through one year of hard work with the Mustangs. Word of mouth was spread from the McNamara family to others that Lipscomb was a launching pad.
The second was Dilfer's decision to go with a two-platoon system, allowing each player to develop more completely at a certain position. Instead of being a jack of two trades, they become a master of one and have a better chance of earning a scholarship.
The third was his hiring of a strength coach.
Hiring respected NFL strength coach
Luke Richesson's hiring was a turning point. Richesson spent 10 seasons in the NFL and was viewed as one of the league's most respected strength and conditioning coaches. He spent three seasons with the Jacksonville Jaguars, six with the Denver Broncos and one with the Houston Texans, earning praise for revamping the workout and nutrition regimen at each of his stops. Richesson was with the Broncos when they reached two Super Bowls, winning one.
He left the NFL in January 2019 and eventually gave Lipscomb a boost when he chose to join Dilfer. Richesson started by getting the program to spend more than a quarter-million dollars on a weight room. He was involved in the designing of what the Sorinex Fitness brass called "the finest high school facility they've ever built," Dilfer said.
There are 16 squat racks with multiple lifts available at each one, state-of-the-art dumbbells that give a player the option of changing weight and resistance, weighted vests and cutting-edge technology for recovery — including an ice bath that reaches 40 degrees, boots that keep toes from freezing while in that tub, therapy tables and Theraguns.
There are basically no lifts that can't be done here. Lipscomb has had more than 10 NFL players lift there in the offseason, including George Kittle, Taylor Lewan, Quenton Nelson, T.J. Hockenson and David Quessenberry. Dilfer noted that some of the pro players said Lipscomb's is equal to or better than an NFL facility.
The strength and conditioning program is complex and intricate, with a personalized plan designed for each position group and lifting groups organized by strength.
The team lifts about 325 days a year, and lifting days are run with precision. If 10-plus players are deadlifting, for example, they each go down and come back up in near-perfect synchronization – a technique from Richesson in which he stresses the tempo of lifts in addition to calculating the exact percentages for each set that each player needs to do. It's a scene ripped straight from a movie like 300.
"When you see our guys lift, it's the closest thing you're going to see to the Roman Army," said Joey Roberts, Lipscomb football's chief of staff.
It's a far cry from Dilfer's first days at Lipscomb, when he saw multiple kids lifting with 5-pound weights attached to the ends of PVC pipe because they couldn't lift the regular 45-pound bars. That's not hyperbolic: The players literally were lifting using PVC pipe.
One of those same kids blew up from 136 pounds as a freshman to 178 pounds as a senior. That's one of many recent testimonials.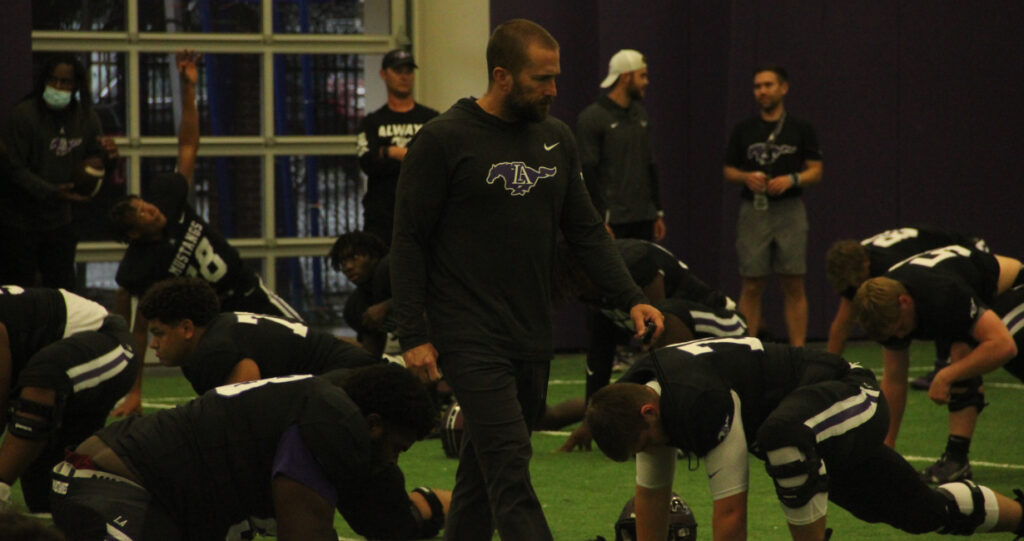 There's Carson Pearman, the team's starting center, who has gone from 185 pounds to 242 pounds and is one of the team's strongest players. Brandon Solis, a 6-foot-7, 265-pounder whose main sport is basketball, has added 20 pounds of muscle in the past year and is on his way to earning Power 5 offers in just his second year of playing football. Freshman Chauncey Gooden, 320 pounds as an eighth-grader, is now 290 pounds and should be a Power 5 guard someday. Kaleb Beasley, who could be a top-five cornerback in the 2024 class, added 18 pounds of muscle and has offers from Florida, Georgia and Michigan and has interest from Ohio State. Sophomore outside linebacker Edwin Spillman is an early five-star candidate because he went from 177 pounds to 210 in about two years, leading to offers from, among others, Ohio State and Georgia.
Richesson cares about the nutrition aspect almost more than the lifting regimens. He has nutrition plans for each player. Spillman and Beasley, for example, have alarms that go off in their phones every two hours to remind them to scarf down eggs, protein shakes, grilled chicken sandwiches or other healthy, protein-rich foods.
"His nutrition program is no joke," senior lineman Luke Westerman said. "And his attention to detail, his technique with lifting, I was blown away by it. He's so specific about the tempo and technique; he'll get on you real fast if you're not doing that. It's like a college program."
College infrastructure
Therein lies the heartbeat of what Dilfer wanted — a high school program designed with a college blueprint.
He put plenty of his own money into Lipscomb, but most of the money in this organization comes from fundraisers and from the families; it's about $18,000 annually for tuition at Lipscomb, with some families qualifying for financial aid.
Lipscomb is not a boarding school. The families have to live inside a 20-mile boundary to be eligible to attend.
Lipscomb has an indoor practice facility, the aforementioned weight room, a phone app dedicated to the football team, a social media presence with more than 5 million impressions, locker rooms that rival some Division II programs and a stadium with artificial turf. Travis Kelce, Greg Olsen and Kittle held their recent Tight End U summit there with dozens of NFL tight ends converging on the Mustangs' field. Kittle made sure to wear his Lipscomb Academy hat in doing interviews for TEU.
National podcasters/radio hosts Ryen Russillo, Colin Cowherd and Pat McAfee have been known to rock the Mustangs logo on their shows, too. That's the kind of cachet and publicity the program gets with a well-connected former NFL quarterback at the helm.
"We're out there for everybody to see," Dilfer said. "And you can't help but notice that there's something going on in middle Tennessee."
Sean McVay vision
Dilfer has created a coaching staff that is as big as ones you will find at the college level. There are more than 25 staff members, including a chief of staff (Roberts), a director of football operations (Preston Campbell), a sports information director (Patrick Carpenter) and a host of assistants who played in the NFL or college.
"We want to launch coaches," Dilfer said.
One of his former assistants, Reilly Jeffers, already is giving Lipscomb's program a good name. Jeffers worked for Dilfer in 2020, and Ohio State coach Ryan Day called Dilfer asking for recommendations for a new assistant. Dilfer introduced him to Jeffers, who now is in his first season as a Buckeyes offensive assistant; he works mainly with the running backs.
"Reilly blew our expectations away," Dilfer said. "He handled our scout team, he helped me a lot with game-planning. He's got a really, really good eye for defenses. He was a huge value guy, good energy, brought an edge to practice and games. He understood the expectation of what a college practice looks like.
"I have a lot of Reillys. We have some guys who are gonna be rock stars."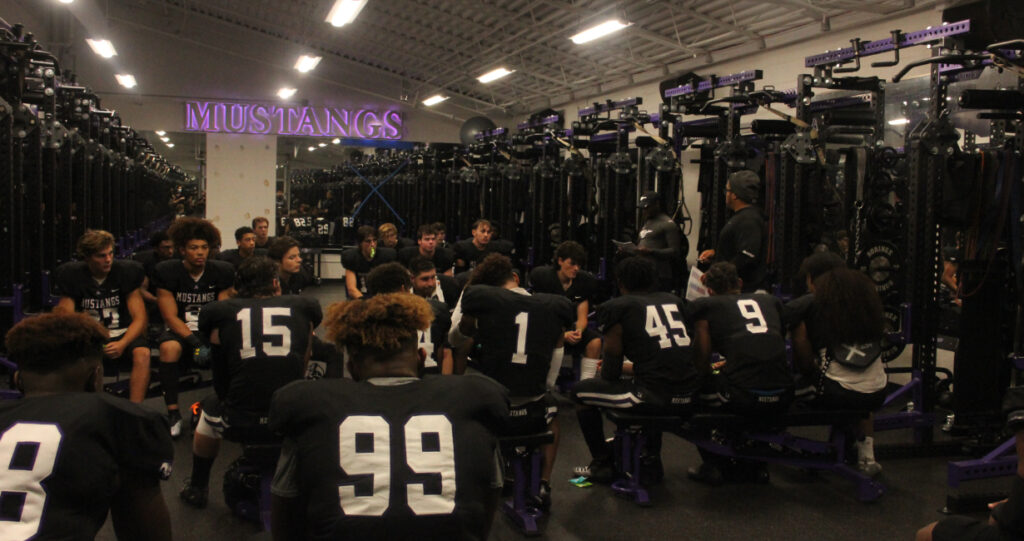 Sean McVay, Kyle Shanahan and Matt LeFleur famously were assistants on the same staff for the Washington Football Team before each became a successful NFL coach. When any combination of the Rams, 49ers or Packers play against each other, the national TV broadcast often will show one of Washington's old team photos, highlighting the three of them in a graphic.
That type of graphic is the vision set forth by Lipscomb's core four braintrust of Dilfer, Roberts, associate head coach Phil Dawson — a Pro Bowl kicker who spent 21 seasons in the NFL — and defensive coordinator Sione Ta'ufo'ou, whom the staff has dubbed "Polychick" because of his Polynesian roots and a football mind akin to Bill Belichick's.
In 20 years, they want people to look back at a team photo of Lipscomb and see that its members are now playing or coaching in the NFL or college, leading companies as CEOs, in charge of an attorney's office or leading people as ministers.
"We're a human development program masked as a football team," Dilfer said, doubling down on the team's mission statement.
A lot of what Dilfer says during a 90-minute interview, what he dishes during a 45-minute speech to potential donors for a new $600,000 jumbotron being installed at the stadium and what he says to his team easily could seem phony. Some of that is the nature of how he came into the community and took over the program. "There were people around here who absolutely wanted me to fail," Dilfer said.
Then you talk to the players. Then you look around. There's a buy-in here that doesn't feel manufactured. And corny or not, it doesn't really matter. The only important buy-in is from the players and the families, and it's hard to argue with what's been built. It's another example of this being a college program masked as a high school team.
Ohio State's Day touts "The Brotherhood" and "Tough Love" as a program pillar. No one is complaining about back-to-back College Football Playoff appearances and a national championship game appearance.
Nick Saban at Alabama has championed slogans such as "Pissed Off for Greatness" and that "The Alabama Factor is our special sauce." The buy-in has helped lead to six national championships during his tenure.
Dabo Swinney at Clemson has "All In" and "BYOG: Bring Your Own Guts." Sayings like those were at the core of Swinney turning the Tigers from ACC afterthought to powerhouse.
There's a similar feeling at Lipscomb.
Ain't no mountain high enough
A walk-through practice on the eve of an August scrimmage was complete with a pissed-off Dilfer barking out his disdain for a screwed-up play. It was also complete with Solis grilling Dilfer. As a younger, more spry assistant scampered around while serving as scout-team quarterback, Solis joked with Dilfer.
"Ayy, coach. Why aren't you out there? Didn't you use to play in the NFL?" Solis asked coyly.
"Yeah and I tore both my Achilles, and I'm 49 now," Dilfer said.
"Oh, so now we're making excuses, huh?" said Solis, a smile emerging as he puts his arm around Dilfer.
It's a fun moment. It's one born from a program staple called "Kitchen Table Conversations," an open-door policy under which players can go into Dilfer's office at any time to talk about everything — girlfriend issues, home life, parent troubles, schoolwork. Solis is one of many who has spent countless hours on Dilfer's office couch just talking.
At the program's core is the resources it pours into off-field development, from mindfulness training in which each player catalogues everything they consume each day — hydration, food, positive or negative media they consume — to extensive academic resources that has led to a team GPA higher than 3.25.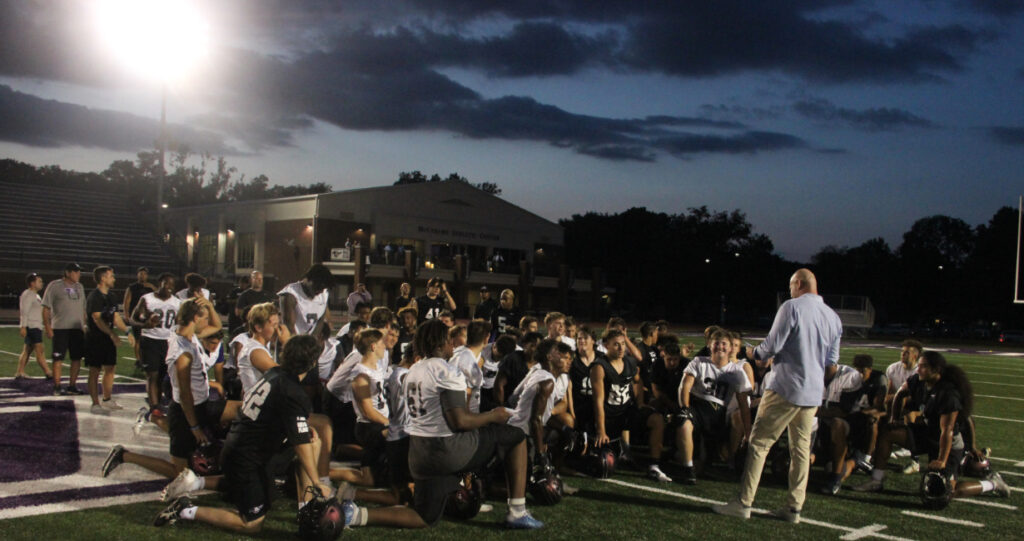 As the sky turns to pitch black with a crescent moon, Dilfer gathers the team in a post-practice huddle. There's a speech about how they are better than their scrimmage opponent "at every position" and how there's "no way they're beating us tomorrow."
But first comes the karaoke session.
Marvin Gaye and Tammi Terrell's "Ain't No Mountain High Enough" blasts on the loudspeakers, and Dilfer's players aren't yet ready for him to talk yet. Instead, in unison, more than a dozen finish out the lyrics, as a laughing Dilfer raises his arms conductor style as they belt: "Ain't no valley low enough, ain't no river wide enough, to keep me from getting to you, babe."
The song was a staple of the movie "Remember the Titans," which featured a new coach in a community, most not believing in that coach, many wanting that coach to fail and then, soon enough, complete belief from the players that led to the creation of something memorable.
SEC, Big Ten talent pool
The established guys on this team – Alex Broome, Sam Rousch, Luther Richesson, Kaleb Beasley, Edwin Spillman, Brandon Solis, Beau Dawson – are backed by players such as Chauncey Gooden, Coleman Baker, Nate Spillman, Jordan Jackson, Luke Westerman, Carson Pearman, Bryan Longwell, Chase Allen and many others.
Many of them will go on to add to what players such as 2020 Lipscomb grad and Iowa freshman linebacker Eli Miller started. There's a pool of Power 5 talent emerging from this place, and Lipscomb Academy is on the path to becoming a hub for some of the country's elite players.
Rousch is a four-star tight end committed to Stanford, Broome a three-star Boston College running back commit. Richesson was a consensus top performer at the Elite 11. Nate Spillman has an offer from Tennessee, with more expected to be added this fall. And Beasley and Edwin Spillman are going to be the start of Lipscomb putting multiple players in each class into Power 5 schools.
This was all established from a first year under Dilfer in which, as Pearman put it, "He broke us like wild horses."
That first year the foundation was laid, the second year was when the program truly took shape, and now things are rolling in a third season in which the team has a good shot at winning a state championship.
You can feel that during the Friday night scrimmage on August 13.
Intensity leads to controversy
In the hours leading up to its bout with local rival Father Ryan, the players go through multiple team meetings in the complex split up by offense, defense and special teams. That includes film sessions, walk-throughs and an extensive set of stretching led by Luke Richesson. Then they take the field. They line up single file by jersey number, from No. 1 to 99, and the player-led organizing of it happens smoothly.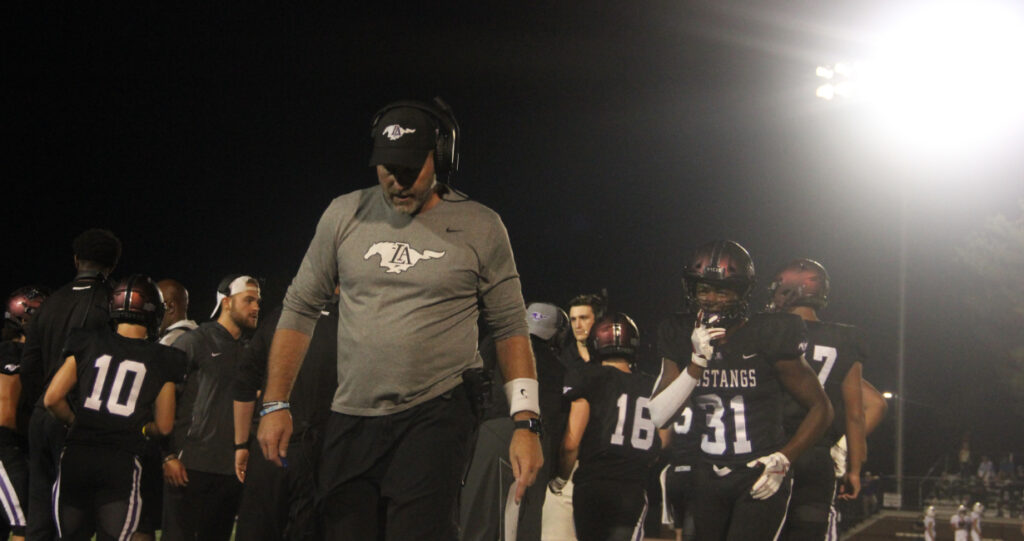 At home games like this one, the team waits until just minutes before the national anthem is played to go onto the field. They call it an "Art of War" tactic so that their opponents don't see their size and athleticism in-person until just before kickoff. Next thing you know, it's 7-0 in the first quarter.
Complete with an iPad linked up to a projector, Ta'ufo'ou runs a film session immediately after each defensive series on the sidelines. An elaborate defensive system that includes shifts milliseconds before the snap, interchanging positions and a bevy of hand signals doesn't matter as much as one simple thing.
Ta'ufo'ou preached to his unit after two lackadaisical series: "Command the standard, guys. We're playing too arrogant out there. We're too confident. Lock it in."
Message received.
With less than two minutes remaining, a 50-yard interception return for a touchdown by Beasley gave the Mustangs a 20-0 lead heading into halftime.
That gave way to what was expected to be a fiery speech from Dilfer. Instead, he kept it simple in the locker room, saying, "Let's just be us. We're gonna get everybody a chance to play tonight, and we're gonna have some fun."
But no one is having fun to start the second half. Dilfer absolutely exploded when he discovered that his headset was malfunctioning. "Somebody get me a freaking headset that works!" Dilfer yelled, veins popping and spittle flying. "Un-freaking-believable!"
Some glances and wide eyes are shared by a few players, though they're all used to this. This program was dying for an infusion of juice like that three years ago. "When he yells, it can be scary," Pearman said. "But that's what we needed."
On August 28, two weeks after that scrimmage, Dilfer's intense style came under scrutiny. Dilfer blew up at one of his seniors, tight end Beau Dawson, during a game against nearby Independence High.
One source told On3 that Dilfer believed Dawson — Phil Dawson's son — had run the wrong route on an unsuccessful third down play, and he shouted at Dawson while the tight end came off the field. Dawson took off his helmet while still on the field, and that drew an unsportsmanlike conduct penalty.
Dilfer screamed at Dawson on the sidelines, grabbed him by the chest plate of his shoulder pads, pushed him back, then shoved him and yelled "Sit down!" multiple times after Dawson threw his helmet on the ground.
The incident was caught on a video that has had millions of views. Dilfer released a statement via the Lipscomb Academy social media channels, and appeared on the Pat McAfee Show to talk about the incident, taking full accountability for his actions. Dilfer did not provide On3 with any statements on the incident.
Dawson was one of the senior leaders whom On3 interviewed for this story in August, after Dilfer and other staffers talked glowingly about him. Dawson spoke with his teammates during a players-only meeting on the Monday following the sideline incident and said he and his father would be staying at Lipscomb.
Dilfer had three meetings with school administration in person and over the phone during the week following the incident. He was not suspended.
'Sledgehammer'
During the August 13 scrimmage, Lipscomb Academy breezed to a 30-0 win despite missing seven all-state-caliber players. More important than the result of the scrimmage was the preview it gave of what this third season could mean – a season that has since gotten off to a 4-0 start with the Mustangs outscoring their opponents 198-42 in three games (one game was a forfeit because the opponent had COVID issues).
"All I Do Is Win" rains down on the field from the loudspeakers, followed by Kenny Chesney's "Boys of Fall" as Dilfer huddles his team near midfield. Just like halftime, there's no rah-rah speech after the scrimmage. Just a brief message. He doesn't mean for it to be, but it's one that encapsulates everything that's been established at Lipscomb and everything that could be coming.
"We used to be the nail. Now we're the hammer," Dilfer told his team. "We're becoming a bigger hammer. We're gonna get bigger and bigger, and one day we're gonna be a freakin' sledgehammer."