True freshmen standouts from Week Eleven of college football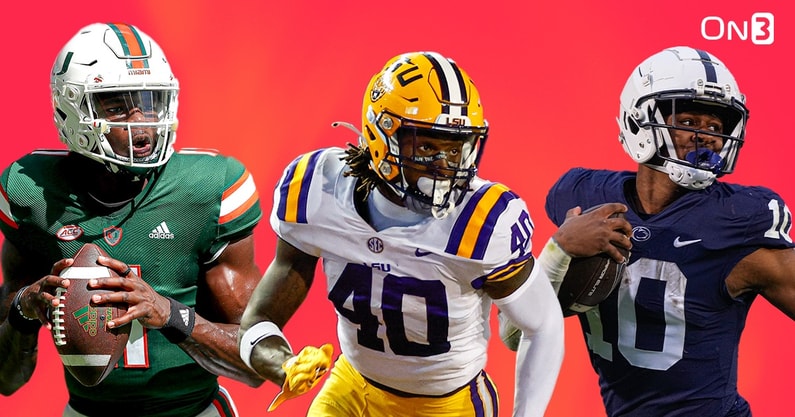 Week eleven of college football saw some big showings from true freshmen across the national landscape. A quarterback in the ACC led his team to a win in his first start, two Penn State true freshmen helped spark an easy win, one of the SEC's top running backs picked up yards on Alabama's defense and a budding star at LSU turned in a dominant showing on the road.
Here's five true freshmen standouts from the weekend.
QB Jacurri Brown – Miami
Jacurri Brown got his first start at Miami and led the Hurricanes to a much needed 35-14 win over Georgia Tech, who also started a true freshman quarterback – Zach Pyron. The Valdosta, Georgia native was efficient as a passer and added a quarterback run element to the Hurricanes' offense. Brown completed 14 of 19 passes for 136 yards and three touchdowns and added another 87 yards on the ground. Brown threw touchdowns to tight ends Will Mallory and fellow true freshman Jaleel Skinner in the first half. He later flashed his athleticism picking up some first downs on the ground and hitting receiver Colbie Young for his third touchdown pass.
The 6-foot-4, 210-pounder was a top run threat at the high school level, but showed some encouraging early signs as a passer, as well. Brown, who was rated as a four-star prospect in the 2022 cycle according to the On3 Consensus, faces a tougher test this week on the road at Clemson.
RB Nick Singleton – Penn State
Nick Singleton had one of the best games of his young career on Saturday, rushing for 122 yards and two scores on just 11 carries in Penn State's emphatic 30-0 win over Maryland. The Nittany Lions pounced on the Terrapins early on, in large part due to Singleton's play. The true freshman back's touchdown came on a 4th and 1 late in the fourth quarter. Singleton followed his blocking off-tackle, bursting through the second level, scoring from 45 yards out. His second touchdown also came on a 4th and 1. The former five-star showed some high-level vision, sifting through traffic at the line before dragging a defensive back into the end zone. It was truly a grown man run.
Singleton and fellow true freshman back Kaytron Allen have helped key a considerable improvement in Penn State's rushing offense. The 6-foot, 219-pounder was rated as the No. 16 overall prospect and No. 1 running back prospect in the 2022 On300.
RB Quinshon Judkins – Ole Miss
Quinshon Judkins has emerged as one of the more reliable running backs in the nation as a true freshman. He was strong yet again in Ole Miss' 30-24 loss to Alabama, rushing for 135 yards and two touchdowns on 25 carries. Judkins was the top rusher in the contest and forced eight missed tackles according to Pro Football Focus. The Pike Road, Alabama native was among the key cogs in an Ole Miss offense that totaled 403 yards against the Crimson Tide. Both touchdowns came on short runs in the first half. We later saw Judkins rip off a long run in Ole Miss' final drive in an attempt to win the game.
Judkins is in the midst of a special true freshman season at Ole Miss. His 15 rushing touchdowns are the most in Ole Miss history. His 1,169 rushing yards are also within striking distance of the Rebels' single-season rushing record.
LB Harold Perkins – LSU
Forget true freshmen, Harold Perkins made as strong case as the top player across the nation on Saturday. The LSU linebacker completely controlled the game in a hard fought 13-10 win at Arkansas, keeping the Tigers' in the SEC West's driver's seat. Perkins worked as a quarterback spy and pass rusher throughout the game, tallying an unbelievable four sacks and two forced fumbles. His elite play speed was on display, running down one of the league's faster quarterbacks in Malik Hornsby from behind on several occasions. Perkins also flashed some insane bend and dip around the edge as a pass rusher.
LSU defensive coordinator Matt House has put the former five-star into situations that accentuate his strengths, resulting in one of college football's most disruptive defenders. Perkins ranked as the No. 9 overall prospect and No. 1 linebacker in the 2022 On3 Consensus.
LB Abdul Carter – Penn State
Abdul Carter has become a stalwart on Penn State's defense as a true freshman. The in-state product had another strong outing in the 30-0 win over Maryland, tallying seven tackles, one sack, one forced fumble, one pass break up and two pressures in the shutout. As was the case with fellow true freshman Nick Singleton, much of Carter's damage came in the first half. Carter's high-end athleticism and physicality continue to stand out as he becomes increasingly comfortable in Penn State's defensive scheme.
The 6-foot-3, 233-pounder ranked as the No. 129 overall prospect in the 2022 On300. He has the second most tackles for Penn State thus far with 44 and is also second in sacks with 3.5.