Tyrann Mathieu describes what it means to wear Saints uniform as New Orleans native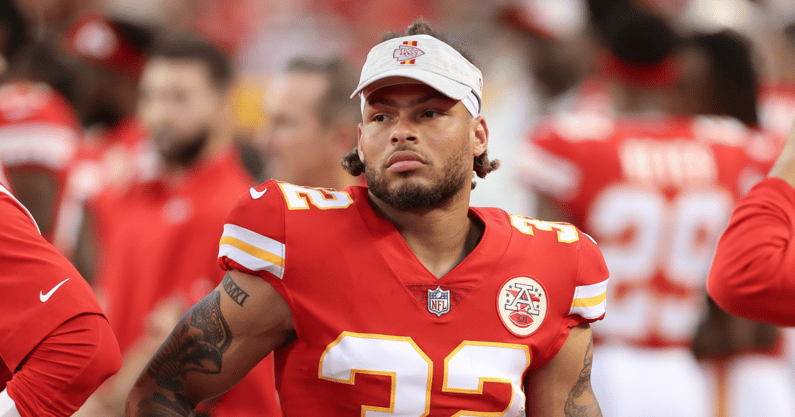 When Tyrann Mathieu steps onto the field for the New Orleans Saints this season, it will be the realization of a lifelong goal. A native of the city, Mathieu has long fantasized about wearing the black on gold at the Superdome.
Now he'll no longer have to dream, as the safety signed a three-year, $33 million contract to join the Saints this offseason. Although it's admittedly difficult for Mathieu to put into words what the opportunity means to him, he gave it his best try in a recent appearance on the Rich Eisen Show.
"I probably wouldn't have believed it," he said. "It's such a big dream. Countless numbers of kids dream that dream to be able to represent their family and the state that they come from. The city that they come from. The culture. In a million years I didn't think that was possible, but I think I've been on this journey for a reason the last 10 years. Just all the different experiences I've had, the places I've gone and the things I've done and things I've fell short in doing. All these things have kind of geared me up and prepared me for this moment.
"I know a lot of people are happy for me, but this is a big challenge going back home. I'm trying to play some of my best ball while also trying to impact the community in the right way. I'm looking forward to it. I know it's gonna be a lot, but everything that I've been through has really helped prepare me for this."
A lifelong Saints fan, Tyrann Mathieu played at St. Augustine High School before accepting a scholarship to play football at LSU. He developed a name for himself in Baton Rouge and was a member of the 2011 LSU team that lost to Alabama in the BCS national championship. He went on to finish his college career with 133 total tackles (16 for loss), six sacks, four interceptions and 16 passes defended.
His NFL career has been just as successful, with already three Pro Bowl appearances and a Super Bowl victory in nine seasons. This past year he recorded three interceptions, three fumble recoveries, a defensive touchdowns and 76 tackles on his way to earning the third Pro Bowl appearance.
During his time in the NFL, Mathieu has been with three different teams. Now, he is finally back home with his fourth, and on a journey to bring back another Super Bowl to the city that made him.
"This is a team and program that I've watched my whole life growing up," Mathieu said. "I can even go back to Hurricane Katrina when the Saints came back. It was just so electric in the building. I just remember how proud our community was. I'm looking forward to reflecting that. Trying to play as hard as I can so I can make that city as proud as I can make it."