Tyrion Davis-Price perfectly describes his style as a runner after 2022 NFL Draft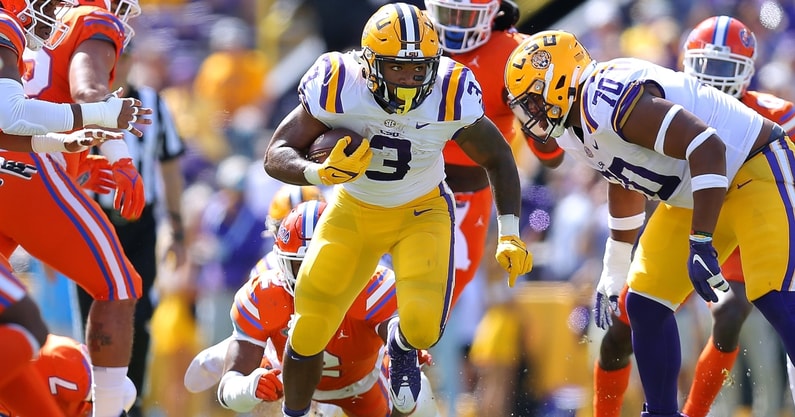 In the third round of the 2022 NFL Draft, the San Francisco 49ers selected former LSU Tigers running back Tyrion Davis-Price. After hearing his name called, Davis-Price had a perfect description when asked about his style as a physical, downhill runner with the ball in his hands.
When he has the ball, Davis-Price actually looks for contact and being the first one to deliver contact. That style wears down defenders throughout a game, and has worked well for Davis-Price in his career thus far.
"Oh yeah, obviously natural," Davis-Price said of his physicality. "Just as far as like I always love delivering the blow. I don't like getting tackled. I know it happens, but I hate getting tackled. So I love bringing the contact to them. Eventually they don't want to tackle. In the first, second quarter, they might take it a little bit maybe because everybody's still fresh. But eventually, they don't want any more of it. So that's always my mindset, go and attack the defender, wearing them out, make them want to quit."
Davis-Price's collegiate career began in 2019, when he rushed for 295 yards and six touchdowns on 64 carries as a freshman. In 2020, he had 104 carries for 446 yards and three touchdowns. As a junior last season, Davis-Price rushed 211 times for 1,003 yards and six touchdowns, averaging 4.8 yards per carry.
Davis-Price has a special connection to the 49ers
Growing up, Davis-Price watched 49ers football. His grandfather was a 49ers fan, and despite him living in Louisiana growing up, Davis-Price always tuned in when San Francisco was playing. Now that he's a part of the organization he grew up watching, he looks forward to giving his all.
"Well I grew up watching the 49ers, I grew up in Louisiana," Davis-Price said. "Obviously the Saints too, but I grew up with the 49ers. My grandfather, that was his team, that's his team. He loved the 49ers. Just going in there, doing my part. Doing everything I can do for the team, laying it all on the line every day at practice, give my 110% in each game. Special teams, whatever that may be. Whatever the team needs, I'm there. I'm accountable, I'll be there always. I'm glad to be on the 49ers."
With the 49ers, Davis-Price will be joining a rather crowded backfield. The 49ers already have Elijah Mitchell, who seems poised to be the team's lead back. San Francisco also has Jeff Wilson, JaMycal Hasty, and Trey Sermon in the running back room.