Tyrion Davis-Price reveals family connection to the San Francisco 49ers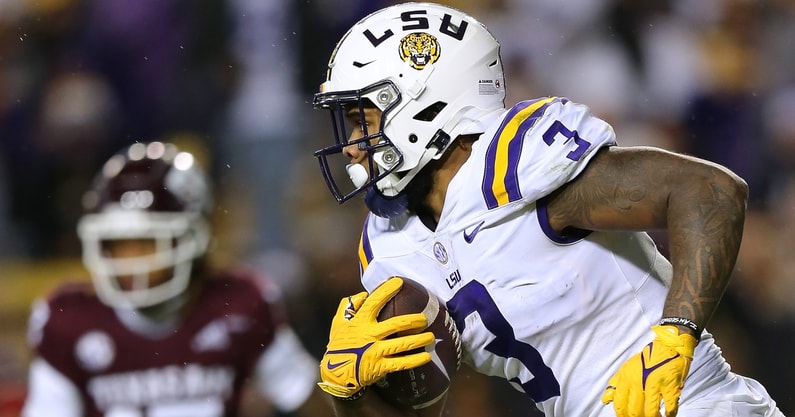 Former LSU Tigers running back Tyrion Davis-Price heard his name called during the 2022 NFL Draft, being selected late in the third round by the San Francisco 49ers. Following his selection, Davis-Price revealed that he has a special connection to the 49ers despite growing up in Louisiana.
Davis-Price said that his grandfather was a 49ers fan, and that he grew up watching the team as well. Now, he gets to play for his childhood favorite team.
"Well I grew up watching the 49ers, I grew up in Louisiana," Davis-Price said. "Obviously the Saints too, but I grew up with the 49ers. My grandfather, that was his team, that's his team. He loved the 49ers. Just going in there, doing my part. Doing everything I can do for the team, laying it all on the line every day at practice, give my 110% in each game. Special teams, whatever that may be. Whatever the team needs, I'm there. I'm accountable, I'll be there always. I'm glad to be on the 49ers."
Davis-Price joins a crowded 49ers backfield
The 49ers' selection of Davis-Price in the third round was an interesting one, largely due to the fact that San Francisco already has a lot of bodies in the running back room. Elijah Mitchell seems poised to lead the charge, but Jeff Wilson, JaMycal Hasty, and Trey Sermon will also be looking for a role on offensive, in addition to Davis-Price.
As a freshman at LSU, Davis-Price played in 14 games and saw 64 carries, rushing for 295 yards and six touchdowns, averaging 4.6 yards per rush. In 2020, he had 104 carries for 446 yards and three touchdowns, averaging 4.6 yards per attempt. This past season, Davis-Price broke out on LSU's offense, rushing for 1,003 yards and six touchdowns and averaging 4.8 yards per carry on 211 attempts.
Overall, Davis-Price leaves LSU with 379 carries for 1,744 rushing yards and 15 touchdowns, averaging 4.6 yards per carry. He also grabbed 28 receptions for 185 yards, averaging 6.6 yards per reception.
Now, even though he will have some serious competition in the running back room, Davis-Price is looking to make an early impression and earn a solid role out of the gate as a rookie with the 49ers.