UNC, Duke, Kentucky, others in to see Trentyn Flowers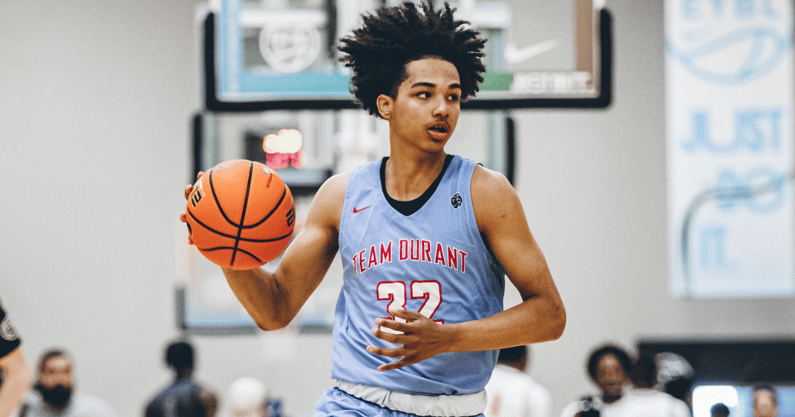 Lincoln County (N.C.) Combine Academy five-star recruit Trentyn Flowers has a busy week ahead.
Over the next few days, coaching staffs from North Carolina, Duke, Kentucky, Louisville, Kansas, Arizona, and Texas are expected to be in to see him.
Flowers, a 6-foot-8 class of 2024 small forward, has taken unofficial visits to Maryland, Georgetown, West Virginia, Oklahoma, and Virginia Tech. He's scheduled his first two official visits: Memphis (Oct. 6) and Georgia State (Oct. 28).
Flowers currently holds nearly 40 scholarship offers, including North Carolina, Michigan, Auburn, Illinois, Alabama, Arkansas, Kansas, Oregon, Louisville, Florida State, among others.
Currently, Trentyn Flowers is ranked 14th nationally in his class, according to the On3 Consensus, a complete and equally weighted industry-generated average that utilizes all four major recruiting media companies. He's also the No. 4 small forward in the country and No. 1 in the state of North Carolina.
On3's evaluators are much higher on Flowers, ranking him 8th nationally in the class.
Flowers talks his game
"My game is unique and different," Flowers recently told On3's Jamie Shaw. "I'm 6-8, 6-9 and can handle the basketball and shoot really well. I got a great feel for the game and am very explosive and athletic. My mindset is to be a pro one day, so while my game is pretty complete, I have to keep working on everything. I'll watch a lot of Jayson Tatum and LaMelo Ball. The way Tatum scores and gets to his spots and Melo's feel for the game, at his size, is just different."
Flowers talks several schools involved
In a recent interview with On3, Flowers discussed several programs involved in his recruitment.
North Carolina: "That was a really big offer. I cried a little when I got it, to be honest; it was just a really big offer. Michael Jordan and Vince Carter are some really good shooting guards who went there, and even in more recent years, Justin Jackson. They got Armando Bacot and Caleb Love there now and just went to the NCAA finals."
Louisville: "That is a special place; it's really nice there. I visited the campus last year and really loved it. They also have a great coaching staff there. Donovan Mitchell and Montrezel Harrell, along with many other greats, went there."
Florida State: "I watched the process they took with Scottie Barnes and the freedom they gave him on the ball. They see me fitting into their offense like with Barnes. They have a great coaching staff that gets the best out of their players."
"I've talked some with Kentucky and Duke, but they haven't offered yet," Flowers said.
For more on Trentyn Flowers, read here.