Under Armour All-American Top Performers: Day 2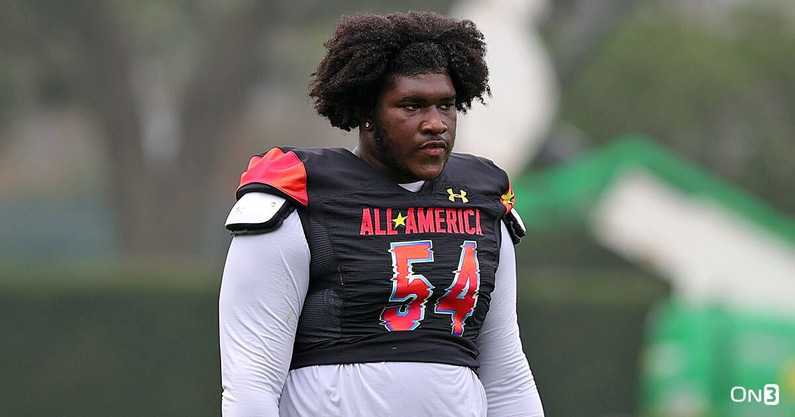 LAKE BUENA VISTA, Fla. – Practices for the Under Armour All-America Game continued on Thursday morning. Nearly 100 of the nation's top prospects were back on the field at ESPN's Wide World of Sports to take part in a padded practice. On3 was on hand to take in the action.
The roster is divided into two teams – Team Icons and Team Legends. Both teams had simultaneous non-padded practices on adjacent fields. Contact was limited, but we were able to get a thorough first look at prospects as they went through drills, 1-on-1, 7-on-7 and 11-on-11 work. 
Here are On3's top performers for the day, headlined by an Alabama signee who impressed on the offensive line.
On3 MVP: OL Tyler Booker – Alabama
Alabama signee Tyler Booker built on a solid first day with a sensational showing in Thursday's padded practice. The 6-foot-5, 325-pounder worked at left tackle, right tackle and left guard – excelling at all three. We didn't see Booker lose a rep in 1-on-1's. For the most part, he made easy work of the Team Icon defensive linemen. Booker is long, burly strong and highly technical. He shoots his hands on defensive linemen quickly and is able to swat away attempts at pass rush moves. Once engaged, Booker anchors and holds his ground. The IMG Academy product has a very high floor as a prospect. He's capable of playing multiple spots and is a smart, technical and engaged player.
2. DL Walter Nolen – Texas A&M
Walter Nolen was the most disruptive force on the defensive line for either team on Thursday. The Texas A&M signee's initial quickness and ability to convert speed to power stands out in this setting. He constantly walks back offensive linemen in 1-on-1's. What separates Nolen from other defensive tackles is his ability to kick out to defensive end and present a considerable power pass rush off the edge. Nolen flashed both in 1-on-1's and team drills, where he was able to get in the backfield on several occaisions. The Five-Star Plus+ prospect looks to be in good shape. He's trimmed down from the summer.
3. WR Luther Burden – Missouri
Luther Burden is the most high-volume target on either team through the first two days of practice. The Missouri pledge is all about business. He's taking a ton of reps and looks to be highly focused. Burden is a bit unassuming physically, but his play is anything but. He built on a strong first day with an even better session on Thursday. Burden won several reps in 1-on-1's and was a favorite target for the Team Icons receivers. He's able to get open at all three levels and continues to show strong hands at the catch point.
4. WR Antonio Williams – Clemson
Antonio Williams was the top receiver for Team Legends on Thursday. The Clemson signee has some of the crispest routes of any receiver in attendance and was a very tough cover in 1-on-1's, particularly on the goal line. Williams routed up opposing defensive backs with an array of double moves and was able to finish at the catch point with strong hands. We only saw him lose one rep in 1-on-1's, with Jacoby Mathews making a good play on the ball.
5. LB Jihaad Campbell – Alabama
Jihaad Campbell may have the best frame of any prospect in attendance. The 6-foot-3, 215-pounder is high-cut and long with massive hands. But it doesn't stop there. Campbell is working at linebacker this week and has shown the movement skills to excel in space. That shouldn't be a huge surprise given he has verified 4.5 second speed. We saw Campbell make one of the biggest flash plays of the day on the final rep of practice. Campbell was stuck covering Luther Burden out of the slot. He high-pointed an underthrown pass for an interecption that may have gone for a 100-yard pick six in a live game.
6. IOL Devon Campbell – unsigned
Devon Campbell had an argument to be in the top ten yesterday and was strong again on Thursday. The 6-foot-3, 305-pounder has the quickest hands on the Team Legends offensive line. The five-star quickly stuns opposing defensive linemen and has the foot quickness to redirect and mirror in pass protection. Campbell does not have the physical dimensions of some other top offensive linemen, but his athleticism, coordination and strength are standing out. Campbell is down to Texas and Oklahoma with the Longhorns trending in his RPM.
7. WR Evan Stewart – Texas A&M
Evan Stewart's elite quickness and technical skills at receiver jump out at nearly every turn. The Texas A&M signee just moves at a different speed than nearly everyone else on the field. We didn't see Stewart targeted as often on Thursday, but he still made some impressive grabs in addition creating consistent separation. Simply put, Stewart does not appear to be challenged much in this setting – which says a lot about his talent and skill level.
8. CB Will Johnson – Michigan
Will Johnson continues to make the most plays on the ball of the cornerbacks in attendance. We saw the Michigan signee jump a pass in team drills that would've been a walk-in pick-six had he been able to come down with it. Johnson is a smooth mover with good coverage instincts at 6-foot-3, 190 pounds. We could see him playing several positions in the secondary at the next level.
9. IOL Emery Jones – LSU
After Tyler Booker, Emery Jones had a case as the top offensive lineman for Team Icons on Thursday. The LSU signee took reps at both guard and tackle. Jones was moving bodies on inside drills and had a nice pancake of Texas defensive line signee Jaray Bledsoe on a down block. Jones was also among the better offensive linemen in 1-on-1's. He's a big body and uses his length to stymie pass rush attempts.
10. S Bryce Anderson – Texas A&M
Bryce Anderson has spent the majority of his high school career as a quarterback. You wouldn't know that, watching the Texas A&M signee work at safety. The top 50 prospect is working at multiple spots in the Team Legends secondary and looks like a natural. He's a top athlete with a 10.48 100 meter dash time to his name, but is also a smooth and coordinated mover. Anderson's football smarts and ability to pick up on the defense quickly has impressed.
Additional notes
+ Thursday was the first practice for Texas defensive line signee Jaray Bledsoe and uncommitted safety Jacoby Mathews after both arrived late on Wednesday. Bledsoe flashed with his first-step quickness on inside drills with a handful of tackles for loss. He's an all or nothing pass rusher on the inside who will need technical work but has some pure athletic ability. Mathews instantly looked like one of the best safeties in attendance and made a few impressive plays in coverage.
+ Five-Star Plus+ athlete Travis Hunter was a little more active on Thursday but still had a quiet day by his standards. The Jackson State signee started the day with the receivers before flipping over to corner in team drills. We saw him with some strong coverage on Clemson signee Adam Randall (who has been very good) down the sideline.
+ Louisville EDGE signee Popeye Williams has stood out through two days. Williams has shown some quickness and burst as a pass rusher off the edge. He does not have ideal length, but the explosion is there.
+ Along with Antonio Williams, Alabama signee Aaron Anderson, Oklahoma State signee Talyn Shettron are the top three receivers on Team Legends. Anderson has impressed with his ability to separate and make some extended grabs. He's a cat-quick slot receiver with a compact build at 5-foot-9, 185 pounds. Shettron continued to look good on Thursday, winning reps at all three levels. Texas A&M signee Chris Marshall had another good day at receiver for Team Icons.
+ It can be difficult to glean too much from running backs in these practice settings. With that said, Alabama signee Emmanuel Henderson made a few nice grabs out of the backfield, including a one-handed catch on a wheel route. Additionally, Georgia signee Branson Robinson has the most physically developed build of the running back group. Robinson does not skip leg day.
+ Georgia linebacker signee Jalon Walker has more of an EDGE type body but is playing off-ball in this setting. We saw Walker make a few nice plays in space in team drills, coming away with at least two pass break ups.
+ The number of players out with injuries was in the double digits by the end of the practice. Most of the injury updates can be found in our live updates story from the day.

On3 National Recruiting Analyst Gerry Hamilton contributed to this story.