Stars heading to Orlando for Under Armour All-America Game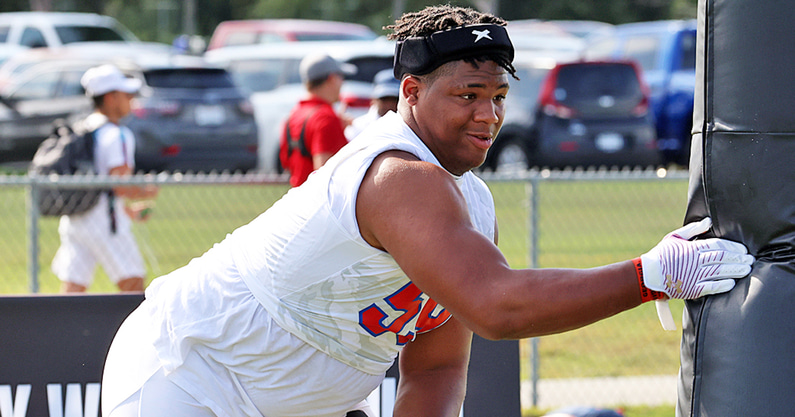 Over 100 of the nation's top prospects are making their way to Orlando this week to take part in the Under Armour All-America Game. The week of practice begins on Wednesday evening and will be held at ESPN's Wide World of Sports. The game will be played at Camping World Stadium on Sunday at 2 P.M. Eastern.
The roster is loaded with top prospects. Thus, the week of practice should provide a great opportunity to further evaluate the bevy of blue-chippers one last time before they head to college.
These all-star games historically prove to be a critical evaluation point for participating prospects. The controlled environment allows us to compare dozens and dozens of top prospects head to head. The week is particularly critical to our rankings evaluation process for the 2022 cycle. Many prospects have seen their last few years affected by the pandemic in some form. It's also a cycle where the race for the No. 1 overall prospect is wide open.
Under Armour Headliners
All five Five-Star Plus+ prospects (those rated five-stars by all four major recruiting media companies) are set to be in Orlando. We'll be looking closely at the the top prospects in preparation for the final On300 rankings release later in January. The week should prove helpful in sorting out the rankings and ultimately picking the No. 1 overall prospect.
Travis Hunter is a box office prospect in the cycle. The Jackson State signee puts on a show in every setting whether its on Friday nights, college camps or at 7-on-7's. I would not expect all-star week to be any different. Hunter, who ranks as the No. 1 overall prospect in the On3 Consensus (No. 2 in the On300) is a unique two-way prospect with five-star ability at receiver and cornerback. It would not be a surprise to see him play both in Orlando. He's sure to attract a bunch of attention throughout the week.
The last time Walter Nolen took part in an Under Armour event was during the summer when he dominated at Future 50. The Texas A&M signee will look to replicate that performance. Nolen has a unique blend of size and athleticism at 6-foot-5, 340 pounds. His quickness and strength typically create mismatches against opposing offensive linemen in these settings.
Under Armour practices will be the first time we've seen Five-Star Plus+ wide receiver Evan Stewart on a football field in a while. The Texas A&M signee opted out in the middle of the season. Stewart is an electric athlete with refined receiver skills. He creates separation with pure speed and route-running ability and can finish with ball skills at a high level. Some 1-on-1 matchups with Travis Hunter would be a bunch of fun to watch.
If Travis Hunter was the best two-way player in high school football, Harold Perkins may have been the second best. The Five-Star Plus+ linebacker prospect was scintillating as a running back and linebacker this fall. He's a dynamic athlete with sub-4.5 speed. Perkins ran for 1,194 yards and 18 touchdowns on just 67 carries – that's nearly 18 yards per carry. We'll be watching how Perkins fares in linebacker-specific situations, as he's been more of a do-it-all athlete type to this point.
Uncommitted defensive lineman Shemar Stewart is an ascending prospect in our eyes after a strong senior season. The 6-foot-5, 270-pounder has long been considered one of the best prospects in the cycle dating to his freshman season. He missed the majority of his junior campaign. Stewart's physical stature, length and athleticism should be on display this week. His ability to rush the passer combined with the physical traits make him a potential contender for the No. 1 spot.
The top-ranked offensive lineman set to attend is Texas signee Kelvin Banks. The Houston Summer Creek product earned his fifth star from On3 after turning in a strong senior campaign. Banks is a fluid, nimble mover and has played with increasing physicality and nastiness as a run blocker over time.
Alabama signee Jeremiah Alexander is the top-ranked EDGE prospect set to attend. The five-star prospect is one of the most productive high school defenders nationally and has been a stalwart for a three-peat state champion over the course of his career. We've never seen Alexander at a national event or camp of any kind, so it will be interesting to see him in this setting. The 6-foot-2, 240-pounder has outstanding play strength.
Picks to click
All-star weeks provide the ultimate opportunity for players to make a splash on the national scale. Everyone at these games are top prospects and can play. So standing out among this group is certainly noteworthy. We approach the week with an open mind. Still, there are a few prospects we would not be surprised to raise their stock.
Alabama EDGE signee Jihaad Campbell has been a "stock up" prospect since making the move from New Jersey to IMG Academy for his senior season. Campbell really impressed during his time at IMG. He was consistently their top defender in games we watched this season, flying around the field and making flash plays on a regular basis. The 6-foot-3, 215-pounder pairs a long frame with top-notch athleticism. We would not be shocked at all if he has a big week at Under Amour.
Texas offensive line signee Neto Umeozulu hasn't gotten a ton of headlines as he had a very quiet recruitment. With that said, his play and skills are deserving of attention, in our opinion. Umeozulu is ranked as an interior offensive lineman but has the length and athleticism to play anywhere on the line. He impressed with his heavy hands and nasty block-finishing as a senior at traditional powerhouse Allen High in Texas.
It's not a traditionally strong EDGE group nationally, so we're keeping an eye out for risers at that position. Ohio State signee Kenyatta Jackson Jr. might be the one who emerges from Under Amour. The 6-foot-5, 235-pounder is coming off a great senior season at Hollywood (Fla.) Chaminade-Madonna. He lead his team to a state title and was Florida's Gatorade Player of the Year. Jackson has outstanding length and plays with some natural pass rushing skill and instincts.
The receiver group in this game is absolutely loaded. The odds of at least one new five-star emerging from that group seem to be pretty good. Texas A&M signee Chris Marshall has one of the higher upsides of the group. He's still a little undeveloped, having only played two years of varsity football. Marshall doubles as a top basketball player and has some of the best catch-point skills in the cycle. We haven't seen Marshall in a ton of these settings, so it will be interesting to see how he looks against some top corners. But it would not be surprising to see Marshall fare well at Under Armour, given his talent level.
Proving ground
All-star practices can help shine a light on some prospects who may be more difficult to evaluate during the season due to circumstances relative to their high school program.
Georgia cornerback signee Daylen Everette has been rarely tested at IMG Academy over the past two seasons. Our exposure to the five-star prospect's true cover skills is relatively low for this late stage in the cycle. Seeing Everette cover this outstanding group of receivers at Under Amour should be illuminating. Several other top corners in attendance would also fall into this category. Generally speaking, these games are key in evaluating the position.
Georgia defensive line signee Bear Alexander has bounced around for much of his high school career and missed a good chunk of playing opportunities due to multiple eligibility issues. We got to see him put together a dominant playoff run as a junior at Denton Ryan in Texas. Outside of a few games at IMG this fall, that's really about all we've seen over the past few seasons. The week should show us where Alexander stacks up among the other defensive linemen who we've seen more of to date.
North Carolina signee Travis Shaw was tabbed as a top prospect in the cycle after a great sophomore season. Shaw had a good junior campaign in the spring after North Carolina pushed back its 2020 season due to COVID-19. The 6-foot-5, 340-pounder missed much of his senior season. We're looking forward to seeing how Shaw, who ranks as a five-star in the On3 Consensus stacks up with his peers at Under Armour.
Shaw's fellow North Carolina commit, offensive lineman Zach Rice will be one to watch among the big men. Rice is a dominant drive blocker while playing below average competition in western Virginia. He's one of the few top offensive lineman we've yet to see on the camp circuit, so there's a significant amount of ambiguity around his size and athleticism, in addition to the jump in competition.
Texas defensive line signee Jaray Bledsoe is set to take part after not playing his senior season at Marlin (Texas) High after due to being ineligible following a transfer. North Carolina receiver signee Tychaun Chapman also opted not to play his senior season after switching schools.
Loaded pass game talent
As mentioned above, the receiver group in the Under Armour All-America Game is absolutely loaded. Travis Hunter and Evan Stewart are headliners and Chris Marshall is a pick to click, but there are several more big names.
TCU signee Jordan Hudson is coming off a very strong senior season that saw him haul in 22 touchdowns. The Garland (Texas) High product ranks as the No. 27 overall prospect in the On300 and could push for a fifth star with a great week at Under Armour.
Missouri signee Luther Burden has proven to be one of the best receivers after the catch in the cycle. He's a dynamic return man and a threat to score on long catch and runs. Clemson signees Adam Randall and Antonio Williams are two more who had stellar senior seasons. Randall is likely to be the most physically-developed receiver in attendance at a chiseled 6-foot-3, 215 pounds. Williams is a well-rounded, refined target.
Alabama signed arguably the top receiver class in the nation and will have two of their targets in the game in Adam Anderson and Shazz Preston. Both hail from Louisiana. Anderson is a compact, fast big-play threat in the open field. Preston is a long-armed possession receiver with strong hands.
Most of On3's top-ranked quarterbacks are set to play in the other major All-American game. With that said, the quarterback headliners at Under Armour are Texas A&M signee Conner Weigman and LSU signee Walker Howard.
The corners defending this group will be headlined by Travis Hunter (assuming he plays some corner), Daylen Everette, Texas A&M five-star signee Denver Harris, Georgia signee Jaheim Singletary, Michigan Signee Will Johnson and Clemson signee Jeadyn Lukus.
Out due to injury
The following prospects are out due to injury according to the Under Armour event staff: Georgia ATH signee Malaki Starks, Texas wide receiver signee Brenen Thompson, Oklahoma quarterback signee Nick Evers, Florida linebacker signee Shemar James, Miami cornerback signee Khamauri Rogers, Texas A&M cornerback signee Bobby Taylor, LSU cornerback signee Latterrance Welch.
Five-Star Plus+ USC cornerback signee Domani Jackson is listed on the active roster. Jackson sustained a season-ending knee injury in the first game of his senior season. We weren't expecting him to play, but would not rule it out. The same goes for other prospects listed above. Check back for updates on their status once practices begin.
Stay tuned to On3 all week for continued coverage of the Under Armour All-America Game.