Under Armour All-American Top Performers: Day 1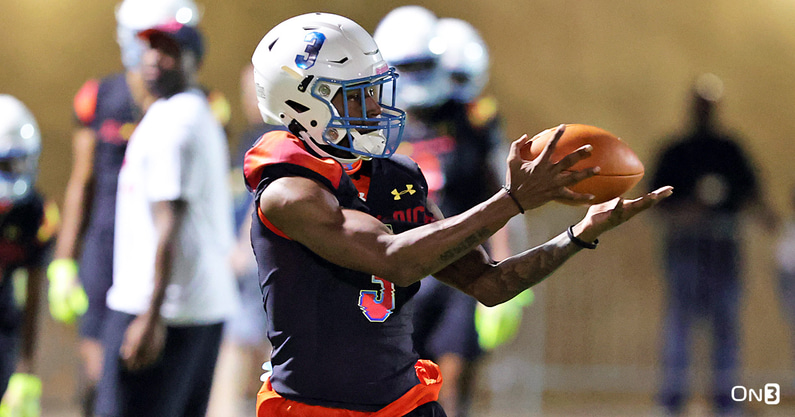 LAKE BUENA VISTA, Fla. – The Under Armour All-America Game practices kicked off on Wednesday evening. Around 100 of the nation's top football prospects from the 2022 recruiting cycle were at ESPN's Wide World of Sports in Florida for the week's first practice. On3 was on hand to take in the action. 
Practices will run until Saturday. The game is to be played on Sunday at 2 P.M. eastern at Camping World Stadium in Orlando.
The roster is divided into two teams – Team Icons and Team Legends. Both teams had simultaneous non-padded practices on adjacent fields. Contact was limited, but we were able to get a thorough first look at prospects as they went through drills, 1-on-1, 7-on-7 and 11-on-11 work. 
Here are On3's top performers for the day, headlined by a Texas A&M signee who showed some electric playmaking ability.
On3 MVP: Evan Stewart – Texas A&M
The wide receivers on Team Icons were the storyline of the the first practice session with Evan Stewart leading the group. The Texas A&M signee was unguardable off the line of scrimmage, showing excellent first step quickness along with technical acuity in his releases. Stewart gets instant separation out of his stance. Even if the quarterbacks weren't able to connect, Stewart was open all night. We also saw the Five-Star Plus+ receiver show excellent effort, laying out for a ball that was thrown out of bounds.
2. IOL Neto Umeozulu – Texas
Neto Umeozulu is listed as an interior offensive lineman, but has the length and athleticism to play all over the line of scrimmage. We saw the 6-foot-4, 285-pounder turn in strong reps at both tackle and guard. Umeozulu showed reactive quickness to go with his length and has the lower body strength to anchor on contact once engaged. We thought Umeozulu had the strongest session among the Team Legends offensive linemen, highlighted by a win over Five-Star Plus+ defensive lineman Walter Nolen in 1-on-1's.
3. DL Bear Alexander – Georgia
We didn't get to see a ton of Bear Alexander as a senior. The Georgia signee missed a chunk of his senior year due to eligibility prior to a transfer to IMG Academy. Alexander impressed with his first-step quickness and violent hands. The 6-foot-3, 315-pounder used his more compact build to out leverage some taller offensive linemen. We also saw Alexander show off a nice rip move in 1-on-1's.
4. WR Chris Marshall – Texas A&M
Chris Marshall had two of the most electric reps we saw from a wide receiver in the 1-on-1's. The highlight came against Texas safety signee Bryan Allen. Marshall put Allen in the spin cycle with a filthy double move at the route stem. With Allen moved the other way, leaving Marshall wide open in the middle of the field. Marshall finished the play with a back-handed one-handed grab for style points. We also saw Marshall get vertical in 1-on-1's for a long touchdown and score on a screen in 11-on-11 work. The the 6-foot-3, 195-pounder flashed some considerable upside on Wednesday.
5. WR Luther Burden – Missouri
Luther Burden may have come down with the most catches among the loaded wide receiver group on Team Icons. The Missouri signee was effective working underneath and over the middle, flashing strong hands at the catch point. Burden's finishing ability along with his spatial awareness make him a reliable, high volume target. His ability after the catch may be his best trait, but we didn't get to see that a ton in this non contact setting.
6. OT Zach Rice – North Carolina
Zach Rice worked at right tackle for Team Legends and most if not all of his reps in 1-on-1's. Rice pairs strong hands with a stout base and anchor to quickly stymie opposing pass rushers. Rice quickly overpowered Texas A&M EDGE signee Malick Sylla and won two reps against Alabama EDGE signee Jeremiah Alexander. He may not be the longest offensive lineman in attendance, but Rice's play strength and quick hands showed up in a big way on Wednesday.
7. WR Adam Randall – Clemson
Along with Burden, Adam Randall was the most targeted receiver for Team Icons on Wednesday evening. The 6-foot-3, 215-pounder has the most developed build of any receiver in Orlando. That was expected coming into the event. Randall also proved that he can create consistent separation downfield while facing top defensive backs. We saw the Clemson signee make a number of impressive plays including an over the shoulder catch against double coverage, a contested grab in traffic and a score on a fade in 11-on-11 work. Parsing the wide receivers in this loaded group was not easy and Randall has an argument to be higher.
8. IOL Tyler Booker – Alabama
We didn't as extensive a look at the Team Icons OL-DL 1-on-1's due to that team's practice set up. With that said, we thought Tyler Booker had the best first day of Team Icon offensive linemen. The Alabama signee work at both right tackle and guard and looked comfortable in both spots. Booker has plus length and jolt in his hands. He had a strong down block to open a big hole in 11-on-11 work. We also saw Booker approach the practice with a workmanlike attitude, constantly seeking instruction from the coaches. He finished the day by nearly beating a much lighter Kenyatta Jackson in the L-Cone competition.
9. DL Walter Nolen – Texas A&M
Walter Nolen may not have had a purely dominant showing on Wednesday, but he was still very good. Nolen had the second best day among Team Legends defensive linemen, after Bear Alexander. Nolen has a unique blend of size, initial quickness and fluidity of movement. He didn't win every rep in 1-on-1's, but Nolen has a different athletic gear than many of his peers along the interior.
10. CB Will Johnson – Michigan
The receivers clearly got the best of the defensive backs on day one, particularly those on Team Icons. With that said, we saw Will Johnson make the most plays on the ball. The Michigan signee has excellent ball skills – which shouldn't be a surprise given his background as a receiver and basketball player. Johnson broke on underneath routes and was able to use his 6-foot-3, 190-pound size to get physical with Team Legends wide receivers.
Additional notes
+ Five-Star Plus+ Jackson State signee Travis Hunter worked at cornerback for Team Icons and had a very quiet day by his standards. We didn't see Hunter get beat, but also didn't see him make too many of his patented big plays.
+ Uncommitted interior offensive lineman Devon Campbell had a strong case to be included in the top ten. He worked at right guard and as an emergency center and turned in strong reps against Bear Alexander and Walter Nolen.

+ It was not the strongest day for the quarterbacks. There has been considerable roster churn at the position in advance of the game. Auburn commit Holden Geriner had the strongest first day in our opinion, showing a quick release. Texas A&M signee Conner Weigman also had some nice moments.
+Andre Greene Jr. (North Carolina), Tayln Shettron (Oklahoma State) and Kaden Saunders (Penn State) are three more receivers who caught our eye. Greene impressed with his build and ability to attack the ball in-air. Shettron was the best receiver on Team Legends, making the most high-level catches along with the ability to burst out of his cuts. Saunders showed some high-end quickness in separating against Team Legends defensive backs.
+Jaylen Sneed (Notre Dame), C.J. Hicks (Ohio State) and Jihaad Campbell (Alabama) flashed at linebacker. Sneed is a twitched up athlete and had a great diving pass breakup in the end zone in 11-on-11 work. Hicks showed his athletic ability in covering tight ends and running backs on vertical routes. Campbell has a unique frame with the long arms and big hands of an EDGE to go with the movement skills of a linebacker.
+ Oklahoma safety signee Robert Spears-Jennings came away with the fastest man award, edging out Texas A&M signee Bryce Anderson in a head-to-head race. Spears-Jennings clocked an electronically-timed 4.48 second 40-yard dash on wet grass.

+ Five-star defensive lineman Shemar Stewart was out for the later portion of the practice with an injury. Florida wide receiver signee Jayden Gibson, Florida State safety signee Sam McCall and Houston interior offensive line signee Demetrius Hunter also missed time with injuries.
+ A few players are out for the week. That group includes Georgia cornerback signee Jaheim Singletary and TCU signees wide receiver Jordan Hudson and safety Chace Biddle. Uncommitted safety prospect Jacoby Mathews and Texas defensive line signee Jaray Bledsoe were not scheduled to arrive until Wednesday night and missed the first practice. Other prospects selected to the game but out with injury include quarterback Nick Evers (Oklahoma), Five-Star Plus+ cornerback Domani Jackson (USC), athlete Malaki Starks (Georgia).
On3 National Recruiting Analyst Gerry Hamilton contributed to this story.