Under Armour Future 50: Overall Top Performers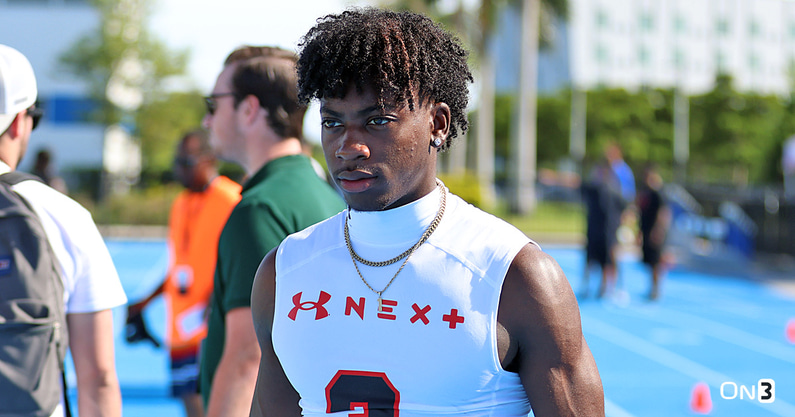 BRADENTON, Fla. – Dozens of the nation's top prospects are at IMG Academy this weekend for Under Armour Future 50. The on-field portion of the event took place on Saturday.
The morning session included position drills, 1-on-1s and some athletic competitions. The second abbreviated afternoon session (weather) featured 7-on-7 play and 1-on-1's with offensive and defensive linemen.
FULL FUTURE 50 ROSTER BREAKDOWN
On3 is out in full force at Future 50 and came away with several top performers from the event, headlined by the nation's top-ranked wide receiver.
Related: Future 50 Preview | Recruiting Intel from Hotel Check-In | Future 50 Check-In All Lobby Team
On3 MVP: WR Zachariah Branch – USC
Zachariah Branch was an easy choice for On3 MVP honors. The 5-foot-10, 170-pounder was the most electric offensive skill player on hand by a wide margin. Branch was constantly open in both 1-on-1's and 7-on-7 play and served up the biggest individual moments of the event. We saw him win deep in 1-on-1's on multiple occasions. The USC commit followed that up with what was likely the most impressive individual play of the afternoon session. Branch separated on a deep crossing route and brought in a one-handed catch without breaking stride en route to a long touchdown.
Branch kept defensive backs, including blue-chip corners, out of phase all day. His combination of verified elite long speed, cat-quick change of direction and plus ball skills result in a truly dynamic target who can win at all levels of the field. The Las Vegas Bishop Gorman standout entered Future 50 as On3's top-ranked wide receiver in the 2023 cycle and more than looked the part.
2. OT Francis Mauigoa – Miami
Francis Mauigoa vaults up to the No. 2 spot on the after turning in a strong round of 1-on-1's in the afternoon session. Mauigoa locked horns with the top two edge rushers on hand: Oklahoma commit Adepoju Adebawore and LSU pledge Dashawn Womack. The rep with Adebawore could be ruled as a stalemate, but Mauigoa showed the ability to recover after getting beat off the line. He followed that up with a very strong rep against Womack, quickly getting into his pass set and stoning the LSU commit at the point of attack.

Mauigoa was far and away the top offensive line prospect at Future 50. He was the top athlete and most nimble mover in a group of big 300-plus pounders – by a considerable margin. Mauigoa's combination of movement skills and play strength at 6-foot-5, 325 pounds makes him one of the top offensive linemen and overall prospects in the 2023 cycle.
3. EDGE Adepoju Adebawore – Oklahoma
Adepoju Adebawore made a strong case as the twitchiest athlete at Future 50 along with Zachariah Branch. The 6-foot-4, 225-pounder has a rare combination of athleticism and length, manifesting in a big-time mismatch off the edge. Adebawore impressed from the jump, flying through drills and giving offensive linemen issues in 1-on-1's. He also showed some highly encouraging curvilinear movement and ability to bend the edge for such an explosive athlete. At the end of the morning session, we clocked Adebawore in the 6.90 second range in the 3-cone drill. That's an elite mark for a NFL EDGE prospect, let alone a rising senior in high school. The new Oklahoma pledge validated the belief that he's one of the more physically-gifted EDGE prospects in the 2023 cycle.
4. S Peyton Bowen – Notre Dame
As we noted after the morning session, the safeties were the most talented position group on hand at Future 50. Peyton Bowen stood out as the top performer – and top overall prospect – in that group. The Notre Dame pledge showed a complete skill set at the position, pairing top notch athleticism with refined cover skills. We typically saw Bowen in phase in 1-on-1's and 7-on-7. He flashed the long speed at the end of the morning session, finished second in the fastest man competition. The 6-foot, 185-pounder also made an impact in the afternoon, jumping a route to pick off Jackson Arnold on a PAT attempt, that would've likely gone for a 98 yard pick-six. Bowen is one of the top back seven defenders in high school football on Friday nights at Denton (Texas) Guyer and looked the part in this elite camp setting, as well.
5. EDGE Dashawn Womack – LSU
Dashawn Womack made a case as the most refined pass rusher on hand. The 6-foot-4, 250-pounder had a patient approach to his pass rush that translates well to the next level. While others enter each rep with a pre-meditated move, Womack was able to read and react to the offensive tackles' movements. This ability, along with his plus athleticism led to a number of impressive moments for the Baltimore St. Frances Academy star. We saw Womack win the majority of his reps aside from the final instance against Francis Mauigoa. Womack has the pass rush skills to stay on the outside long-term despite being heavier than most true EDGE prospects at this stage.
6. QB JJ Kohl – Iowa State
JJ Kohl had a solid showing in the morning session but really picked things up when defensive backs were added to the equation. The Iowa State commit picked up where he left off at the Elite 11 Finals and continued to show the ability to pick apart defenses in the 7-on-7 setting. While it wasn't quite the 13-16, six touchdown showing he had a few weeks back, Kohl was on a different level in 7-on-7 relative to the other quarterbacks. The 6-foot-6.5, 230-pounder flies through his reads, often getting to his third or fourth progression. Nearly every throw was on target, even if it resulted in an incompletion. He had a number of high level throws to all segments of the field, including darts down the seam, back shoulder throws into tight windows and deep balls. Kohl's processing ability, arm strength and ability to layer his throws continues to stand out and makes him one of the more notable performers among quarterbacks on the camp circuit this summer.
7. S Joenel Aguero
Joenel Aguero is highly explosive athlete at safety. The IMG Academy defender stood out in the morning with his sudden and explosive movements in defensive back drills. While he's a vicious hitter on Friday nights, we were also able to see some encouraging coverage skills in the non-contact setting at Future 50. Aguero has the makeup speed to eliminate separation. He was one of the only defensive backs we saw make a play on Zachariah Branch over the course of the day, closing for a pass break-up in 7-on-7. Georgia leads in Aguero's On3 Recruiting Prediction Machine.
8. WR Ayden Williams
Ayden Williams stood out in the morning session as one of the top route-runners at Future 50. The Mississippi native is a smooth mover who is able to quickly change directions within his routes. Williams continued his strong showing in 7-on-7, coming down with several nice grabs in traffic. We saw him make a high-point catch within a crowd on a pass from Jackson Arnold. Williams followed that up with two touchdowns from JJ Kohl – the second coming on another contested grab where he took the ball from Malik Muhammad. Williams' route-running, size and ability to come down the ball in tight confines lands him as a Top Performer. Ole Miss leads in his On3 Recruiting Prediction Machine.
9. TE Jelani Thurman
Jelani Thurman was borderline dominant in 1-on-1's during the morning session at Future 50. The 6-foot-6, 225-pounder regularly broke off what was a fairly overmatched linebacker group. Thurman was not heavily targeted in 7-on-7 action but did come down with a nice grab over the middle of the field. The Fairburn (Ga.) Langston Hughes product is a smooth mover with refined routes relative to other tight ends. Thurman is deliberate and confident as a pass catcher. His near 7-foot wing-span contributes to a large catch radius. He's set to commit on Sunday with Ohio State heavily trending in his On3 Recruiting Prediction Machine.
10. QB Malachi Nelson – USC
Malachi Nelson was steady during the morning and afternoon sessions at Future 50. As we noted earlier, Nelson threw the ball as well as we've seen from him this summer during the morning session. The USC pledge followed that up with a solid showing in 7-on-7. Nelson threw three touchdowns while helping his team to a victory. He often kept things short and did have a tendency to miss high at times, but still delivered a few nice throws. One of his best passes came on a dart over the middle of the field to Johntay Cook II that went for a touchdown.

Additional notes
+ Things sped up a bit for Oklahoma quarterback commit Jackson Arnold when defensive backs were added to the equation. This mirrors what we saw at the Elite 11 Finals. Arnold was a standout in drill work flashing a big arm with the ability to drive the ball downfield. He had some trouble in 7-on-7 going 3-12 with a few instances that could've gone for timed sacks. The 6-foot-1, 200-pounder just didn't look as comfortable in that setting as drills or routes on air. The arm talent is readily evident, though.
+ Texas wide receiver commit Johntay Cook II would've landed on the Top Performers list had he not had a few lapses in concentration over the course of the day at Future 50. After Branch, Cook looked to be the second most talented receiver on hand. The 5-foot-11, 180-pounder is a technical route-runner with very good change of direction. He was able to separate on some top defensive backs and rebounded from an up-and-down morning session to make some nice plays in 7-on-7.

+ Wide receiver Jalen Hale had a ho-hum morning session but was among the more productive wideouts, in 7-on-7, snagging three touchdowns. Two of the scores came against zone coverage. Hale was able to find cracks in the zone and work his way open in the end zone. Clemson commit Noble Johnson stood out among the receivers with his strong hands at the catch point. USC commit Makai Lemon and Oregon pledge Ashton Cozart were among the more refined and smooth pass catchers on hand. Notre Dame commit Braylon James is a top athlete and made some plays, but is not quite as fluid as some of the other receivers at Future 50.
+ Michigan EDGE commit Collins Acheampong has played little to no real football to this point, but flashed a considerable phycial upside that makes him one of the more intriguing prospects on hand. The 6-foot-7, 250-pounder has a huge frame and looked the part both in drills and 1-on-1's.
+ Five-Star Plus+ cornerback Cormani McClain did not have a great showing in the morning, having issues staying attached in man coverage. He fared a bit better in the afternoon session at Future 50 and was able to make a few plays on the ball in zone coverage. McClain's ball skills are evident, but the ability to consistently stay attached in coverage against top receivers is worth inspection after Future 50.
+ Javien Toviano stood out as one of the smoother defensive backs on hand. Fellow Dallas area product Malik Muhammad had a solid, if not spectacular showing at Future 50. 2024 prospect Desmond Ricks may have been the top cornerback prospect on hand, but still had his share of wins and losses on the day.
+ Defensive lineman Jordan Renaud and offensive tackle Cayden Green are two big men who stood out in the morning session at Future 50. Renaud had the strongest punch on hand, stunning offensive linemen with his hand strength. He was not quite as dominant in the afternoon. Similar could be said for Green. The new Oklahoma commit faired well in the morning showing solid movement skills to go with his big frame. Green's play dipped a big during the Big Man Challenge in the afternoon.

+ Kansas State running back commit Dylan Edwards came away as the Fastest Man winner, edging out Peyton Bowen in what was likely a sub 4.4 second 40-yard dash. Edwards is tiny at a verified 5-foot-8, 155 pounds, but he gets to top speed very quickly.
+ The linebacker group was more than likely the least loaded position group on hand at Future 50. With that said, new Georgia commit Troy Bowles made the most plays we saw from the group. Bowles is under sized at around 6-foot, 205 pounds and had his share of up and down moments, but also flashed some good instincts in coverage.