Under-the-radar September performances by Power 5 offensive and defensive coordinators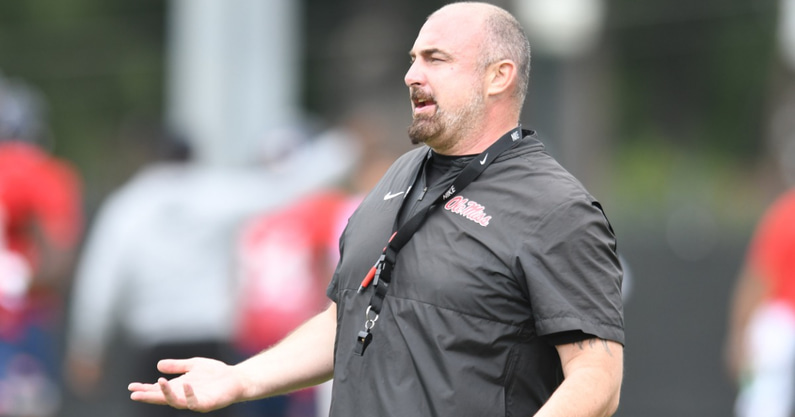 Guys like Georgia offensive coordinator Todd Monken, Oklahoma offensive coordinator Jeff Lebby and Alabama defensive coordinator Pete Goulding have deservedly earned lots of praise early in the 2022 season, but three weeks into September, why not shine some light on some names you may not be as familiar with whose units are also performing well so far this year. 
Here are some under-the-radar performances by Power 5 offensive and defensive coordinators:
ACC
Offensive Coordinator: Kevin Johns, Duke
Ask most folks who the offensive coordinator is for the Blue Devils and you'd probably get a blank stare. 
That's ok. I'm not sure I'd recognize Kevin Johns if he walked in a room either, but the man is doing a fantastic job for Mike Elko in Year 1. 
Duke — DUKE! — leads the ACC in yards per play so far in 2022. A year removed from their offense ranking last in the conference with just 22.8 points per game, the Blue Devils are averaging 37.1 points per game this fall. 
Johns has overseen a balanced, explosive attack — one that leads the ACC with 11 plays over 30 yards and a league-high four plays over 50 yards.
He'll be tasked with matching points with an explosive Kansas offense averaging more than 50 points a game this weekend. 
Defensive Coordinator: Tony Gibson, NC State
The Wolfpacks' DC was a Broyles Award nominee in 2021, so he's more of a known commodity than some on listed here, but Tony Gibson's unit has continued to flex its might in 2022. 
While experienced quarterback Devin Leary has struggled to start the season, Gibson has gotten the most out of the vets on NC State's defense — guys like Drake Thomas, Tyler Baker-Williams and CJ Clark. 
NC State ranks second in the ACC allowing just 4.45 yards per play. It leads the conference in takeaways, including four in a 27-14 win over Texas Tech spearheaded by Gibson's defense.
Big Ten
Offensive Coordinator: Kirk Ciarrocca, Minnesota 
It's been a warm homecoming for Kirk Ciarrocca back in Minnesota in 2022, as the veteran offensive coordinator was a Broyles Award Semifinalist in 2019 with the Gophers followed by a disastrous one-year stint as James Franklin's OC at Penn State. 
Ciarrocca was an analyst at West Virginia last fall, but P.J. Fleck brought him back to Minnesota this year to kickstart a unit that ranked 118th in passing last season and couldn't run the ball with any efficiency. 
Reunited with sixth-year senior quarterback Tanner Morgan, Ciarrocca's offense ranks only behind Ohio State in yards per game (554.7) through three weeks. The Gophers are averaging 7.27 yards per play and 10.7 yards per attempt — third-best in the Big Ten. Meanwhile, Cirarrocca has also reconnected with star taibaclk Moham Ibrahim, who has returned from an Achilles injury to average 154.7 yards per game this season.
Ciarrocca's group should continue to post big numbers this weekend against a Michigan State secondary that was just torched by Washington. 
Defensive Coordinator: Jesse Minter, Michigan 
The Wolverines have been among the most dominant teams in the country to start 2022. They've played perhaps three of the worst current FBS programs (Colorado State, UConn and Hawaii), but still. 
Jesse Minter is a first-year coordinator tasked with following Mike McDonald, who returned to the Baltimore Ravens, and replacing 2021 studs like Aidan Hutchinson, David Ojabo and Daxton Hill. 
And yet the Wolverines' defense looks as salty as ever. Again, with context considering the competition.
Minter didn't change much schematically from McDonald, continuing to bring pressure from all three levels of the defense. 
Six different players — from linebackers, to edge rushers, to interior DL, to a defensive back — have recorded a sack for Michigan already this season. 
Minter's unit has allowed just 3.2 yards per play, and will face its first offense with a real pulse Saturday against Maryland (40.1 points per game).
Big-12
Offensive Coordinator: Garrett Riley, TCU
Lincoln Riley's little brother continues to make a name for himself as an offensive innovator working alongside Sonny Dykes at SMU and now across town at TCU. 
The 33-year-old Horned Frogs' offensive coordinator/quarterbacks coach has helped guide a unit that ranks No. 2 nationally in yards per play (8.41).  
TCU has played nobody through three weeks (Colorado and FCS Tarleton St.) but it does look like Riley has gotten the best out of senior quarterback Max Duggan, who has five touchdowns to zero picks and is averaging 13.0 yards per attempt.
Riley's offense will be truly tested here soon though, as the Horned Frogs play at SMU on Saturday and then host Oklahoma to kickoff October.
Defensive Coordinator: Jon Heacock, Iowa State 
Matt Campbell's longtime lieutenant keeps churning out quality defenses, even in 2022 when the Cyclones had to replace eight starters (including multiple impact players lost to the transfer portal.)
They haven't missed a beat, though, with Heacock's unit allowing just 9.0 points per game and leading the Big 12 in yards per play (4.04). 
Iowa State has one of the best pass rushers in the country in Will McDonald IV, but the senior has just a single sack in three games. Instead, Heacock's unit has received impact snaps from several new faces, headlined by former FCS transfer linebacker Colby Reeder.
The former All-CAA Delaware product has five quarterback hurries, two interceptions, a couple PBUs and a team-best 12 tackles. 
Pac-12
Offensive Coordinator: Brian Lindgren, Oregon State
The Beavers are a surprising 3-0 with a close wins over Boise State and Fresno State. 
Fourth-year OC/quarterbacks coach Brian Lindgren has overseen a unit that features a physical offensive line with a run-heavy approach, and yet the Beavers are among the more efficient explosive passing offenses in the Pac-12. 
They don't air it out a ton (just 80 attempts ranks third-fewest in the conference), but they get chunk gains off play-action. They have the second-most passing plays over 20 yards in the Pac-12 (17), and lead the conference averaging 10.4 yards per attempt. 
Oregon State has a big one this weekend in Corvallis, as Lindgren's unit will be tasked with matching points with USC.
Defensive Coordinator: Brian Ward, Washington State
After earning the full-time job as the Cougars' head coach, former DC Jake Dickert tabbed Nevada DC Brian Ward to coordinator Washington State's unit in 2022.
So far, so good. 
Ward brought several Wolfpack players with him to Pullman, including starting linebacker Daiyan Henley and safety Jordan Lee. 
Washington State is 3-0 mostly because of a solid bend-but-don't-break defense. With an emphasis on havoc, Ward's unit has been all sorts of disruptive, leading the Pac-12 in sacks and hurries. Henley has been a menace as a blitzing linebacker (4 sacks, two forced fumbles). 
The Cougars have forced seven takeaways and rank near the top of the Pac-12 in third and forth-down stops, too. 
They stymied Wisconsin in Madison just two weeks ago, and now Ward will have to figure out a way to slow down an Oregon offense that has scored 40+ in two straight games.
SEC
Offensive Coordinator: Kendal Briles, Arkansas
The 40-year-old play-caller looks like a soon-to-be Group of 5 head coach with another strong start from his unit. 
A year after leading all Power 5 schools in rushing with more than 227.7 yards per game, Arkansas' offense is back at it again in 2022.
In three games against Cincinnati, South Carolina and Missouri State, the Hogs are averaging nearly 250 yards per game on the ground and scoring 38 points per game. 
Despite losing star receiver Treylon Burks to the NFL, Briles has actually gotten even more from Arkansas' passing game so far in 2022, with quarterback KJ Jefferson averaging 9.9 yards per attempt (up from 9.0) and more than 50 yards per compared to last season.  
Defensive Coordinator: Chris Partridge, Ole Miss
When DJ Durkin bounced to Texas A&M this offseason, Lane Kiffin chose to promote safeties coach Chris Partridge as his new defensive play-caller. 
The Rebels then completely overhauled last season's unit, adding as many as six starters from the transfer portal. Ole Miss also returned impact players like pass rusher Cedric Johnson and defensive backs Otis Reese and AJ Finely. 
Although the competition has been suspect, the early returns have been more than promising. Despite playing opposite Lane Kiffin's high-flying offense, Partridge's new-look defense has been the story of Ole Miss' cupcake non-conference slate so far. 
The Rebels blanked Georgia Tech 42-0 and has allowed just 13 points all season — second-fewest in the SEC behind No. 1 Georgia. Ole Miss leads the league with 26 tackles for loss and is second in the conference with 13 sacks and six takeaways.