University Fancards available at Alabama games to support cashless initiative
Alabama is taking its cashless initiative a step further this fall at Bryant-Denny Stadium. University Fancards, a collegiate branded gift and reloadable card company, will have its officially licensed Alabama Mastercard gift cards on sale at games.
The move makes the Crimson Tide the first program in collegiate sports to go cashless with their own custom, licensed gift card program inside their stadium.
Alabama concessions and retail will be cashless this season. Fans who bring cash to points of sale will be directed to designated kiosks to exchange for Fancards in $20 increments. The kiosks will be at two locations: Lower Level, Section AA and Upper Level, Section NN-8.
Alabama Fancards will also be for sale outside of the stadium. The gift cards are available at Walmart, Dollar General and CVS around the state. The other long-term option for Crimson Tide fans is to purchase the Alabama Fancard Prepaid Mastercard. Users are able to reload cash onto their Mastercard, and reloadable cards are compatible with Apple Pay or Google Pay.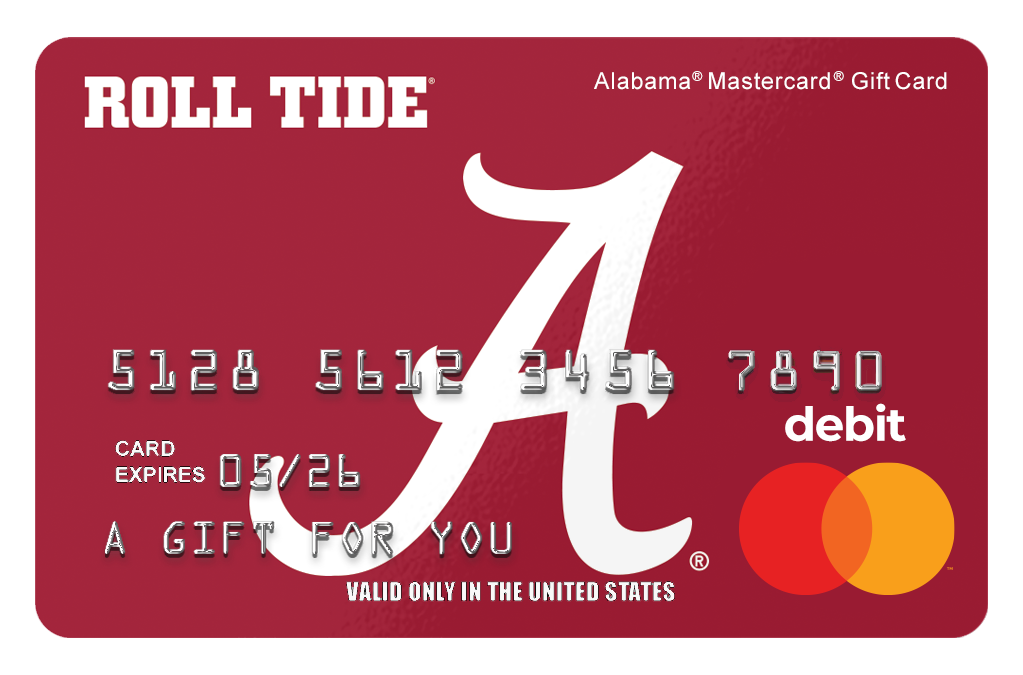 What is Fancards?
The Birmingham-based company launched in 2015, founded by the father-son duo of Lynn and Greg Boggs. When Lynn, the father, could not find an Alabama-themed gift card for his son, he had Learfield IMG College research the space. The category was wide open. Now Fancards has partnerships with more than 25 other institutions. The product is now in more than 20,000 retail stores across the country.
"We are a locally owned business and Alabama was our first partner, so it's exciting to see our products sold at the stadium," Greg Boggs told On3. "Fandom is in our DNA as a company, so to be able to offer our gift cards at the game and add something to the Bryant-Denny experience is really special."
The college cards account for nearly all of University Fancards' revenue. The business collects a fee each time the card is used in a transaction, similar to credit cards. The company has also found opportunities in producing customized gift cards for bowl games. For example, the Chick-fil-A Peach Bowl has used the company to create custom cards for their gift suites.
Fanatics store also coming to Bryan-Denny Stadium
Alabama announced a long-term partnership with Fanatics last month. Included in the partnership is plans to open the first-ever team store at Bryant-Denny Stadium. The store will have gear from officially licensed outlets like Nike and Topps, as well as student-athlete NIL merchandise.
The store will also be an NIL activation area for athletes. Alabama players will be able to sell autographed memorabilia, conduct fan meet and greets, and conduct social media marketing to support sales of their NIL merchandise at The Authentic retail space.
The unique Fanatics story at Bryant-Denny will be open for this weekend's season opener against Utah State.
"Fanatics has been one of Alabama Athletics' top partners for more than a decade and this new deal elevates our relationship to new heights," Alabama athletic director Greg Byrne said in a release. "By taking advantage of the expanded breadth of Fanatics' services, we have put our University and student-athletes in a position to maximize sales and brand exposure with Fanatics' blue-chip family of brands, including Fanatics Commerce, Topps, and Candy Digital. 
"I think our fans will be fired up when they see everything come together inside The Authentic shop at Bryant-Denny."