Updated 2021 National Championship Odds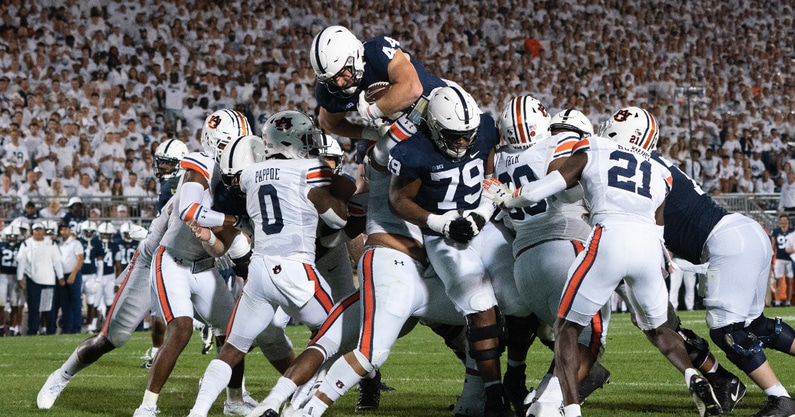 Following last weekend's slate of games that saw multiple near upsets in the Top 10, Vegas Insider has released their latest national title odds:
Alabama: +200
Georgia: +250
Clemson: +1000
Ohio State: +1000
Oklahoma: +1400
Oregon: +1600
Penn State: +2500
Michigan: +4000
Iowa: +5000
Texas A&M: +6000
Cincinnati: +6000
Ole Miss: +6000
Notre Dame: +10000
Florida: +10000
Iowa State: +10000
LSU: +15000
Texas: +15000
Wisconsin: +15000
USC: +15000
Michigan State: +15000
Updated Sun, Sept. 19, 10:15 a.m. ET
Preseason Top 5 remain the favorites
At the start of the 2021, nearly all experts had the following teams in some order as their first five teams: Alabama, Georgia, Clemson, Ohio State and Oklahoma. After three games, those five contenders remain the favorites to win a national title despite the fact that both Clemson and Ohio State have each suffered a loss, Florida nearly made a second-half comeback against the Crimson Tide, and Oklahoma has struggled mightily against both of its FBS opponents, Tulane and Nebraska.
Maybe the playoff isn't as set-in-stone as expected.
Oregon: Win and you're [probably] in
Oregon's upset win over Ohio State is one of the top wins this year, and after Fresno State beat UCLA last weekend, the Duck's come-from-behind win over the now-ranked Bulldogs in Week 1 looks even better. Oregon should be favored in the remainder of their regular season games, and their only remaining ranked opponent is No. 24 UCLA. They avoid both USC and Arizona State, teams that have bad losses but that could still be sneaky opponents for anyone they face. It is a long season, but if Oregon executes as expected, a Pac-12 title game berth is looming.
Surprises in the Big Ten continue
Penn State has arguably the best resume in the country at this point after wins over Wisconsin at Camp Randall and last weekend over Auburn. Michigan and Michigan State look, at the very least, like they could be pesky games for both the Nittany Lions and the Buckeyes. 
Both the Wolverines and the Spartans have seen huge unexpected offensive improvements this season, albeit both largely on the ground. They will need to balance out their attacks a little more if they want to contend with the best of the best.
In the West, Iowa looks good, especially on the defensive side of the ball. Circle Oct. 9 on your calendar, as the Hawkeyes will travel to Happy Valley in what could be a Top-10 matchup.
Aggies, Rebels face Crimson Tide, Razorbacks in next three weeks
Texas A&M and Ole Miss, listed as having the 10th and 12th best odds to win the national championship, have tests against Alabama and Arkansas in the next three weeks. It is unlikely that they will both get through unscathed, but the SEC West could get very interesting very quickly.
One-loss teams are not out of it yet
While the chances are low, several one-loss teams are still listed with playoff odds. Florida, who lost a heartbreaker at home to Alabama last weekend, has a date with Georgia in just over a month and could see Alabama a second time in the SEC Championship Game should they beat the Bulldogs. 
Iowa State and Texas both have ugly losses, and a realization of any playoff hopes would more than likely require running the table. It is possible, especially considering Oklahoma has looked vulnerable, but there is no room for error for these two teams. 
Wisconsin and USC have three more games against currently ranked opponents, while LSU has a whopping six. In other words, there are plenty of "prove yourself" opportunities for these teams. That being said, it will require quite the performance, especially since USC and LSU have such bad losses to Stanford and UCLA, respectively. Wisconsin and Notre Dame square off in Chicago this weekend, and if the Wisconsin defense can stifle an Irish offense that has had plenty of issues this season, they will be on the right track.
Irish-Bearcats South Bend showdown will be huge
Speaking of Notre Dame, they host Cincinnati next weekend. The Bearcats have the 11th-best odds to make the national championship, while the Irish are sitting at No. 13. Cincinnati survived their test in Bloomington against Indiana last weekend, but the visit to South Bend will be the real test to see if they are actually capable of crashing what has to date been a Power Five-only playoff.