Updated Coaches Poll Top 25 released following action-packed Week 5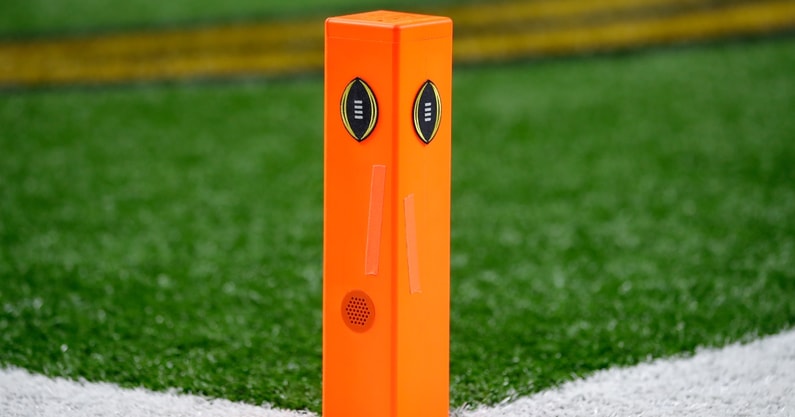 When the dust settled on Week 4, all eyes turned towards Week 5. When last week's rankings were revealed, the action-packed slate for this past weekend was obvious. The action certainly didn't disappoint, with plenty of upsets and tight finishes for teams throughout the rankings. Following Saturday's games in Week 5, the USA Today AFCA Coaches Poll has been revealed, featuring significant movement and plenty of teams that weren't included in last week's top 25.
In the end, top 25 teams went 14-10 on the weekend. Tennessee was the only AP-ranked team not in action in Week 5, as the Vols were on a bye. After Alabama cruised to a victory on the road against Arkansas, even after Bryce Young was lost with an injury, and Georgia struggled in a tight victory over Missouri, there is a lot of conversation surrounding the top spot in the rankings yet again.
Elsewhere in the top ten, Clemson and NC State battled in the only matchup between two top ten teams in Week 5. Dabo Swinney's Tigers ultimately pulled out a 30-20 victory over the Wolfpack. Kentucky was the other top ten team to lose on Saturday, falling 22-19 to Ole Miss.
Beyond the top ten, losses were found more often than not. Other previously ranked teams to lose in Week 5 were Washington (against UCLA), Baylor (against Oklahoma State), Texas A&M (against Mississippi State), Oklahoma (against TCU), Minnesota (against Purdue), Florida State (against Wake Forest), and Pitt (against Georgia Tech).
Of the ten losses from the previous top 25, five came against unranked opponents. That opens the door for plenty of new faces in this week's rankings, which comes at a good time for many of the teams that were on the right side of these upsets in Week 5. The Coaches Poll surely reflected that with plenty of additions to the top 25 and a new team at the top.
Updated Coaches Poll Top 25
Alabama (5-0) (34 first-place votes)
Georgia (5-0) (23)
Ohio State (5-0) (7)
Michigan (5-0)
Clemson (5-0)
USC (5-0)
Oklahoma State (4-0)
Tennessee (4-0)
Ole Miss (5-0)
Penn State (5-0)
Utah (4-1)
Oregon (4-1)
Kentucky (4-1)
NC State (4-1)
Wake Forest (4-1)
BYU (4-1)
Kansas (5-0)
TCU (4-0)
UCLA (5-0)
Kansas State (4-1)
Syracuse (5-0)
Baylor (3-2)
Mississippi State (4-1)
Washington (4-1)
Arkansas (3-2)
Oklahoma (previously No. 16), Texas A&M (prev. No. 17), Florida State (prev. No. 22), Minnesota (prev. No. 23), and Pittsburgh (previously No. 24) all dropped out of the rankings. Kansas (jumped ten spots), TCU (jumped 14 spots), UCLA (jumped 19 spots), Kansas State (jumped 10 spots), and Mississippi State (jumped 12 spots) leaped up into this week's top 25.
Kentucky and NC State fell after losing on Saturday, with the Wildcats falling five spots to No. 13 and the Wolfpack falling four spots to No. 14. Baylor also saw a significant drop to No. 22, while Washington and Arkansas each fell six spots to the final two in the top 25.
Many other schools also received votes. Those teams included Cincinnati (140 votes), Louisiana State (89), Florida State (74), Florida (41), Washington State (38), Maryland (37), James Madison (30), Minnesota (23), Texas (22), and Texas A&M (20), among others.