WATCH: Urban Meyer hints at return to broadcast role following Jacksonville exit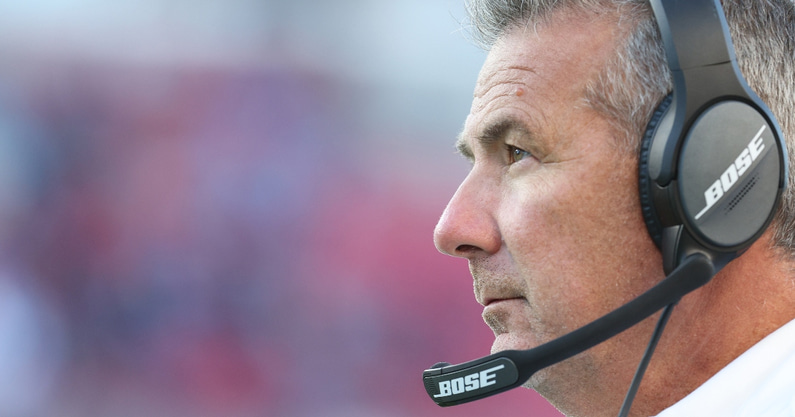 Former Ohio State Buckeyes head coach Urban Meyer is contemplating options following his brief stint in the NFL with the Jacksonville Jaguars. This week, the famed collegiate coach-turned NFL reject discussed his next move – a potential return to the Fox Sports studios – on the Tim May Podcast.
"It's all still in conversation," Meyer said to May. "I love Fox, I love their team and their guys. There's nothing that's been finalized yet but I plan on going back and doing that. I really enjoyed that. I enjoyed celebrating those who play, celebrating those who coach – it's a great game. Not being the kind of ripping people to shreds but just celebrating this incredible game and most importantly, the players that do this game. I plan on being back in the fall doing something like that."
Meyer's 2-11 NFL coaching record is a far cry from the immense success he saw at schools like Florida and Ohio State. Throughout his collegiate coaching career, Meyer amassed an incredible 187-32 (.854) record and was a three-time national champion (2006, 2008, 2014). He was even named Sports Illustrated Coach of the Decade in 2009.
After retiring as Ohio State's head coach in 2019, Meyer took a TV job as an analyst for Fox Sports' weekly pregame show, Big Noon Kickoff. Lettermen Row's Austin Ward reported last week that he believes Meyer will return to Fox.
"I can't say that it's done," Ward said on the Lettermen Live Podcast. "I think it's gonna happen again and I don't think he ever should have left in the first place. He was good and I think they miss that. There was a drop-odd pretty significantly to Bob Stoops."
Losing took a toll on Urban Meyer
Jacksonville began the season 0-5 before taking down Miami (23-20) and Buffalo (9-6) in a three-week span. The Jags would finish the season 3-14 after ruining the Colts' playoff hopes with a 26-11 thrashing while still earning the No. 1 overall pick in the 2022 NFL Draft.
Meyer didn't get to see his team pull off the upset, however, as he was out of a job nearly a month prior. The Jaguars fired him in mid-December.
"It was the worst experience I've had in my professional lifetime," Meyer told Dan Dakich after his removal. "What really got me, I almost don't want to say people accept it, I mean, you lose a game, and you just keep … I would seriously have self-talk. I went through that whole depression thing too where I'd stare at the ceilings and [think] 'are we doing everything possible?' because I really believed we had a roster that was good enough to win games. I just don't think we did a great job.
"It eats away at your soul. I tried to train myself to say 'okay, it happens in the NFL. At one point, the Jaguars lost 20 [games] in a row," he said. "Think about that. 20 games where you're leaving the field where you lost. And we lost five in a row at one point and I remember I … just couldn't function. I was trying to rally myself up, I was in charge of the team, obviously, and then we won two out of three, and I really felt like we flipped that thing."
On3's Barkley Truax contributed to this report.