Urban Meyer addresses rumors surrounding USC head coaching position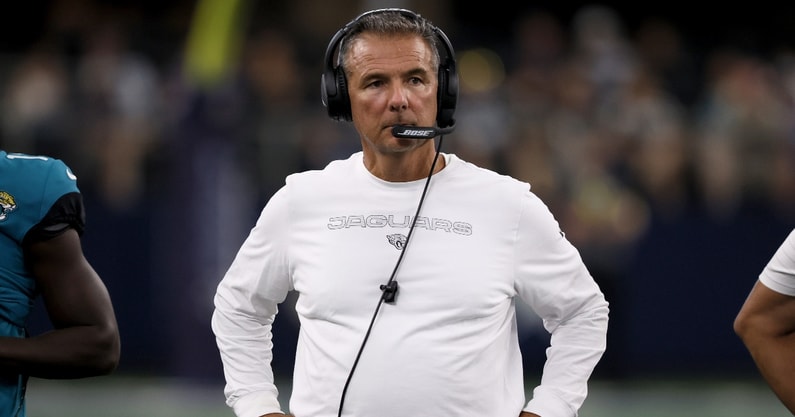 After being one of many names circulated across the country since the Monday afternoon firing of now-former USC head coach Clay Helton, Jacksonville Jaguars head coach Urban Meyer has addressed speculation that he might leave his new gig for Los Angeles. 
"There's no chance," Meyer said Wednesday, per ESPN's Michael DiRocco. "I'm here and committed to building the organization."
Meyer came out of retirement to take the Jacksonville job after seven years as the head coach at Ohio State from 2012-2018. He went 83-9 and won a national championship in the 2014 season.
Meyer also came out of retirement to take the Ohio State gig in the first place. He stepped down from his head coaching duties at Florida, where he won two national titles, after the 2010 season due to health issues before returning to coaching two years later.
As previously stated, several big names are being tossed around with regard to the USC coaching vacancy.
Dan Patrick reported this morning that a source told him there was mutual interest between Penn State head coach James Franklin and the Trojans. Other notable names include Cincinnati's Luke Fickell, Iowa State's Matt Campbell and Oregon's Mario Cristobal. USC athletic director Mike Bohn came from Cincinnati and hired Fickell, but the Ohio native has shown an affinity for the Midwest that might be hard to crack.
Report: Tensions already running high in Jacksonville
The Jaguars lost their season opener in Houston 37-21 after coming in as three-point favorites; it was considered one of the easiest games on their schedule.
According to Jason La Canfora, Meyer is already overwhelmed himself and overwhelming his staff in Jacksonville.
La Canfora cited the staff's inability to adjust to the pro game, difficulty getting installations done and difficulties getting an offseason schedule put out on time as struggles Meyer and his staff have had early in their tenure. 
"There has not been cohesion on that staff particularly between the college guys and the pro guys," La Canfora said. "So no it was not shocking to see them a complete mess on offense on Sunday…they were behind the sticks the entire game"
A source with direct knowledge of the daily operations in Jacksonville told La Canfora that Meyer has "everyone looking over their shoulders already."
"'He becomes unhinged way too easily, and he doesn't know how to handle losing, even in the preseason,'" La Canfora quoted the source as saying. "'He loses it and wants to take over the drills himself. It's not good.'"
On3's Tim Verghese contributed to this report.