Urban Meyer makes prediction on Alabama vs. Tennessee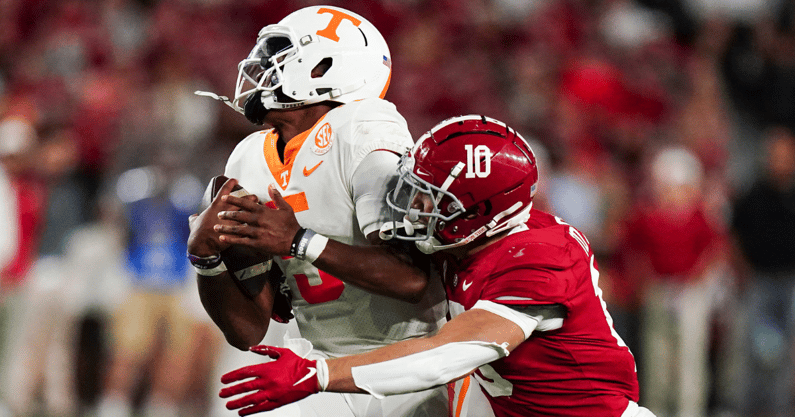 Urban Meyer knows what it's like to coach in front of a packed house on Rocky Top. When he was the head coach at Florida, he took his team to play then-No. 13 Tennessee in 2006 for a top-15 showdown — an eventual 21-20 Gators victory.
As Alabama gets ready to head to Neyland Stadium this week, Meyer said the atmosphere is going to be just as raucous, and it'll make life difficult for the Crimson Tide.
During his weekly appearance on On3's "Urban's Take with Tim May," Meyer said the Vols could have quite an opportunity if Alabama quarterback Bryce Young can't play. Between the atmosphere and some times the Crimson Tide struggled this year, Meyer said Tennessee could find a way to capitalize.
CLICK HERE to subscribe for FREE to the On3 YouTube channel
"There was a time Tennessee was not even close, the most difficult … stadium in the country to play," Meyer said. "There'll be 107,000 there, there'll be another 50-100,000 there outside that stadium. I was there when I was the coach in Florida in '05, we played them at almost six. They were top-five in the country and it's been a steady decline. So that Vol Nation, they're going to be ready.
"If Bryce Young doesn't play, I think this might be the week. I think Tennessee's really good. I think Alabama's shown some chinks in the armor, which means that's like blood in the water to a shark. That team is going to be, and that crowd, there's 15 years of build-up to this game for Vol Nation and really, for Tennessee alumni, the former players and the current players."
Paul Finebaum says Alabama in danger vs. Tennessee, calls for DEFCON 1
ESPN personality Paul Finebaum has No. 3 Alabama on high alert this weekend on the 'Third Saturday in October,' with No. 6 Tennessee posing a serious, serious threat to Nick Saban's juggernaut in this year's annual Alabama-Tennessee game.
Alabama has won 15 straight in the series, but ESPN's College GameDay is headed to Knoxville, Tenn., and the atmosphere should be downright electric for Tennessee.
"They're in big danger," Finebaum told ESPN's Max Kellerman on Wednesday. "And if Bryce Young either doesn't play or is ineffective, how about DEFCON 1? Alabama cannot win this game without Bryce Young, he's that critical. We saw that last week."
Young was sidelined Saturday by an AC sprain in his right shoulder that Saban noted could get worse due to overuse. The Crimson Tide were able to survive with backup quarterback Jalen Milroe, but it certainly wasn't comfortable.