Urban Meyer not required to speak with reporters ahead of Broncos game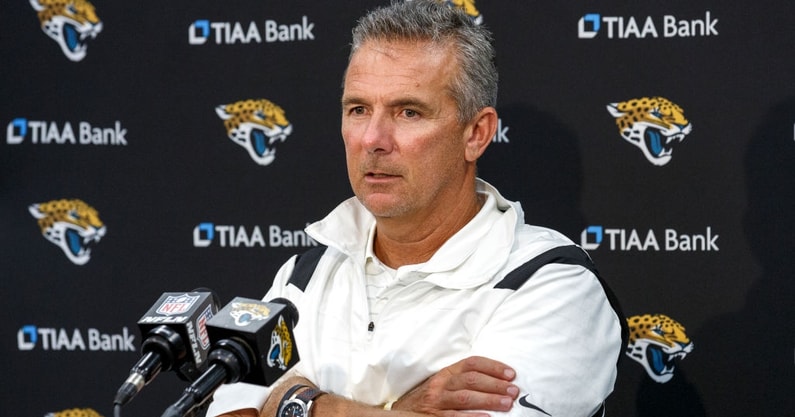 The NFL has changed their policy regarding head coaches speaking to reporters, as Denver Broncos reporters revealed they will not have access to Urban Meyer this week ahead of the Jacksonville Jaguars game.
Previously, the NFL made it a requirement that coaches be available for a conference call with reporters during the week ahead of their games. This rule has since changed, reports Pro Football Talk's Mike Florio.
Urban Meyer not speaking to Broncos reporters
An NFL policy change was revealed on Tuesday as reporters who cover the Broncos began to complain publicly that the Jaguars would not be making Meyer available for a conference call this week. Meyer is opting not to speak to reporters during a week with questions surrounding the Jaguars about his interest in returning to college football.
This news came as a surprise to Denver Broncos beat writers who believed these conference calls were mandatory by the NFL. With Meyer declining to attend, it was revealed that the NFL has made the conference calls optional this year.
Critics of the NFL's decision claim that these calls have been very valuable to reporters as they produce many quotes and insights about teams that their home reporters may not be willing to ask about. For example, if a Jaguars beat reporter was known as someone who causes trouble or controversy for the franchise, their access to the team could be at risk.
These sessions were viewed as an opportunity for reporters who were not beholden to a team to ask questions that were pressing for the week. This week, reporters were sure to ask Meyer questions about the newly available head coaching position at USC.
"The league, as we understand it, decided to stop making the sessions mandatory because they weren't useful or properly utilized," Florio explains. "They're definitely useful. We've based many PFT items over the years on quotes given by a coach to the media covering the opposing team. Given the pragmatic limitations on the things that many reporters covering a given team will ask that team's coach, it makes sense to make them available to reporters who may be less inclined to avoid third-rail topics."
Meyer struggling early in NFL
Meyer is reportedly already overwhelmed in his first season in the NFL after an embarrassing 37-14 loss to the Houston Texans in the season-opener, according to Jason La Canfora.
"Houston categorically, systematically and schematically beat their backsides for four straight quarters," La Canfora. "The game was out of reach. There's problems on defense, there's problems on offense and this may have been the second-easiest game on their [Jacksonville's] schedule so Urban Meyer has got a long way to go down there and there are a lot of skeptics."
La Canfora cited the staff's inability to adjust to the pro game, difficulty getting installations done and difficulties getting an offseason schedule put out on time as struggles Urban Meyer and his staff have had early in their tenure.
A source with direct knowledge of the daily operations in Jacksonville told La Canfora that Urban Meyer has "everyone looking over their shoulders already."
"'He becomes unhinged way too easily, and he doesn't know how to handle losing, even in the preseason,'" La Canfora quoted the source as saying. "'He loses it and wants to take over the drills himself. It's not good.'"
On3's Tim Verghese contributed to this article.