Report: Urban Meyer struggling in Jacksonville following week one loss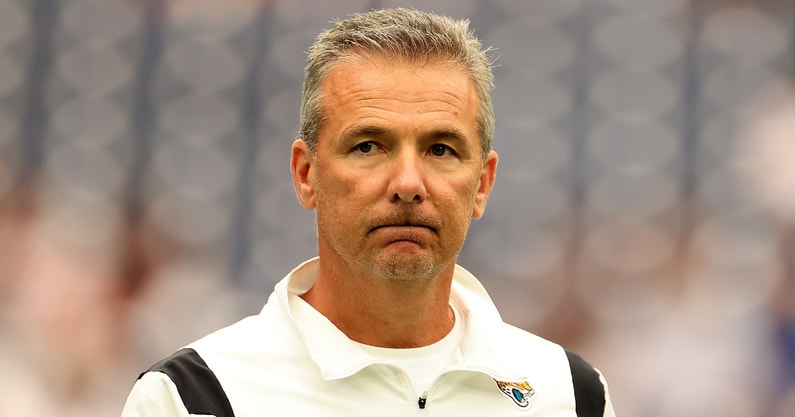 Jacksonville Jaguars head coach Urban Meyer is reportedly already overwhelmed in his first season in the NFL after an embarrassing 37-14 loss to the Houston Texans in the season-opener, according to Jason La Canfora.
"Houston categorically, systematically and schematically beat their backsides for four straight quarters," La Canfora. "The game was out of reach. There's problems on defense, there's problems on offense and this may have been the second-easiest game on their (Jacksonville's) schedule so Urban Meyer has got a long way to go down there and there are a lot of skeptics."
La Canfora cited the staff's inability to adjust to the pro game, difficulty getting installations done and difficulties getting an offseason schedule put out on time as struggles Urban Meyer and his staff have had early in their tenure.
"There has not been cohesion on that staff particularly between the college guys and the pro guys," La Canfora said. "So no it was not shocking to see them a complete mess on offense on Sunday…they were behind the sticks the entire game"
A source with direct knowledge of the daily operations in Jacksonville told La Canfora that Urban Meyer has "everyone looking over their shoulders already."
"'He becomes unhinged way too easily, and he doesn't know how to handle losing, even in the preseason,'" La Canfora quoted the source as saying. "'He loses it and wants to take over the drills himself. It's not good.'"
La Canfora slammed Urban Meyer for not making changes on the offensive line. In Sunday's loss, rookie quarterback Trevor Lawrence was pressured 16 times per Pro Football Focus. Only one offensive line starter did not allow a pressure.
In his much-anticipated rookie debut, Lawrence threw for 391 yards and three touchdowns, but also threw three interceptions and finished with a 14.2 QBR. As a team, Jacksonville rushed for just 76 yards. Help doesn't appear to be arriving for the Jaguars' running game as the team's other first-round pick of the 2021 NFL Draft, running back Travis Etienne, is already out for the season after suffering a Lisfranc injury in the preseason.
Houston, under first-year head coach David Culley, rushed to a 14-0 lead early and never let up. Quarterback Tyrod Taylor threw for 291 yards and two touchdowns, connecting with Brandin Cooks for five catches for 132 yards. On the ground, Houston rushed for 160 yards behind three running backs and Taylor.
To see Urban Meyer and the Jaguars struggle on Sunday is particularly alarming since the Texans are expected to be one of, if not the worst team in the NFL this season. Houston is coming off a tumultuous 2020 season and offseason that saw the firing of former head coach and general manager Bill O'Brien, the departure of star defensive end J.J Watt and a myriad of issues surrounding star quarterback Deshaun Watson, who is not expected to play for the Texans this season.
Urban Meyer's next test will come in the form of the Denver Broncos, who defeated the New York Giants in its season-opener. The Jaguars host Denver in Jacksonville on Sunday.