Will Urban Meyer's success translate to the NFL?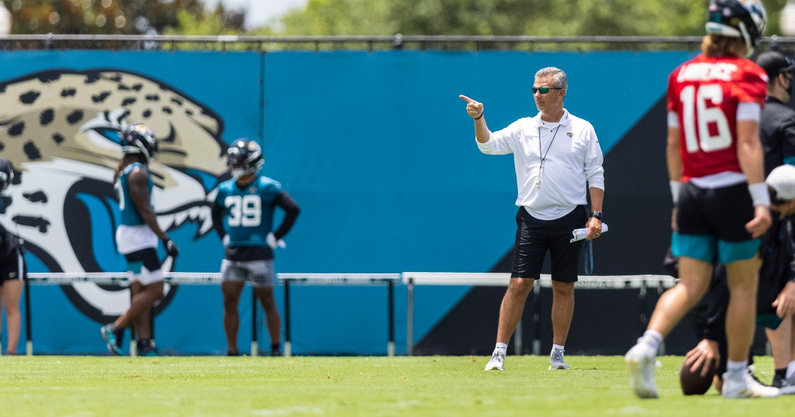 Urban Meyer was named head coach of the Jacksonville Jaguars earlier this year. As he makes his first foray into the National Football League, will his college success will transfer to the NFL?
In an appearance on NFL Network, Ian Rapoport reported live from Jacksonville Jaguars' training camp and mentioned two examples of how Meyer is trying to transform the team's culture into a winning one.
"Here's one example – nobody walks on the practice field," Rapoport said. "Players are not allowed to walk on the field. So, as soon as they get from essentially the track … to between the lines, they have to run. What that means is you see guys running all over the field, all the time … everything is fast-paced, moving from activity to activity. It is all quick."
Meyer isn't playing favorites, even though he has former Florida Gators quarterback Tim Tebow on the roster as a newly-minted tight end. Everybody has to keep it moving, including first overall selection Trevor Lawrence.
The tactic is bound to draw comparisons to Chip Kelly's first season with the Philadelphia Eagles. While Kelly's tenure started off with a division title, he quickly wore out his welcome in Philadelphia.
Urban Meyer pushing D.J. Chark
Furthermore, Rapoport reports that Meyer is trying to get the best out of a player who shows flashes of being a top receiver. According to Rapoport, the former Ohio State head coach has been working extensively with D.J. Chark. 
"He has D.J. Chark, one of the really good young receivers in the NFL, someone who is trying to pick up what this coaching staff wants and what's important in the system," Rapoport said. "So every single day, before practice, Meyer takes Chark by his side and they together work on the receiver drills.
"It's a very hands-on approach for Urban Meyer, trying to get one of his best offensive players on the same page with him," Rapoport added.
Chark was a Pro Bowl selection in 2019, a season in which he compiled his only 1,000-yard season in the league. Last season, he showed flashes, but couldn't quite reach the same heights as the year prior.
Earlier this summer, Meyer wasn't shy when speaking publicly about Chark. The Jaguars head coach laid down the gauntlet for the wide receiver.
"I just didn't like his size. His strength, I just thought, was way below average, way below what we expect from our receivers, and he was told that," Meyer said, via ESPN.
Evidently, Chark doesn't shy away from a challenge. Instead of taking offense to his head coach's comments, the former LSU Tiger took them in stride.
"I love the challenge," Chark stated, via ESPN. "I love talking to Coach Meyer. He's a competitor. He's going to push me."
Meyer's NFL success is a story to watch, but his players are responding to his methods so far in Jacksonville.
Image courtesy of James Gilbert / Stringer via Getty Images.