LOOK: US Open social media account takes shot at Drew Lock, Seahawks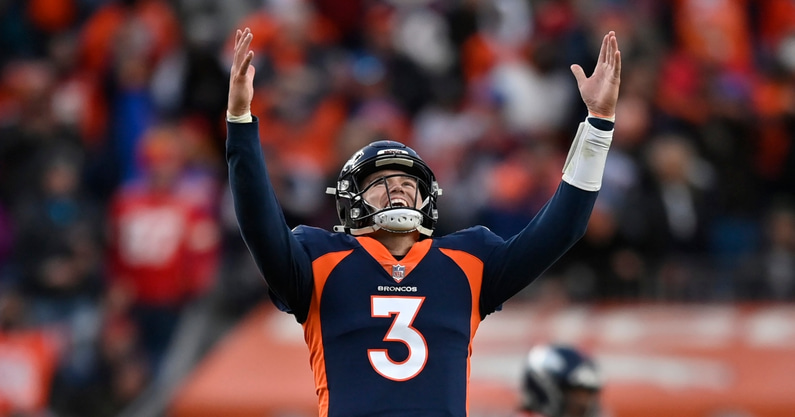 As of now, the Seattle Seahawks are set to open the 2022 season with Drew Lock as their quarterback. That seems a drastic step down from Russell Wilson, who led the franchise to a Super Bowl in 2013 and was traded this offseason to the Denver Broncos.
The US Open Twitter account used that fact to its advantage Saturday when it took a savage shot at both Drew Lock and the Seahawks. After a fan responded to a SportsCenter tweet from the US Open claiming tennis was "not a sport," the US Open Twitter account fired back with a critique of the current Seattle quarterback.
"Not a sport says the person about to watch 17 games of Drew Lock at QB," the account responded.
Lock was included in the trade for Wilson this past offseason, along with tight end Noah Fant and several draft picks. He spent the first three seasons of his NFL career with the Broncos, totaling 740 yards, 25 touchdowns and 20 interceptions across 21 starts. Denver previously selected him in the second round of the 2019 NFL Draft.
In Wilson, the Seahawks are attempting to replace a nine-time Pro Bowler who holds the franchise records in both passing yards and touchdowns. Many have speculated that the Seahawks could make a move for a quarterback other than Lock for 2022, with ESPN reporting that the franchise has a "high level of interest" in Browns quarterback Baker Mayfield.
As of now, however, no deal has been reached and Lock projects as the starter in 2022 ahead of Geno Smith. Neither quarterback brings much playoff experience, as Smith was merely a backup when the Jets made the postseason from 2018-20.
Seattle has made nine out of the past 11 playoffs, but missed this past season after finishing just 7-10. The Seahawks are set to open up the 2022 season on Sept. 12 against the Broncos — Lock's former team — on Monday Night Football.