USA Today Coaches Poll Top 25 released after Week 4 of college football
J.D.'s CFP Rankings After Week 4
The latest USA Today Coaches Poll Top 25 was released after a loaded Week 4 of college football featuring many ranked matchups and teams in action.
Certainly, a lot of teams made statements about their talent level through the first third of the season. Some stayed at their current ranking while others definitely made a great case to move up, or move down.
Without further ado, let's dive into how the coaches see the top 25 landscape of college football after Week 4.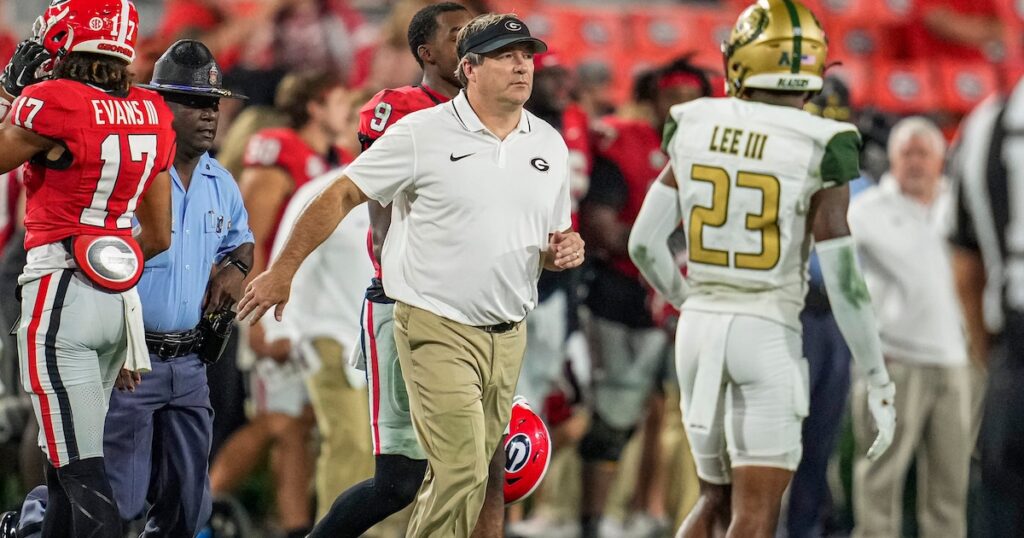 The Bulldogs remained undefeated with a 49-21 win over UAB, although Georgia led just 7-0 after the first quarter. It's a new week, so we're trying to find a kink in the armor of the two-time champions.
There's not many, if any, in the armor of Georgia. Carson Beck had a fantastic game, throwing for 338 yards and three scores. Brock Bowers led the way with 9 catches for 121 yards and two touchdowns. Even Daijun Edwards scored twice on the ground off just 12 carries and 66 yards.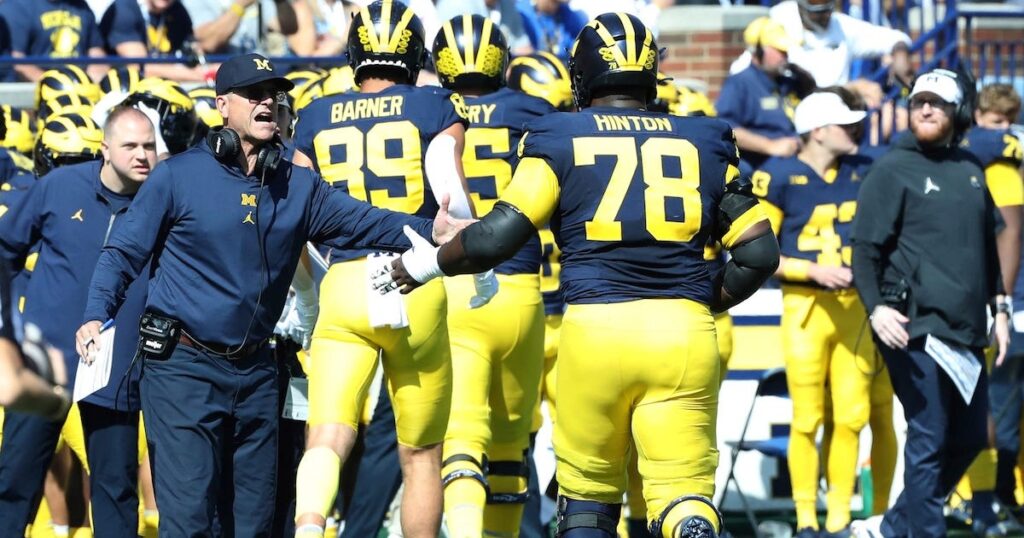 The Wolverines had their first Big Ten game this season with Rutgers coming to town. The Scarlet Knights struck first before MIchigan pulled away with a 31-7 win.
Highlighted on this day was the return of Jim Harbaugh to the sidelines. If anything can be taken away from this game, the defense is elite. The offense is very talented but still needs to work out some kinks against the best of the best.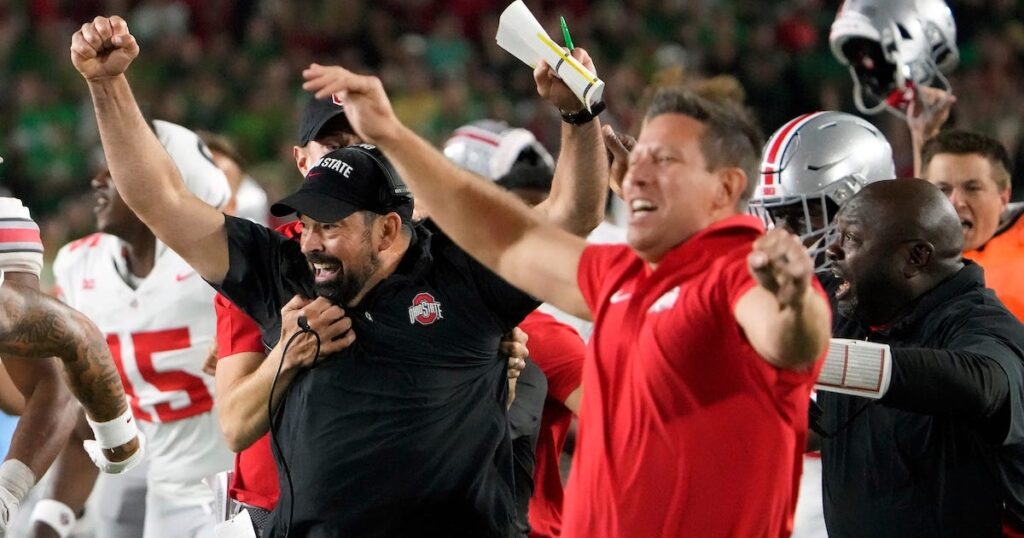 Likely the biggest win of the weekend came in South Bend, but it wasn't the Fighting Irish celebrating. Ryan Day and the Buckeyes won 17-14 following a touchdown from Chip Trayanum with one second left.
Notre Dame had them on the ropes, but the Buckeyes prevailed with a resume boosting win. Heck, Day called out Lou Holtz like he wanted to meet him in the octagon. Everyone was fired up for this one in Columbus.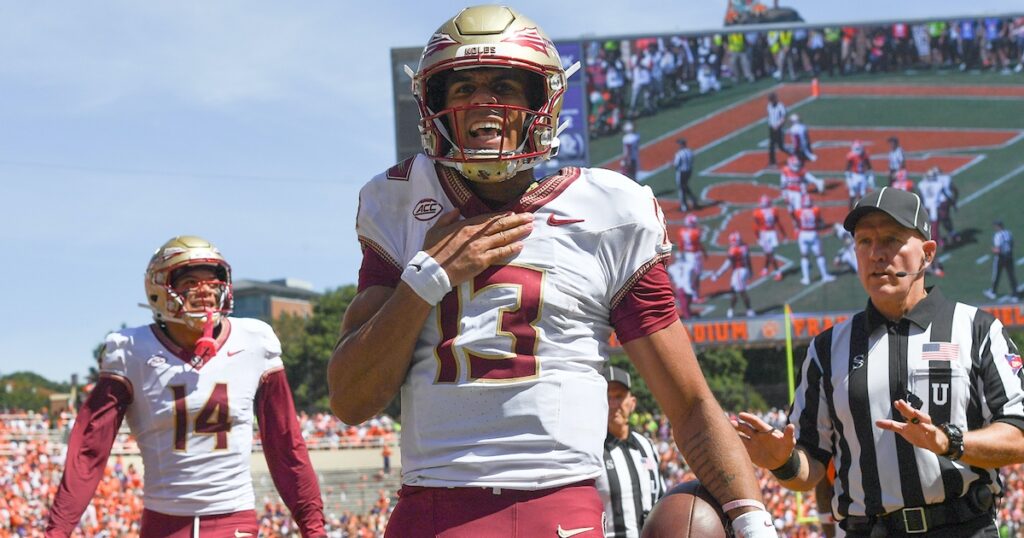 The Seminoles were arguably a missed field goal away from an upset loss at Clemson. Clemson, while still unranked, gave Florida State all it could in a 31-24 overtime win for FSU.
Johnny Wilson and Keon Coleman made absurd catches and the Seminoles escaped and remained undefeated. They're not at the top of the ACC and Clemson has some soul searching. What a win.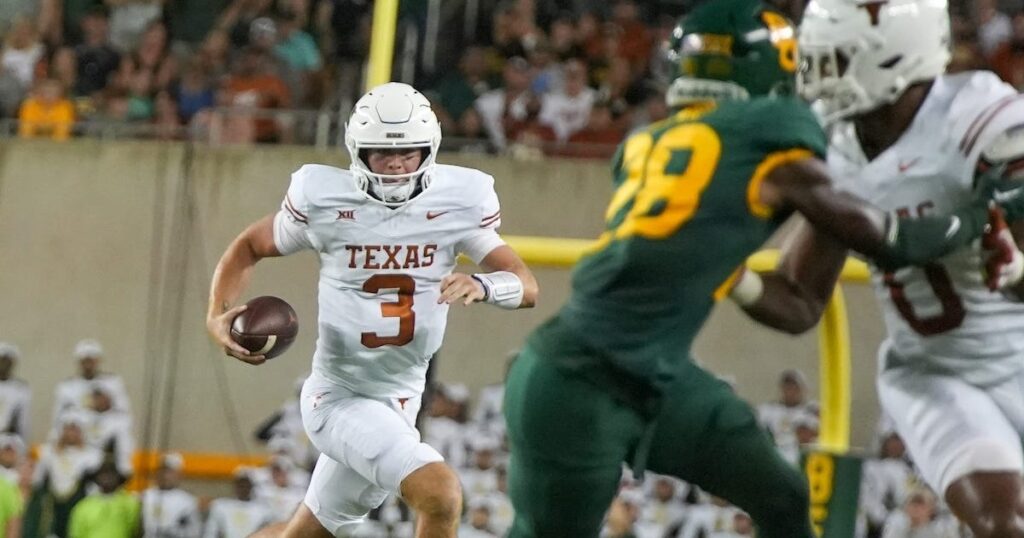 Hey, this was kind of quiet over the course of a loaded Saturday slate in college football. The Longhorns rolled to a 38-6 win on the road over Baylor in a nice balanced attack.
The defense swarmed the Bears offense while Quinn Ewers and Jonathon Brooks dominated in the air on the ground. Chalk it up for another win for Steve Sarkisian as Texas remained unbeaten.
6. USC (-1)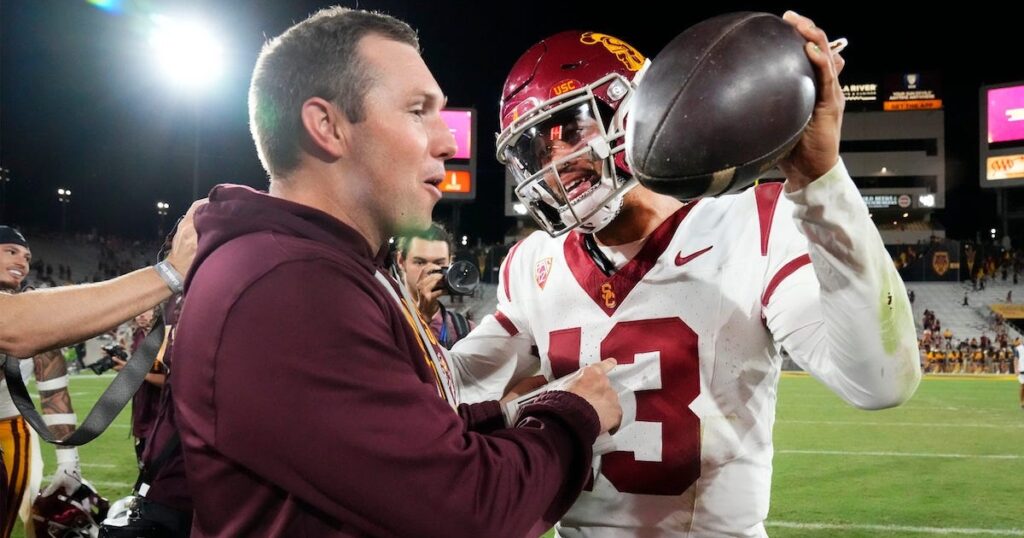 USC kept it rolling with a 42-28 win over Arizona State, but giving up four scores could be concerning for some. Alex Grinch's defense will be the Achilles heel for this team until he isn't.
On offense, Caleb Williams did what he usually does: 322 yards and three touchdowns, plus two more on the ground. As he goes, USC goes. But the schedule is only going to get tougher.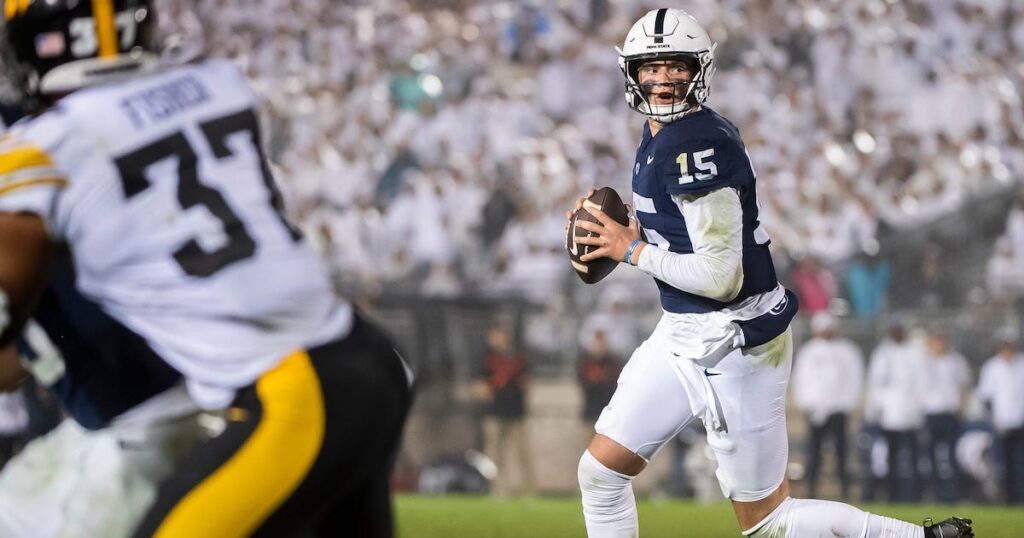 Penn State had a hyped matchup with the Iowa Hawkeyes, but the Nittany Lions wanted no part of a nail biter. James Franklin and company methodically rolled to a 31-0 victory and once again, they kept pace with Michigan and Ohio State.
Drew Allar played much better under center. He threw for just 166 yards but tossed four touchdowns on an average night for the run game. Penn State improved to 4-0 and remained in the top 10.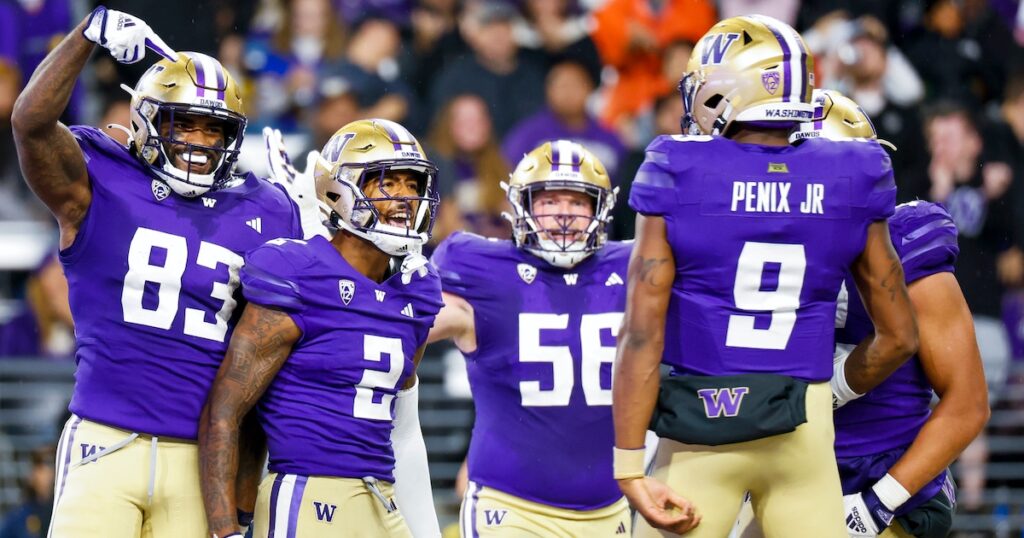 The Huskies could still be the best team we're not talking about as much. Michael Penix Jr. led the way in a 59-32 win, including 24 first quarter points.
Four touchdowns from the Heisman Trophy contender is nothing challenging at this point. The Pac-12 race heated up with its top three teams in the conference and Washington could be a bonafide playoff contender.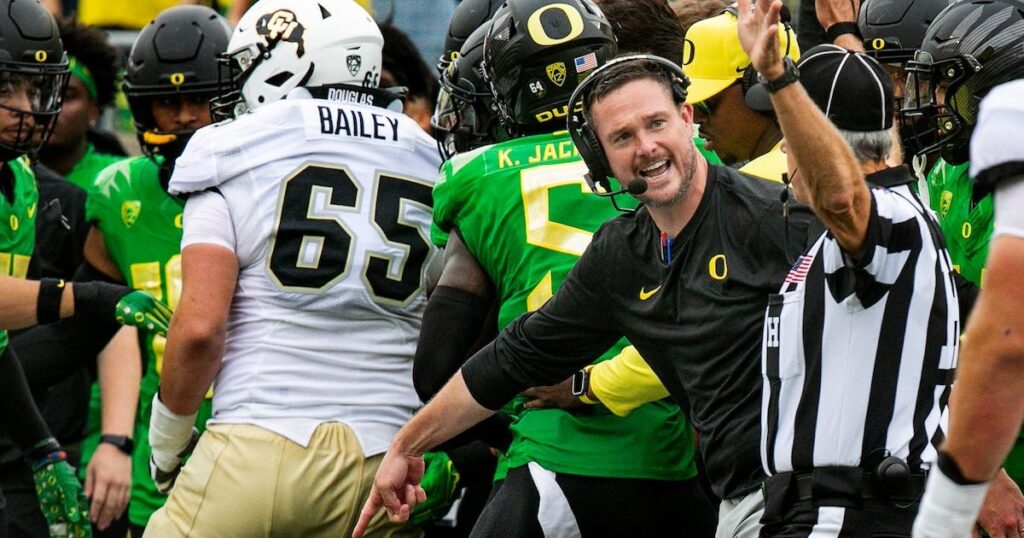 Statement made, to say the least, in Eugene Saturday afternoon. Oregon stomped Colorado 42-6 and certainly made it personal, in the words of Deion Sanders.
Dan Lanning is coming for it all this season and he might have the quarterback and defense to do it. Bo Nix threw for 276 yards, three touchdowns and an interception and ran for another score as the Ducks cruised.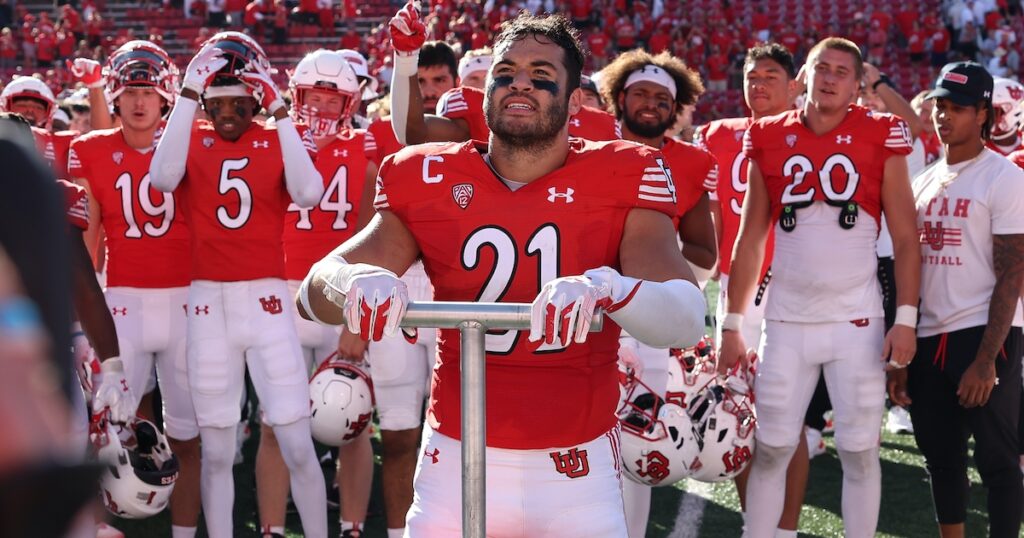 Utah is able to do this without Cam Rising which is a testament to the coaching of Kyle Whittingham and company. Nate Johnson threw for just 117 yards and a touchdown in the 14-7 win, so defense was the name of the game.
Utah's defense generated a pick-six as well and the Utes remained undefeated. While everyone talks about USC, Oregon and Washington, we can't forget about the two-time defending Pac-12 champions. Yes, Utah is going to the Big 12 next year, but the Utes want to go out on top.
Rest of Coaches Top 25
11. Alabama (+1)
12. LSU (+1)
13. Notre Dame (-4)
14. Oklahoma
15. North Carolina (+2)
16. Duke (+2)
17. Washington State (+7)
18. Miami (+3)
19. Tennessee (+1)
20. Ole Miss (-4)
21. Oregon State (-6)
22. Missouri (NR)
23. Florida (NR)
24. Kansas (NR)
25. Kansas State (NR)
There was some decent movement after a wild weekend. So take a breath, for now, and reset because Week 5 is just around the corner and we're going to really get into the weeds of conference play.
Dropped out: No. 19 Colorado; No. 22 Iowa; No. 23 Clemson; No. 25 UCLA.
Receiving votes: Fresno State 93; Kentucky 87; Texas Christian 54; Maryland 39; UCLA 36; Texas A&M 36; Louisville 36; Clemson 35; Syracuse 32; Colorado 29; Air Force 24; Iowa 16; Tulane 11; Wyoming 8; Marshall 2; James Madison 2; Liberty 1; Georgia St. 1.