USC QB commit Devin Brown offered by UCLA, former Trojans' coach Lane Kiffin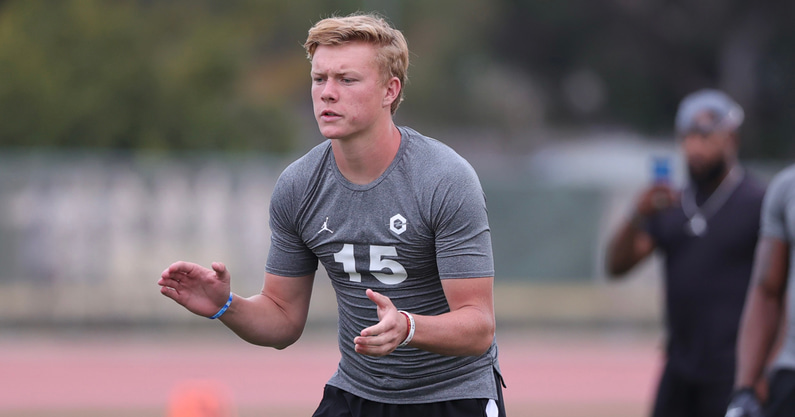 Two days after Clay Helton was fired, crosstown rival UCLA and former Trojan head coach Lane Kiffin have offered USC's four-star quarterback commitment Devin Brown.
Brown said Monday evening after Helton was fired that he is "still committed to the Trojans." However, that's not stopped rival recruiters, including Kiffin at Ole Miss, from targeting the No. 6 quarterback in the country and the No. 78 player overall.
Brown, who is from Draper (Utah) Corner Canyon, shared news of offers Wednesday afternoon on social media. He thanked Kiffin and Ole Miss offensive coordinator Jeff Lebby in the post about the Rebels' offer. In the tweet about UCLA, Brown acknowledged Bruins' quarterback coach Ryan Gunderson.
Kiffin previously coached four seasons at USC
Kiffin going after Devin Brown is an ironic twist that can only be created on the recruiting trail.
When Pete Carroll left USC to become head coach of the Seattle Seahawks, the Trojans hired Kiffin away from Tennessee as their next head coach in 2010. USC won 18 games over the first two years of Kiffin's tenure, but the Trojans were ineligible for the postseason due to NCAA sanctions violations involving Reggie Bush.
In 2012, USC came into the season ranked as the No. 1 team in preseason rankings. Kiffin led the Trojans to a disappointing season, finishing 7-6 and out of the polls.
When USC lost its first two conference games in 2013, dropping Kiffin's record to 4-7 in his previous 11 games, he was fired. Kiffin then took the Alabama offensive coordinator job in 2014. In 2017, Kiffin was hired as the head coach of Florida Atlantic, where he coached to a 26-13 record over three seasons. Following the 2019 season, Kiffin took the Ole Miss job. Kiffin and Ole Miss were 5-5 last season but have won both of their games to begin this season.
Devin Brown was On3's Elite 11 MVP
Devin Brown was On3's top overall performer at the Elite 11 Finals earlier this summer. The prestigious quarterback camp brings the nation's top 20 signal-callers together for a four-day event that included a drill session, pro day and 7-on-7 play. 
"He was consistently good over the event's four days," On3 Director of Scouting and Rankings Charles Power wrote. "Brown was the biggest revelation on Day 1. The Arizona native flashed a quick throwing motion and was able to generate considerable zip on his passes to all levels. The ball came out of his hand quick and hot. Brown also consistently spun the ball the best of the group on Day 1, making for a strong first impression.
"While some of the quarterbacks saw their play dip in 7-on-7, Brown continued to show well and was among the best in that setting. Brown's throws cut through the air – he spins the ball very well on a throw-to-throw basis with little wobble. He also showed some ball-handling and footwork skills while operating from under center."