Washington Commanders officially sign Phidarian Mathis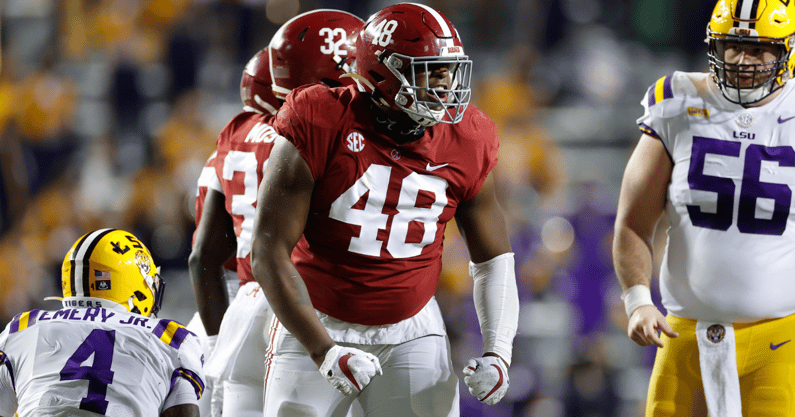 According to multiple reports, the Washington Commanders have signed Phidarian Mathis, completing their entire rookie class from the 2022 NFL Draft. Coming out of Alabama, Mathis will be joining what is considered a defensive line stacked with talent in Washington.
Mathis was selected in the second round by the Commanders with the 47th overall pick. He enjoyed a breakout season in Tuscaloosa last year, going for 53 tackles, 10.5 tackles for loss, nine sacks, two passes defended, one forced fumble, and two fumble recoveries.
Throughout his time with Alabama, Mathis played in six College Football Playoff games and won the national championship in 2020.
Now, he will be hoping to replicate the success with Washington by getting back into the NFL playoffs. Mathis will be joining some of his former Alabama teammates on the defensive line, along with Chase Young on the edge. If the Commanders are going to compete for the NFC East and possibly win the franchise's first playoff game since 2005, Mathis and the entire front will have to play at a high level.
Phidarian Mathis reacts to second-round selection by Washington
Former Alabama defensive lineman Phidarian Mathis is heading to the NFL, and he is joining the Washington Commanders after being selected in the second round of the 2022 NFL Draft. Mathis wasn't expecting to be selected that early on, so it was a little bit of a surprise when he got the call on draft night.
"It was crazy, man," Mathis started. "Most definitely wasn't expected, especially not that early. So man, it was crazy for me and my family. It's a big blessing. I'm just happy to be a part of a great team and man I can't wait to step foot in the door.
"I was thinking at least third, somewhere in the third round. Third or fourth round. That was just me and my agent, that's what we thought. That's just feedback we was getting. So it most definitely wasn't expected that early. I was actually sitting down, I had just sat down in the chair and started watching the draft again. I'm thinking it's one of my friends or family members just calling me because I got two phones. So I each in my pocket, I see the number like, 'Oh, this ain't no saved number.' When he said my name, I got jumping around, man. I knew what time it was."