Sam Howell on potential backup role: I'll be ready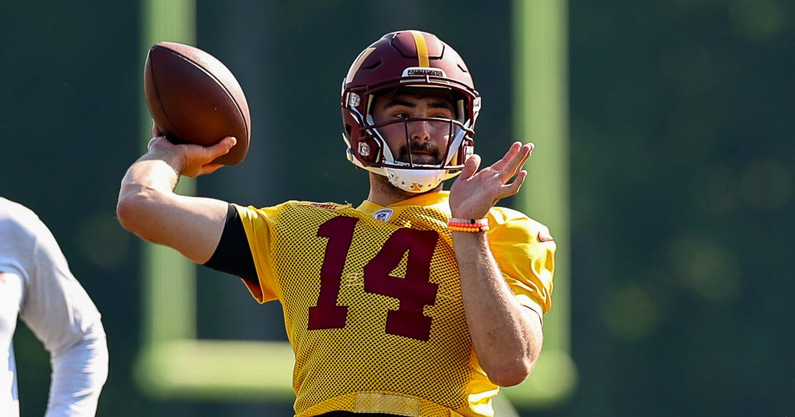 Heading into the 2022-2023 season, the Washington Commanders addressed their need at quarterback for now and the future. Washington traded for former Indianapolis Colts quarterback Carson Wentz and drafted North Carolina's Sam Howell in the fifth round. Wentz recently spoke about his new opportunity with the Commanders and his new starting opportunity. But how does Howell feel about going from starter to unquestioned backup? Well, in a recent interview, the Commanders rookie quarterback addressed his new role in the NFL.
"Probably the last time (I wasn't the starter) was I played in an All-Star game when I was in seventh grade," Howell said, according to Ethan Cadeaux of NBC Sports Washington. "The coach's son played quarterback. I actually played defensive end. So that's probably the only time in my life I haven't been the starting quarterback."
The speed at the NFL level is significantly greater than that in the college ranks. While Howell might have to sit awhile before he sees legitimate action in an NFL regular-season game, the former Tar Heel is okay with that and is embracing it.
"For me, I'm just going to embrace my role," Howell said. "Do everything I can to just try and get better each and every day. And when my name is called, I'll be ready."
Also ahead of Howell on the Washington depth chart is Taylor Heinicke. Last season Heinicke started in 15 games for the Commanders after the team lost week one starter Ryan Fitzpatrick in the first game of the season. Heinicke went 7-8 as a starter in 2021, throwing for 3419 yards, 20 touchdowns, and 15 interceptions.
"They're both great guys. I'm just happy to be somewhere where there's two really good quarterbacks in my room," Howell said. "They're helping me out a lot — they've given me a lot of good advice. They're both really talented guys. I'm happy to be in the room with those guys and compete each and every day."
Howell looks to the right approach to his current situation, and for some, not starting in year one helped save their career as opposed to destroying it. Either way, the Commanders rookie signal-caller is ready to fulfill his backup role this upcoming season. And if the team needs him this year, he will be prepared for that option as well.