Washington State at Oregon: How to watch, odds, predictions from ESPN, KenPom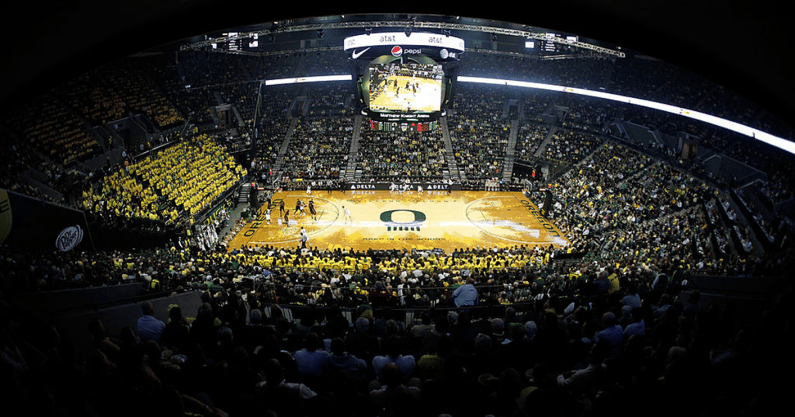 Washington State and Oregon battle it out as just one of many intriguing matchups going down on Monday night. Ahead of tipoff, here is how to watch Wazzu (14-9) at Oregon (16-8), in addition to predictions from both ESPN and KenPom, and the Las Vegas odds.
How to watch Washington State at Oregon
Time: 9 p.m. ET
Location: Matthew Knight Arena
Network: ESPNU
Vegas odds
According to VegasInsider, the Ducks are 5-point favorites at home on Monday night. The total for the game is 135.
ESPN BPI prediction
ESPN's College Basketball Power Index (BPI) measures team strength and predicts future performances across the sport. The BPI prediction from ESPN has Oregon with a 64.6% chance of earning a solid victory over Washington State on Monday night. It's the second-best game of the night behind Saint Louis versus St. Bonaventure.
Projected winner: Oregon
Predicted point differential: 3.8
Matchup Quality: 82.4
KenPom prediction
KenPom is another tool used to predict and project college basketball results. Like ESPN, KenPom projects Oregon taking the win at home, but not in a rout.
Predicted winner: Oregon
Predicted final score: Oregon 68, Washington State 66
Win probability (for Oregon): 56%
Washington State facing upset Ducks in Monday night action
Saturday's matinee against Cal was supposed to be an easy win for Oregon. Instead, it was a disaster. "A difficult loss," Dana Altman called it.
The Ducks came in winning 10 of their last 11 games. They were 13.5-point home favorites against lowly Cal (11-15, 4-11), who'd lost 10 of their last 11. Final score: Oregon 64, Cal 78.
Now, the Ducks welcome Washington State for more PAC-12 action in Matthew Knight Arena. The Cougars are the underdogs in the rescheduled matchup, with Oregon boasting a 10-4 record at home.
This is a big bounce-back opportunity for Oregon, which is currently on the bubble for the NCAA tournament. Washington State is coming off of a three-point loss versus Arizona State.
"Oregon is very much on the bubble largely because it has lost too many games like this one," Jerry Palm of CBS Sports writes. "Wazzu is actually a Quad 2 opponent and one the Ducks better beat if it wants to stay in the hunt for an NCAA Tournament berth."