WATCH: Charles Barkley attempts to play goalie against Wayne Gretzky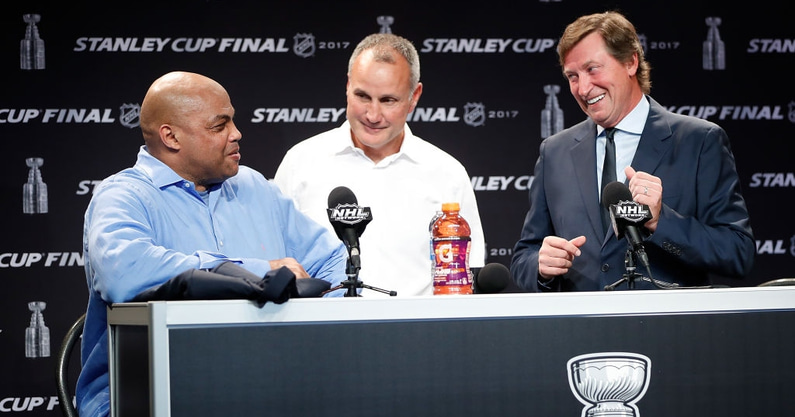 As part of the first-ever broadcast inside the new NHL on TNT studio, Charles Barkley attempted to defend Wayne Gretzky taking shots on goal. With Gretzky taking five shots against Barkley as he wore hockey pads, Barkley showcased his athleticism by narrowly blocking just one of the five attempts.
Charles Barkley vs Wayne Gretzky
In a fun moment for everyone involved, Charles Barkley was put to the test as a special guest on the first NHL on TNT broadcast from their new state-of-the-art TV studio. With Gretzky lined up across from him, Barkley donned gloves and a stick as he prepared to stop 'The Great One'.
Before he was even ready, Gretzky fired the first shot by Barkley as he began to realize how difficult this would be for him. The second shot went right by Barkley again, but this time the puck was deflected a little bit. Getting into the speed, Barkley jumped early on the third shot before eventually stopping the puck. Despite dropping the puck, the TNT crew ruled it a stop.
Gretzky came back and fired one right between Barkley's legs and taunted him that he needs to get lower. Barkley responded that he was about to tear his groin as Gretzky fired the fifth shot right by Barkley's glove. The contest ended with Gretzky making four of five shots, but fans of TNT and hockey got the most out of the show.
The new NHL on TNT studio is loaded with 1000 square feet of LED floor tiles, and has a first-of-its-kind projection system that promises to make TNT's newest sports broadcast unique.
Charles Barkley with the Mannings
Barkley already had another fun guest appearance during the NBA's offseason as he joined the "Manningcast", ESPN's alternative Monday Night Football broadcast. NFL champion quarterbacks and brothers Peyton and Eli Manning run the alternative broadcast of the game with their own insights and stories.
Their first ever guest on the new program was NBA Hall of Famer Charles Barkley, and their conversation drifted to if other NBA legends could have played in the NFL.
Peyton asked Barkley what position Michael Jordan would have played in the NFL.
"Tight end," Barkley stated. "Tight end because he's 6-foot-6."
Eli followed up by asking if he could block well enough for the position.
"There's plenty of tight ends who are in the Hall of Fame who can't block. Your job is to catch the ball if you're a tight end. Stop it."
Peyton then asked what position would Larry Bird play?
"No," Barkley joked. "There's no place for no slow 6-foot-10 guy in the NFL."
Barkley remained on the broadcast through the first quarter with the brothers as they continued to laugh and have a good time. As the quarter came to an end, Peyton mentioned that Kansas City Chiefs tight end Travis Kelce would be their guest in the fourth quarter.
Peyton then made one last joke at Barkley's expense by telling him he was their original pick for a fourth quarter guest, but his agent told them he had to go to dinner early so he would leave after one quarter.