WATCH: Eli Manning continues jokes about Peyton Manning forehead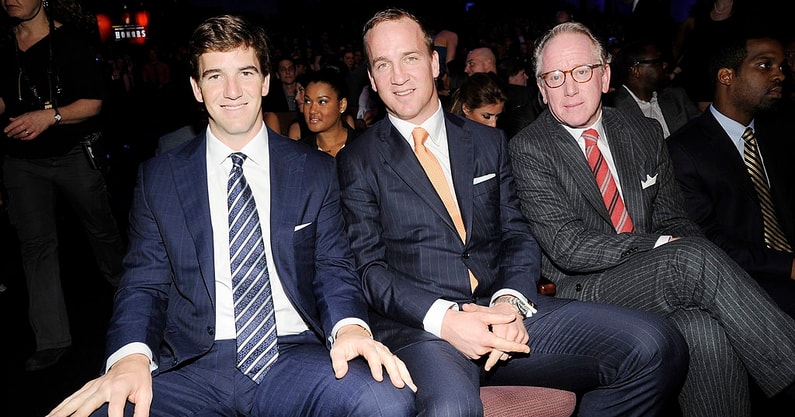 In the first broadcast of Monday Night Football with Peyton and Eli, the Manning brothers continued to crack jokes about each other. After a segment where Peyton wore a helmet, Eli didn't miss a chance to make fun of his brother for sweating afterwards.
Eli and Peyton Manning full of jokes
"You need some more powder on your forehead, it looks like you sprayed Pam all over it."
With Hall of Fame linebacker Ray Lewis present for the second quarter, Eli made sure to get in another jab at Peyton's forehead. Peyton tried to cut his brother off after the joke while Lewis laughed at the brothers.
The second quarter was filled with the three NFL veterans recounting stories of playing against each other, including a fun story of Eli's rookie season against Lewis.
Eli was still learning the complexities of NFL defensive schemes, and mislabeled Lewis as the Mike [middle] linebacker. Lewis, always ready to trash talk on the field, corrected Eli across the line of scrimmage by telling him who the actual Mike linebacker was on the play.
As they laughed about the story, Eli went on to explain that safety Ed Reed joined in on the fun by trying to convince Eli that he was actually the Mike linebacker.
As their time with Lewis as a guest drew to a close, the loose nature of their broadcast shined through as a smoke alarm began sounding in the background. Peyton was quick to throw Eli under the bus by asking him what he did.
Barkley on NBA legends in the NFL
Their first ever guest on the new program was NBA Hall of Famer Charles Barkley, and their conversation drifted to if other NBA legends could have played in the NFL.
Peyton asked Barkley what position Michael Jordan would have played in the NFL.
"Tight end," Barkley stated. "Tight end because he's 6-foot-6."
Eli followed up by asking if he could block well enough for the position.
"There's plenty of tight ends who are in the Hall of Fame who can't block. Your job is to catch the ball if you're a tight end. Stop it."
Peyton then asked what position would Larry Bird play?
"No," Barkley joked. "There's no place for no slow 6-foot-10 guy in the NFL."
Barkley remained on the broadcast through the first quarter with the brothers as they continued to laugh and have a good time. As the quarter came to an end, Peyton mentioned that Kansas City Chiefs tight end Travis Kelce would be their guest in the fourth quarter.
Peyton then made one last joke at Barkley's expense by telling him he was their original pick for a fourth quarter guest, but his agent told them he had to go to dinner early so he would leave after one quarter.