WATCH: Liberty Flames surprise Hugh Freeze following huge contract extension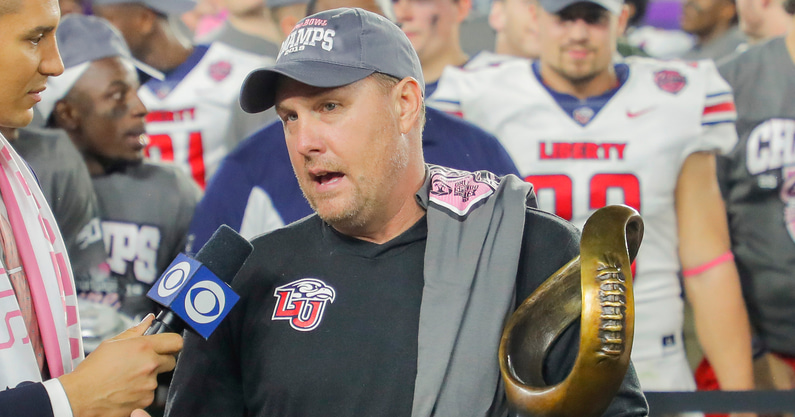 Get paid, Hugh Freeze, get paid.
Liberty University on Tuesday gave Freeze a substantial contract extension in his third year at the helm of the Flames, keeping him stationed at Liberty through the 2028 season. In addition, the head coach will receive a raise, increasing his total financial package to an average of more than $4 million annually , making him one of the highest-paid non-Power Five coaches in college football. Previously, Freeze earned roughly $2 million annually with additional incentive-based bonuses.
The Liberty Flames' players celebrated Freeze after his contract extension with a surprise, as captured and posted on Twitter by Ragan Freeze, Hugh's daughter. The student-athletes staged a dance to the song "Get Paid" by Young Dolph as Freeze walked into the team meeting shortly after the extension.
Freeze's Liberty Flames, now 7-4 heading into the regular-season finale against Army, are bowl eligible for the third time in as many years under his leadership. In the past two seasons, Liberty finished 8-5 and 10-1, respectively, winning the Cure Bowl in both seasons. The Flames even ranked as high as No. 17 in the final AP Poll last season.
An alumnus of Southern Mississippi, Freeze coached several years at the high school level for Briarcrest High School in Tennessee before making the jump to college, first as a tight ends coach for Ole Miss in 2006. Freeze boasts an overall 74-38 record in his career as a head football coach, which has spanned nine seasons, including a 5-2 record in bowl games and a 25-10 record at Liberty.
Freeze received his first head coaching job at Arkansas State in 2011. After serving the 2010 season as the Red Wolves' offensive coordinator — and finishing just 4-8 — the university fired then-head coach Steve Roberts and promoted Freeze. He managed to turn the program around immediately, leading Arkansas State to a 10-2 record and their first Sun Belt Conference title since 2005, before moving back to Oxford and becoming Ole Miss' head coach in 2012.
Freeze's five-year tenure at Ole Miss, which saw the Rebels finish with a 39-25 record, was a bumpy ride, to say the least. Under his leadership, Ole Miss committed an array of recruiting and academic violations that resulted in the NCAA expunging 27 of Freeze's wins. In addition to those violations, Freeze was eventually forced to resign after university officials discovered that he used a university phone to call escort services on multiple occasions. After his emotional return to Oxford for a non-conference matchup with Ole Miss this season, the Rebels' athletic department — including athletic director Keith Carter — was forced to apologize after the social media team made insensitive jokes targeting Freeze.