WATCH: Matthew Stafford, Cooper Kupp link up on 70-yard touchdown bomb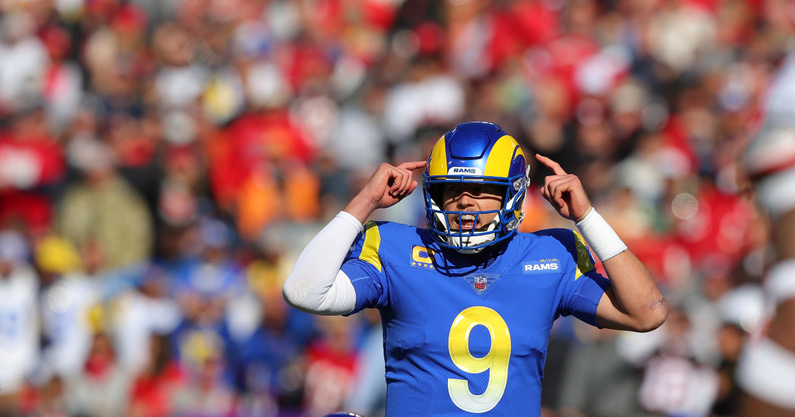 Last week, Los Angeles Rams quarterback Matthew Stafford got the monkey off his back and won his first career NFL Playoff game after going 12 years without a victory with the Detroit Lions.
And this week, Stafford is putting on a clinic through a quarter and some change, as he's led the Los Angeles Rams to a quick, 17-3 lead over the defending champion Tampa Bay Buccaneers. Stafford's second passing touchdown of the day came on the Rams' third drive of the game, as Los Angeles has yet to come up empty-handed, and it was a doozy.
After a 64-yard Buccaneers punt, Stafford picked up the drive from his own 40-yard line, thanks to an errant kickoff that went out of bounds. After a Cam Akers rush resulted in no-gain, the Buccaneers came up with a big sack on second-and-10, driving Stafford back to his own 30-yard line. The only problem for Tampa Bay was that Stafford must have noticed how long it took them to get set up, so he ran no-huddle, and the Buccaneers inadvertently left open Cooper Kupp — the NFL's leading receiver by most every metric — all the way down the field.
What ensued was a perfectly-placed 70-yard bomb by Stafford, giving the Rams a 17-3 lead.
Stafford has put up tremendous numbers in just three drives so far. The Rams quarterback has completed 9-of-14 passing attempts, good for 176 passing yards and two touchdowns, while Kupp has now amassed 82 receiving yards on two receptions.
That touchdown marked Stafford's fourth passing touchdown through two NFL Playoff games with the Rams. In total, through 12 seasons spent with the Detroit Lions, Stafford had exactly four passing touchdowns in Playoff games — one more, and he'll have already surpassed his all-time passing touchdown mark with the Lions.
Additionally, Kupp's 70-yard touchdown reception marked the second-longest touchdown that the Buccaneers have allowed this year, second to only a 75-yard touchdown reception to DeSean Jackson the first time the Rams faced the Buccaneers.