WATCH: Jayson Oweh registers first NFL sack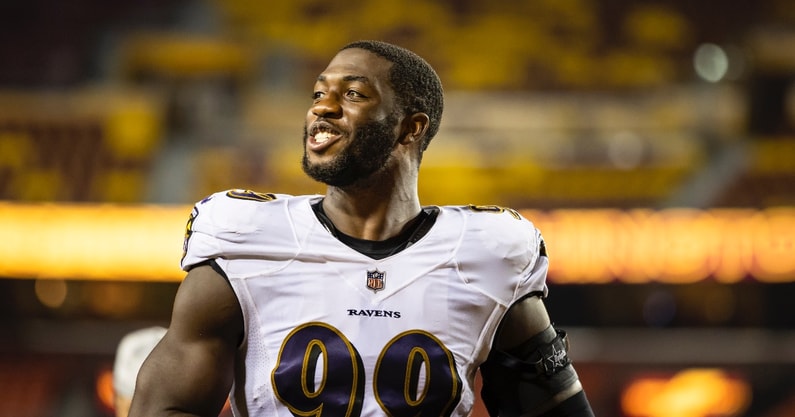 Baltimore Ravens rookie pass rusher Jayson Oweh recorded his first NFL sack in his first game against the Las Vegas Raiders on Monday Night Football.
It's Oweh's first sack in over a year as the rookie didn't record a sack last season at Penn State.
Against the Raiders, Oweh's recorded three tackles in addition to the sack.
Last season for the Nittany Lions, Oweh recorded 38 tackles and 6.5 tackles for loss in seven games, earning All-Big Ten first team honors from the coaches in the process. He went on to be drafted 31st overall in the 2021 NFL Draft.
In his Penn State career, Oweh recorded 63 tackles, 13.5 tackles for loss and seven sacks over three seasons. His best season came in 2019. As a redshirt freshman, Oweh recorded 21 tackles and five sacks. Oweh earned Big Ten Freshman of the Week honors after notching two strip sacks and three tackles against Michigan State.
Coming out of high school, Jayson Oweh was an Under Armour All-American from Blair Academy. As a senior, Oweh registered 60 tackles with 13.0 sacks and 10.0 tackles for loss.
Big weekend for Saquon Barkley
It was a big weekend for Penn State alumni Saquon Barkley as well
After almost a year, Saquon Barkley made his much anticipated return to the National Football League. While the performance of the New York Giants left much to be desired, Barkley simply returning to the field was a small victory.
The second overall pick in the 2018 NFL Draft rushed for 189 yards and a touchdown. Additionally, he caught four passes — accumulating 90 receiving yards and a touchdown.
Following the game, the former Penn State star counted his blessings.
"I feel pretty good. It's not my normal workload," Barkley said via ProFootballTalk. "Usually, I'd probably have a lot more plays, but that's all I'm saying. Obviously, we didn't get the win. We've got go back, watch film, address it and get better for next week."