WATCH: Ryan Day, Greg Schiano get heated after fake punt, late hit in Ohio State-Rutgers game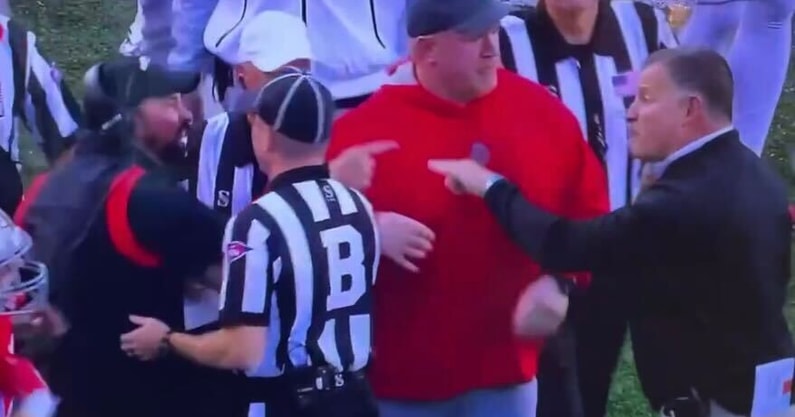 Things got testy between two former colleagues as Ohio State head coach Ryan Day and Rutgers head coach Greg Schiano got into it on the field after the Buckeyes faked a punt while leading by 39 late in the game.
The Ohio State punter just pulled the ball and ran when Rutgers offered a lane but got hammered out of bounds in front of his own sideline by wide receiver Aron Cruickshank. A scrum ensued as Ohio State and Rutgers players got into it and then Schiano came across the field.
Schiano, clearly heated about the fake kick, and Day, clearly upset about the late hit and Schiano crossing the field, were seen going after each other, yelling and pointing fingers.
Another angle of the play shows how close Day and Schiano got, with just an official between the two men. Day came out pointing a finger at Schiano before the official stepped between. Schiano appeared to respond in kind and based on amateur lip reading, he wasn't diplomatic in his choice of language.
Both coaches were assessed an unsportsmanlike conduct penalty for their actions and Cruickshank was ejected for the hit because it was "flagrant," according to the officials.
And while it might not be ironic, exactly, it's worth remembering that Day and Schiano were colleagues at Ohio State once upon time for two seasons — 2017 and 2018.
Day shared his perspective on the incident after the game
Schiano and Day were both running hot after the play — Day because of the late hit, Schiano because he didn't appreciate the fake punt — and when Schiano came across the field, he and day crossed paths and things boiled over. After the game, Day offered his accounting of what happened, including that the fake wasn't scripted or called.
"I figured that'd be your first question," Day said postgame. "They came after the punt and Jesse rolled out to the right. And nothing we had ever worked on — he just saw it and took it. Just being a football player. And then took that shot on the sideline and things got heated and just, one coach defending their side, one coach defending theirs."
Day added that he holds no ill will toward Schiano going forward.
"No hard feelings at all. Told him that after the game. I have an unbelievable amount of respect for him. So, that's all that was," Day said.
Day was asked why he thought Schiano ran over, perhaps if it was because he thought the fake punt was called.
"Oh I don't know. I think he was just coming over to defend his player," Day said. "Just because he was kind of over there on our sideline and it was a late hit and there was a lot of emotion. I think he was just trying to get his player out of there. Things like that happen in football and he was just defending his player."
Another reporter asked about the confrontation, priming Day to explain what he thought as Schiano came across the field.
"Clay, I'm not going to bite on that, so I'm sorry," Day said with a chuckle.