WATCH: Trevon Diggs' son sends Thanksgiving message to NFL quarterbacks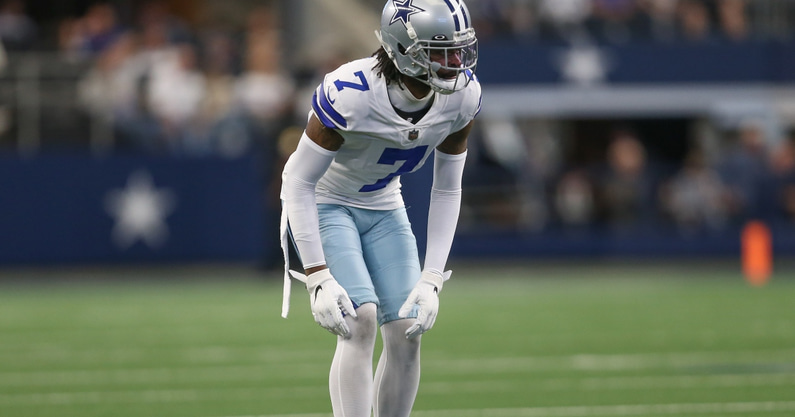 Trevon Diggs has been one of the best defensive players in the entire league this season. With a ridiculous eight interceptions thus far, the former Alabama star has been the spark for the Dallas Cowboys defense this year.
As he prepares for a Thanksgiving Day showdown with Derek Carr and the Las Vegas Raiders, Diggs' son sent a message to NFL quarterbacks. While Trevon Diggs wasn't able to say it, Aaiden Diggs thanked opposing quarterbacks for throwing the ball towards his father.
"Today, I want to give thanks to all the quarterbacks that throw my dad the football," Aaiden Diggs said. "You are all greatly appreciated. Thank you very much!"
Unfortunately, Derek Carr will hope to avoid making Aaiden Diggs happy on Thanksgiving Day. The Las Vegas Raiders are desperate for a victory, and throwing the football to Trevon Diggs won't help them get one.
Cowboys missing CeeDee Lamb on Thursday
CeeDee Lamb was hopeful he would clear the hurdle of concussion protocol prior to Thursday's Thanksgiving Day game against the Las Vegas Raiders. However, the former Oklahoma star won't be on the field for the Cowboys on Thursday.
"Cowboys WR CeeDee Lamb was not able to clear the concussion protocol, according to Jay Glazer," tweeted Jon Machota of The Athletic. "He will not play today against the Raiders. Dallas needs a big day from Michael Gallup, Cedrick Wilson, Noah Brown and Malik Turner."
Lamb suffered a concussion last week, and returning on a short week from concussion protocols proved to be a tall task. Now, Dak Prescott and the Cowboys offense will have to look elsewhere for a spark against the Raiders.
In addition to CeeDee Lamb, wide receiver Amari Cooper will also miss Thursday's game. Cooper is still on the Reserve/COVID-19 list, making him ineligible for Dallas.