This weekend will be interesting in terms of TV ratings, plus other notes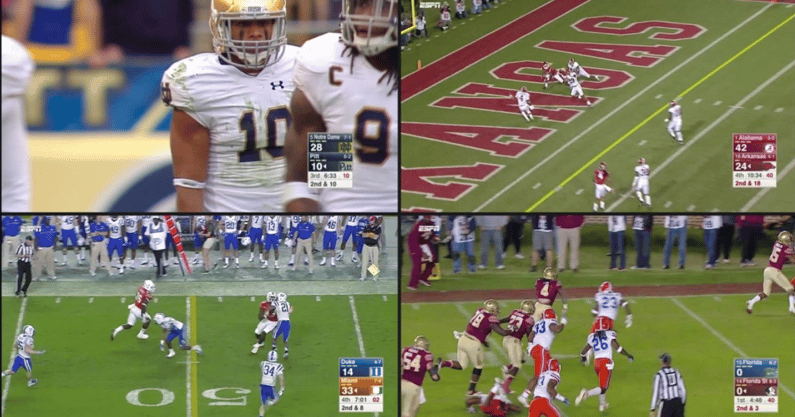 While the potpourri of Saturday's TV options will be bookended by a few of the nation's biggest brands — No. 6 Oklahoma's annual showdown with No. 21 Texas at noon and top-ranked Alabama visiting Texas A&M under the lights — the undeniable marquee game of the day will occur in the unlikely locale of Iowa City with No. 3 Iowa hosting No. 4 Penn State. 
Against the backdrop of impressive and heightened viewership numbers across college football, this weekend offers three attractive matchups in different time slots on different networks. Penn State has name recognition coast to coast. But Iowa? Not so much. While TV viewership numbers will hinge, of course, on the quality of games, how Iowa-Penn State stacks up with the other headliner matchups in the ratings game will be telling. Will a clash of two top-five teams trump less-intriguing matchups featuring bigger brands?
Fox's Big Noon Kickoff show will be in Iowa City for the 4 p.m. ET matchup that carries significant College Football Playoff implications. Fox is fairly confident the game will win the national afternoon time slot — No. 2 Georgia at No. 18 Auburn on CBS will be the primary competition — and is cautiously optimistic that Iowa-Penn State may just win the day in viewership overall.
Fox obviously loves to spotlight a major matchup in its noon ET window, but occasionally the best offering will not be at that time, as is the case this week. The network is televising Ohio State, always a large TV draw, at noon against a Maryland team fresh off a one-sided home loss to Iowa. Iowa-Penn State looms as the most significant game in Iowa City in decades. The question is exactly how high a number the game can achieve. 
A season with rampant on-field unpredictability and clear pent-up demand for football has yielded striking viewership numbers already. Figures from Flora Kelly, ESPN's vice president of brand strategy and content insights, show it took just three weeks of the season for five games to surpass 7.5 million viewers: Clemson-Georgia (8.9 million), Alabama-Florida (7.9), Notre Dame-Florida State (7.8), Oregon-Ohio State (7.7) and Auburn-Penn State (7.6). Only once in the past decade (2016) had five games hit that mark in the first three weeks of a season. (TV viewership numbers courtesy of Sports Media Watch.)
College football on Fox is off to its best start ever, averaging 4 million viewers, which is up 32 percent over 2019's average. And Big Noon Saturday games are averaging 5.5 million viewers, which is up 51 percent over 2019. On the digital front, streaming numbers for college football on Fox is also off to its best start ever, up 32 percent versus 2019. And September marked the best month for Fox college football across social platforms, with more than 90.5 million video views on Twitter, Facebook and Instagram.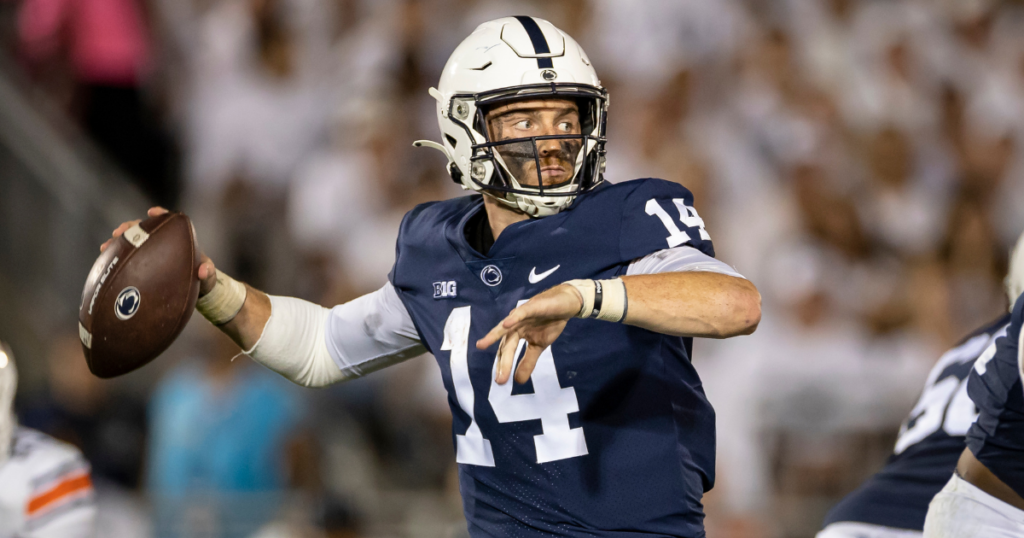 Even though ESPN's College GameDay will be in Dallas for Oklahoma-Texas, that game lost some luster with Texas' early-season performance at Arkansas. And after three consecutive years of Fox broadcasting the game, it will be televised Saturday on ABC. 
Each year in late spring, Fox and ESPN alternate in picking first among Big 12 games to broadcast. This year, ESPN had the top pick and chose OU-Texas. In 2018 and '20, Fox had the first pick and selected OU-Texas. But the reason it went to Fox for three consecutive years was that in 2019, ESPN had the top pick and chose a non-conference Big 12 game — LSU at Texas, which was on ABC and drew a whopping 8.6 million viewers. That left Fox with OU-Texas that year as well. 
For Big Ten games, Fox has the first pick every year and always chooses Michigan-Ohio State, a game that can garner at least 12 million viewers. The Big Ten is in the middle of a six-year, $2.64 billion rights deal with ESPN and Fox, which also runs the Big Ten Network.
During last year's COVID-impacted season, OU-Texas had 4.8 million viewers. In the previous two seasons, 7.25 million tuned in in 2019 and 5.6 million in 2018. 
ESPN's family of networks also is off to a strong start to the season. Last Saturday's College GameDay from Athens, Ga., was the show's most-viewed October telecast since 2013. And ESPN had its third-most-viewed college football Saturday since 2017.
What's more, the streaming platform ESPN+, which is in 14.9 million homes, also offers a variety of games each Saturday. The direct-to-consumer subscription service is particularly popular among young consumers; nearly half of the ESPN+ audience is under 35. And Jimmy Pitaro, chairman of ESPN and sports content, said at the ESPN Edge Virtual Conference that the company has recently secured several new media rights deals "that provide us with a ton of flexibility by including this ability to go direct to consumer."
One of those recent deals, of course, entails ESPN paying the SEC more than $300 million annually to be the exclusive home of SEC football and men's basketball starting in 2024. By comparison, CBS currently pays the SEC $55 million annually in its TV deal with the league. 
In a season in which the nation's top two teams reside in the SEC, CBS also is off to a strong start. The Alabama-Florida game on CBS was the most-watched SEC on CBS opener in eight years and up 76 percent from 2020. And its streaming service, Paramount+, saw triple-digit year-over-year growth in minutes streamed, while also registering double-digit growth in unique devices and streams from last year.
Saturday's Alabama-Texas A&M matchup looked extremely appealing before the season and still reasonably appealing when CBS announced September 27 that it would be an 8 p.m. ET kickoff. But then the Aggies suffered their second consecutive loss — 26-22 to Mississippi State — and now the Crimson Tide is an 18-point favorite. 
It will be interesting to see if Alabama's brand name is strong enough to retain TV eyeballs even with a potentially lopsided score. 
NIL talk
Sen. Tommy Tuberville (R-Ala.), the former Auburn coach, raised some eyebrows with his comments on the "Ruthless" podcast concerning NIL. "You're going to have kids who are going to make millions of dollars and then you're going to have somebody that's going to play on the offensive line that is not going to make any," Tuberville said.
We're three months into the NIL era. The gap in marketability among players is apparent. But there haven't been documented cases of locker rooms turning toxic because of NIL issues. Some athletes always have been more marketable, more highly touted by pro scouts, than others; they just couldn't be compensated for it legally in the past. While the most lucrative NIL deals are top-heavy, secured by the most marketable athletes, there are a plethora of deals involving lower-profile athletes or even walk-ons (see the BYU deal with Built Bar and several group licensing deals).
Tuberville also called on Senate Commerce Committee colleagues to intervene with federal legislation to "make it even for everybody in every state. Everybody's got to be the same." But no one has been the same for decades. The facilities, resources and revenue at Power 5 schools are vastly different than at Group of 5 schools, where, in turn, facilities, resources and revenue are vastly different than at FCS schools. And a chasm also exists in those categories within the same conferences at the Power 5 level. 
Ramogi Huma, founder and executive director of the National College Players Association, spoke to this in an interview in The Washington Post. When reporter Liz Clarke asked if Congress should intervene to prevent NIL rules creating recruiting advantages, he said, "The notion that schools weren't competing for recruits before NIL is ludicrous. It is a fallacy that there now exists a level playing field on recruiting. Florida State University reported ($152 million) in athletic revenue, while Florida Atlantic University reported only ($36 million). They are both in the (FBS). How can that be a level playing field?"
Also of note were some other answers. When asked whether schools should provide education and services to help athletes navigate the NIL world, Huma said, "(Schools) have the resources and professors who can teach (players) about taxes and branding and contracts. They have no excuse to not provide those services now. If there are players who are uninformed, that's a reflection on the school."
And Huma did not mince words when asked if, hypothetically, athletes of a school should be barred from signing a NIL deal with Adidas if the school has a contractual deal with Nike. 
"That means you're taking apparel away from athletes, soft drinks and all kinds of industries, just so the schools can monopolize money that third parties want to flow to players," he said. "That is theft. That is a cartel. That is a restraint of trade that should not be allowed because it's going to hurt players."
Quick hits . . .
+ Overtime Elite will open its inaugural season with six games over two days on October 29 and 30. The OTE roster of 24 athletes, each of whom receives at least $100,000 per year in compensation, will be split into three teams of eight players. The marquee matchup is against Vertical Academy, whose star, Mikey Williams, is one of the best players in the class of 2023. He also is a social media sensation with 3.3 million Instagram followers. Williams, who is represented by Excel Sports management, has his detractors, with one source telling On3, "He's probably more of an influencer than a basketball player. It's more about social media than it is about performance. He will have a lot to live up to at the next level."
+ Spalding attracted attention Thursday with the announcement that it is making female high school basketball standout Jada Williams from San Diego a brand ambassador. Williams, a member of the class of 2023 who has committed to UCLA, joins its other endorsers, including Damian Lillard and DeMar DeRozan.