Weekend visit preview: Alabama hosts Arch Manning, 5-stars visit UGA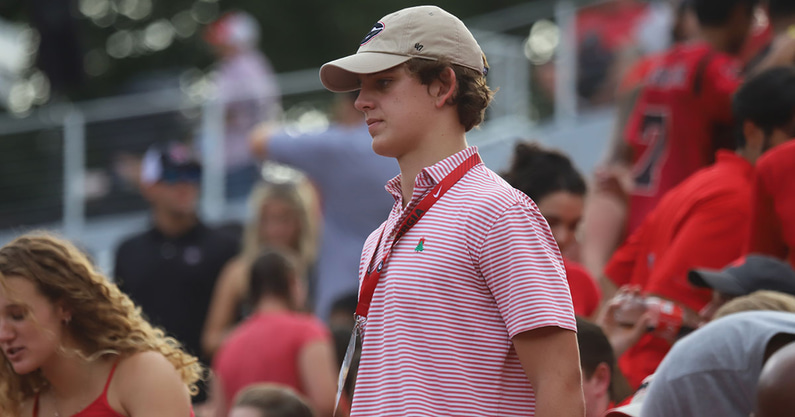 Week 5 of the college football season is upon us and there are a lot of good matchups, which means top recruits will be flocking to campuses again for official and unofficial visits. On3 previews the top recruiting trips scheduled for the weekend and breaks down the most important visits.
Next stop on Arch Manning tour: Alabama
After visit to Georgia that featured chest-painted, red-wigged Dawgs fans spelling out "We Want Arch," Arch Manning will be in Tuscaloosa this weekend for the Alabama-Ole Miss game.
Manning – the nation's No. 1 junior prospect and the third generation of Manning quarterbacks set to star in college football – will be the toast of T-Town. He is the most important visitor on an impressive list of prospects at the game.
After Saturday's Alabama game, Manning plans to go to Texas on Oct. 16, Ole Miss on Oct. 23 and Clemson on Oct. 30. The battle for the five-star quarterback's commitment is shaping up to be one of the biggest in recent memory.
It's so big that Nick Saban subtly dropped a recruiting pitch for Manning when he visited ESPN's Monday Night Football "ManningCast" to chat with Peyton and Eli Manning.
"As the quarterback, it's really important that you have good players around you," Saban said during the visit.
Manning not only star visiting Bama
Speaking of good players around Manning, there will be plenty of other heralded recruits at Alabama on both official and unofficial visits.
Five-star IOL Devon Campbell of Arlington (Texas) Bowie is expected to take his official visit to Alabama this weekend. Campbell also is high on Oklahoma, USC, LSU and Texas, and it'll be the Tide's turn to impress the On300 prospect.
The other official visitor expected at Alabama this weekend is RB Jovantae Barnes of Las Vegas Desert Pines. Barnes is the No. 85 player in the country. His recruitment is shaping up as one of the best recruiting battles in the country between Alabama, Florida State, Oklahoma, Ole Miss and USC.
Some of the other names expected at Alabama for unofficial visits include On300 DL Khurtiss Perry of Montgomery (Ala.) Pike Road and top 25 junior Johntay Cook II of DeSoto (Texas) High. Alabama is the favorite to land Perry over Auburn, Clemson, Ohio State and Texas. Cook has a long list of suitors, but Alabama, Ohio State, Oklahoma, Texas and Texas A&M are early contenders.
Most of Alabama's 2022 commitments and top local prospects in the 2023 class also should be making unofficial visits.
Georgia expects star-studded visit list
While a lot of the attention is going to be on Alabama because of Manning's visit, Georgia also is set to host numerous elite prospects for its showdown with Arkansas.
At the top of the Dawgs' wish list is five-star DL Mykel Williams of Columbus (Ga.) Hardaway. Williams, the No. 5 player in the nation, continues to be the center of one of the fiercest recruiting battles in the country.
Williams has been a USC commitment since June 15. But the door has opened for Georgia, Florida and Alabama after the Trojans fired Clay Helton earlier this month.
Another five-star unofficial visitor to Georgia will be DL Shemar Stewart of Miami Monsignor Pace. Texas A&M, Miami and Ohio State are other teams high on Stewart's list.
Coveted DL Bear Alexander – who made news earlier this week when he transferred to IMG Academy – will be back at Georgia on an unofficial visit. Alexander is down to A&M and UGA. Georgia had his commitment once, but Alexander decommitted from the school in June.
Georgia will have another chance to impress Bainbridge (Ga.) High four-star athlete Deyon Bouie this weekend. Bouie, the 67th-ranked player in the On3 top 300, was committed to Georgia before he decommitted June 8. About two months later, Bouie committed to Texas A&M. The Bulldogs haven't relented in their pursuit of Bouie. Georgia coach Kirby Smart is a Bainbridge native.
Also scheduled to be on official visits are On300 S Kamari Wilson of IMG Academy and On300 CB Julian Humphrey of Houston Clear Lake. Humphrey is a Florida commitment.
Other key names to watch on unofficial visits include On300 CB Jaheim Singletary of Jacksonville Riverside and Florida State On300 IOL commit Aliou Bah of IMG Academy. Five-star junior EDGE Lebbeus Overton of Alpharetta (Ga.) Milton and four-star junior LB Raylen Wilson of Tallahassee (Fla.) Lincoln also are expected on campus.
Big recruiting weekend for Irish
With Cincinnati coming to town in one of the most anticipated games of the weekend, Notre Dame is using the opportunity to bring some of their most important recruits to South Bend.
Other than Manning, five-star ATH Sonny Styles of Pickerington (Ohio) Central may be the most coveted recruit in the nation, and he'll be at Notre Dame this weekend. Ohio State and Notre Dame are the favorites for his signature, and both consider him their No. 1 priority in the 2023 class.
Other top juniors expected at Notre Dame include On3 Top 100 prospects like CB Malik Muhammad of Dallas South Oak Cliff, WR Carnell Tate of IMG Academy and OT Luke Montgomery Findlay (Ohio) High. Consensus four-star juniors LB Drayk Bowen and ATH Samuel M'Pemba are other names to look for this weekend in South Bend.
The Irish feel good about their chances will all of the 2023 targets, especially Muhammad and Bowen.
LSU hosts Harold Perkins, other top targets
LSU will have one of its most important remaining 2022 targets on campus for an unofficial visit this weekend. Five-star LB Harold Perkins of Cypress (Texas) Cy Park will be in Baton Rouge for the Tigers' game against Auburn.
Texas A&M is the leader for Perkins. Texas is pushing, too. But the Tigers get a chance to turn momentum their way this weekend.
Perkins isn't the only important target visiting LSU this weekend. Top 50 prospect Jacoby Mathews, an uncommitted safety from Ponchatoula (La.) High, should be there along with most of LSU's 2022 commitments.
DL Quency Wiggins, the No. 55 player in the country out of Baton Rouge (La.) Madison Prep, is expected. Plus, four-star WR Shazz Preston of St. James (La.) High – who likes LSU, Texas, Alabama and Georgia – has indicated he'll be at the game. There's also a chance J'mond Tapp, a Texas EDGE commit from Donaldsonville (La.) Ascension Catholic, will be on campus for an unofficial visit.
5-star Brownlow-Dindy visiting A&M
After officially visiting Oklahoma a couple of weeks ago, DL Gabriel Brownlow-Dindy of Lakeland (Fla.) High is expected to be at Texas A&M on an unofficial visit this weekend.
Brownlow-Dindy, the No. 3 player in the country, is down to Texas A&M and Oklahoma. Intel indicates the Sooners are the team to beat. With a decision coming shortly, this is the Aggies' final shot at shifting momentum in their direction.
A&M plans to have a large crew of commitments on campus this weekend for the Mississippi State game, so you can count on the Aggies to roll out the red carpet for Brownlow-Dindy.
Other key visits
+ Five-star TE Jaleel Skinner of IMG Academy will be at Miami on Thursday for the game with Virginia. He will be at Clemson on Saturday when the Tigers face Boston College. Skinner is scheduled to announce his commitment on Oct. 9 between Alabama, Clemson, Florida, Florida State, Miami and Texas.

+ 2023 EDGE Chandavian Bradley of Platte County (Mo.) High will be at Kansas State this weekend. The four-star ranks as the No. 40 player in the country and already has visited Wisconsin, Iowa State and Kansas for games this season.
+ Nebraska has so few spots left in the 2022 class that most of its efforts are focused on the future. That's why Dylan Raiola's unofficial visit this weekend for the game with Northwestern is important. The Class of 2024 star is one of the top quarterbacks in the country. He's also the son of former Nebraska great Dominic Raiola, which mean's he's a must-get recruit for the Huskers. NU also plans to host a slew of offered 2023 prospects like Tausili Akana, David Borchers, Andrew Depaepe, Watts McBride, Maverick Noonan and Teitum Tuioti this weekend.