Weekend visit preview: Key recruits checking out Ohio State, Michigan, OU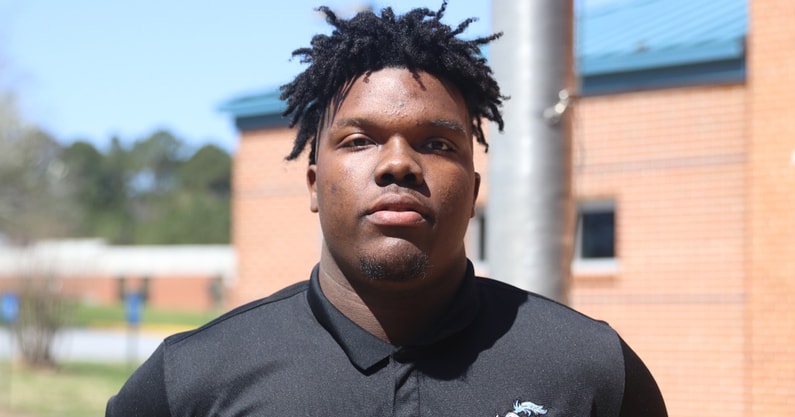 Week 2 of the college football season has plenty of marquee games that will have visitors traveling to campuses for official and unofficial visits. A lot of the national attention will be on the Big Ten with Michigan hosting Washington in The Big House and Oregon heading to the Horseshoe to face Ohio State.
On3 previews the top recruiting trips scheduled for the weekend and breaks down the most important visits.
Stars set to see Buckeyes
Ohio State also has a lengthy and star-studded list of recruits slated to be on campus this weekend for official and unofficial visits.
Highly coveted offensive lineman Earnest Greene of Bellflower (Calif.) St. John Bosco will be an official visit. Greene told On3's Hayes Fawcett this week he's excited to talk in person with head coach Ryan Day. He likes the momentum of the Buckeyes' class. Georgia and Texas also have visits lined up with Greene.
Four-star DL Christen Miller of Ellenwood (Ga.) Cedar Grove is also set for the official visit. The Buckeyes are battling USC and Georgia for the 6-foot-4, 285-pound On300 prospect.
On300 defensive lineman Caden Curry of Greenwood (Ind.) Cedar Grove will also be on an official visit. Most projections have the Buckeyes as the team to beat with the 6-foot-5, 250-pound four-star prospect.
Along with most of Ohio State's 2022 commitments – like five-star LB C.J. Hicks of Dayton (Ohio) Archbishop Alter – uncommitted senior four-stars IOL Carson Hinzman of Hammond (Wis.) Saint Croix Central and OT Aamil Wagner of Dayton (Ohio) Wayne are expected for unofficial visits.
The list of top 2023 targets expected in the Horseshoe is staggeringly long. The highlight of the group is five-star athlete and must get Buckeye target Sonny Styles of Pickerington (Ohio) Pickerington Central.
Other top juniors expected are four-star safety Caleb Downs of Hoschton (Ga.) Mill Creek, four-star OT Luke Montgomery of Findlay (Ohio) High, four-star EDGE recruit Matayo Uiagalelei of Bosco, heavily-recruited linebacker R.J. Jones of Bosco and top corner Jshawn Frausto-Ramos of Bosco. Minnesota receiver commitment Anthony Brown of Springfield, Ohio, is another 2023 visitor to keep an eye on this weekend.
There's even a slew of top 2024 targets like quarterback Jadyn Davis of Fort Mill (S.C.) Catawba Ridge expected and safety Peyton Woodyard of Bosco.
Big opportunity in The Big House
A primetime showdown between the Washington Huskies and Michigan Wolverines is one of top the games of the weekend. It's no surprise the list of recruits expected at The Big House in Ann Arbor is long. It's full of five and four-star names that represent some of the most intense recruiting battles in the country.
The biggest name on the list is five-star senior defensive lineman Walter Nolen of Powell (Tenn.) High. The nation's fourth-ranked player is scheduled to make the unofficial visit to Ann Arbor with his mother and two younger brothers.
Other key 2022 names scheduled to be at Michigan include five-star cornerback and USC commitment Domani Jackson of Santa Ana (Calif.) Mater Dei four-star offensive tackle Josh Conerly of Seattle Rainer Beach.
Jackson, who is out for the rest of his senior season with an injury, says he's still solid with his pledge to USC. However, he still is going to take the official visit to Michigan. Jackson grew up a Michigan fan and he has families ties to the Midwest.
Conerly, the No. 50 player in the country, is a must-get recruit for the Wolverines. Coach Jim Harbaugh, offensive line coach Sherrone Moore and offensive coordinator Josh Gattis flew to Washington in June to watch him work out at a camp. The Wolverines' main competition is Washington, so an impressive showing on the official visit could go a long way Michigan.
Four-star On300 EDGE prospect Joshua Josephs of Kennesaw (Ga.) North Cobb is also scheduled to be on campus for an unofficial visit. Michigan has been trending with him and the visit is a good sign for the Wolverines.
The visit list also includes four-star DL Deone Walker of Detroit Cass Tech and four-star DL Kenneth Grant of Merrillville, Ind. Both Walker and Grant are key 2022 targets on the defensive line.
Gabriel Brownlow-Dindy visiting OU
Five-star and No. 3 ranked overall prospect Gabriel Brownlow-Dindy of Lakeland (Fla.) High is set to be at Oklahoma this weekend for an official visit. The visit to Norman comes two weeks after the senior defensive lineman reduced his list of schools to Oklahoma and Texas A&M.
Another top target to keep an eye on at OU is five-star IOL Devon Campbell of Arlington Bowie. Texas and Oklahoma are the top two teams for Campbell. The unofficial visit is a chance for the Sooners to make a good impression.
The five-star visitors are among a group of key visitors this weekend to Oklahoma, including three recruits that have already committed but are making their official visit.
ISU to host top targets for Cy-Hawk
Iowa and Iowa State tangle for top targets throughout the Midwest and Midlands. So, it's no surprise to see the Cyclones are expecting a top group of recruits in Ames for the Cy-Hawk rivalry game.
Most of Iowa State's 18 commitments will be at the game, including consensus four-star receiver Greg Gaines of Tampa Bay (Fla.) Tech, three-star DL Hunter Deyo of Council Bluffs (Iowa) Lewis Central and three-star linebacker Jacob Imming of Sergeant Bluff (Iowa) Sergeant Bluff-Luton.
Most of the top uncommitted visitors for this weekend in Ames come in the 2023 class. That list is highlighted by priority target and top-50 national offensive tackle prospect Kadyn Proctor of Des Moines (Iowa) Southeast Polk. Proctor narrowed his list to 12 schools on Wednesday, and the Cyclones are definitely in the thick of the race.
Platte City (Mo.) Platte County junior EDGE Chandavian Bradley – the No. 40 player in the 2023 class – will also be at the game. It should be an electric atmosphere with ESPN's College GameDay in attendance. That's something Bradley is excited about.
"It's going to be fire," he said.
USC to host Anthony Lucas again
Coming off an impressive weekend of visits to UCLA and USC, Scottsdale (Ariz.) Chaparral 2022 five-star defensive lineman Anthony Lucas will be in Los Angeles again this weekend to visit USC unofficially.
Lucas is the No. 13 player in the country on On3 2022 rankings and has just seven schools remaining atop his list. Bama, LSU, Miami, Notre Dame, Oregon, Texas A&M and USC make up his top seven, so it's a good sign for the Trojans that he's back for the second straight weekend.
Lucas will be joined on campus by an official visitor and USC receiver commit Caleb Douglas of Missouri City (Texas) Hightower. Senior four-star LB David Bailey of Mater Dei and junior four-star receivers Carlos Wilson of Sacramento (Calif.) Inderkum and Rico Flores of Folsom, Calif., are also visiting unofficially.
Notre Dame to host good group
The Fighting Irish kick off their home schedule against Toledo with a handful of top uncommitted targets heading to South Bend.
Oradell (N.J.) Bergen Catholic consensus four-star senior defensive lineman Sydir Mitchell will be be on campus with a few teammates. He's a name Notre Dame has been monitoring for a while and an offer could be coming after the visit.

The Irish do plan to host consensus three-star running back Quinshon Judkins of Pike Road (Ala.) High for an official visit. Judkins lists more than 25 offers and Notre Dame is high on his list along with Auburn, Florida, Michigan, Ole Miss and Penn State. The Irish will also have a big group of 2022 commitments on campus for unofficial visits like On300 LB Joshua Burnham of Traverse City (Mich.) Central.
Other notable visits
+With Texas coming to town Arkansas will have a long list of top 2022 and 2023 targets on campus this weekend. The highlight of the visitor list is top 25 cornerback prospect Gentry Williams of Tulsa Booker T. Washington. The Hawgs' main competition for Williams appears to be USC and Oklahoma. Consensus three-star athlete Anthony Brown of Milan, Tenn., is also visiting Arkansas before his decision on Sept. 14. The Razorbacks are projected as the leaders over Indiana, Illinois and Tennessee.
+Indiana gets a key target on campus this weekend in four-star EDGE Tyreese Fearbry of Pittsburgh Perry Traditional Academy. Fearbry is the No. 34 player in the country. The one-time Penn State commitment has already officially visited Auburn, Kentucky, Penn State and Pittsburgh. The Panthers have been trending with him, but that could change with a good visit to Bloomington.
+On300 cornerback Ephesians Prysock of Mission Hills (Calif.) Bishop Alemany is scheduled to be in Knoxville for an official visit. The Volunteers have strong support at Bishop Alemany. Former Tennessee quarterback Casey Clausen is the Warriors' head coach, while Clausen's brother and former Vols quarterback Rick Clausen serves as their offensive coordinator.
+Mississippi State is using NC State coming to Starkville as an opportunity to bring in three official visitors. Three-star DL Quentel Jones of Fort Valley (Ga.) Peach County, three-star OT Cam East of New Orleans St. Augustine and CB Audavion Collins of Covington (Ga.) Newton will be in town. East and Collins are Bulldog commitments. Jones lists Miami, Mississippi State and Tennessee as his top teams.