Weekend visit preview: Top recruits heading to The Game, Iron Bowl, Egg Bowl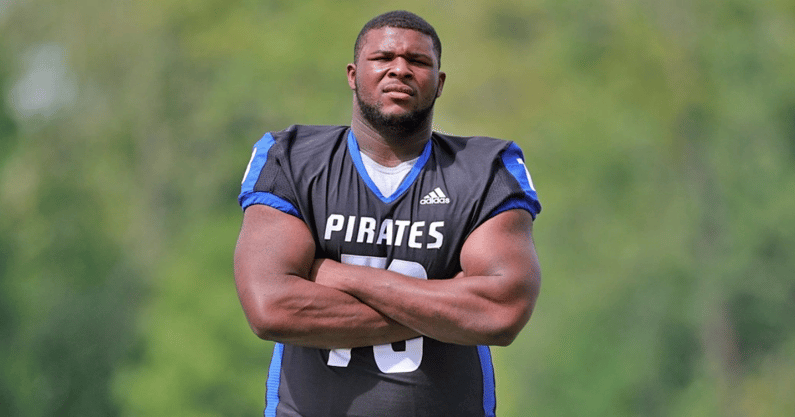 Week 13 of the college football season is upon us and there are a lot of tremendous matchups, which means top recruits will be flocking to campuses again for official and unofficial visits. We're also about 20 days from the start of the early signing period, so visits will continue to ramp up.
On3 previews the top recruiting trips scheduled for the weekend and breaks down the most important visits.
Top targets to visit Michigan for The Game
So much is on the line Saturday when Ohio State travels to Michigan for The Game. The winner clinches the Big Ten East title and stays on track for the College Football Playoff. Also on the line is recruiting momentum.
Ohio State has the No. 4 class in the On3 Consensus Team Recruiting Ranking. Michigan has the 16th-best class. With all the pageantry and crossover recruiting battles, it's no surprise Michigan is using the weekend to host some key official and unofficial visitors on campus.
Five-star offensive tackle Kiyaunta Goodwin of Charlestown (Ind.) High heads to Ann Arbor on his official visit, with Kentucky and Alabama still on the top of his list.
Goodwin, a longtime Kentucky commitment, continues to say all the right things about his pledge with the Wildcats. But he's also giving other schools a fair shot to sway his decision. Intel indicates Alabama is the school that has the best chance to flip him. But the Wolverines hope to make a big impression this weekend.
Five-Star Plus+ cornerback Domani Jackson of Santa Ana (Calif.) Mater Dei is set to return to Ann Arbor for an unofficial visit this weekend. Jackson, who recently made a much-publicized decommitment from USC, visited Michigan before he decommitted from the Trojans. He loved what he saw on the visit and said Michigan "blew me away."
The Wolverines always have been heavily involved in his recruitment. But intel indicates Alabama has taken a commanding lead in his recruitment after an early November official visit. Now it'll be Michigan's chance to get some momentum in its corner.
Michigan also is working hard to get Seattle Rainer Beach five-star offensive tackle Josh Conerly Jr. on campus for a visit, according to E.J. Holland.  
"Conerly lost his playoff game last week, so the Michigan staff has been hard at work trying to get him to Ann Arbor for the game," Holland wrote.
Also on the official visit list for Michigan is four-star safety Zeke Berry of Concord (Calif.) De La Salle and four-star EDGE Ethan Burke of Austin (Texas) Westlake.
Auburn set to host prized DL targets for Iron Bowl visits
The Iron Bowl always is one of the best rivalry games in college football. It also always attracts some of the nation's top high school football players on official and unofficial visits. This year is no exception, as Auburn is using the weekend to bring key targets to The Plains.
As of late Wednesday night, the Tigers were planning to host around 10 official visitors, including seven On3 Consensus four-star prospects and two of the most coveted juco prospects in the country. Plus, the unofficial visit list from On3's Auburn Live is even more stacked with four stars from all over the country and even coveted local five-star prospects scheduled to be in town.
Can Auburn make move with DL Khurtiss Perry?
Four-star defensive lineman Khurtiss Perry of Montgomery (Ala.) Pike Road heads into his official visit to Auburn this weekend with the Tigers looking to make up some ground on Alabama.
Intel from On3 Director of Recruiting Chad Simmons indicates the Crimson Tide are the team to beat for Perrry. Simmons said his confidence level in the Tide was at 70% heading into the weekend. That means the Tigers have their work cut out for them if they want to flip the momentum.
Four-star defensive lineman Nyjalik Kelly of Ft. Lauderdale (Fla.) Dillard is set to take his fifth and final official visit this weekend to Auburn. Kelly is the No. 98 player in the country, according to the On3 Consensus, a complete and equally weighted industry-generated average that utilizes all four major recruiting media companies.
Kelly arrives in Auburn on Friday and will attend the Iron Bowl on Saturday. It will be his first visit to Auburn, according to Auburn Live's Jeffrey Lee.
The Tigers also are hosting one of the top junior college players in the country for both an unofficial and an official visit. Independence (Kan.) Community College defensive linman Jeffrey M'ba will attend the Iron Bowl on Saturday. He'll then begin his official visit – the 48-hour window where all expenses are paid for – on Sunday and stay through Monday with his parents.
The extended period on campus has to be a good thing for the Tigers, who have made M'ba one of their prized defensive line targets in the 2022 cycle.
The Egg Bowl could produce commits for Mississippi State
With the Egg Bowl on Thanksgiving, it's hit and miss on the prospects who make it to campus for visits. But the good news is that it looks like a solid visit list for Mississippi State.
The headliner is On3 Consensus four-star linebacker Stone Blanton of Madison (Miss.) Madison-Ridgeland Academy. The recruitment of Blanton, the No. 9 player in Mississippi, is developing into one of the most intense battles in the Magnolia State. But there's been some intel in the past few weeks that MSU has made some progress with him.
Blanton could double up on visits this weekend. He hopes to also be at Saturday's Clemson–South Carolina game.
Another prospect who's expected to visit is three-star EDGE Avery Sledge, a longtime Tulane commitment from Brooklyn, Miss. Sledge has a Bulldog offer, and many insiders expect him to flip his commitment, maybe as soon as this weekend.
Another unofficial visitor to monitor for a potential commitment is junior college defensive tackle Percy Lewis of Mississippi Gulf Coast CC. He's been leaning toward staying closer to Mississippi, and both Ole Miss and MSU are at the top of his list. Mississippi State is believed to be the team to beat, with an official visit scheduled for December 3.
Coveted juco cornerback and Kentucky commitment DeCarlos Nicholson is scheduled to be there for an unofficial visit. Nicholson has a long list of schools still chasing after him and a return visit to Starkville set up on December 10, so this is a good chance for MSU to impress.
Three-star EDGE Ole Miss commit Jacarius Clayton of Tupelo (Miss.) High is on the docket to make an unofficial visit for the Egg Bowl. Clayton committed to the Rebels in early July. He had been committed to MSU before that flip.
Baylor set for big visit weekend in Waco
With Texas Tech coming to town, Baylor is using the game to host a large contingent of unofficial visitors.
The Bears and the Red Raiders could end up turning into one of the best recruiting rivalries in the country now that former Baylor assistant Joey McGuire is the new coach in Lubbock. This game could be a good chance for the Bears to gain some momentum with underclass targets in the Lone Star State.
The list of top targets includes On3 Consensus four-star Bravion Rogers of La Grange, Texas. Rogers is the eighth-ranked junior in Texas.
Another target who will be heavily courted by both teams and will be at the game is cornerback AJ Tisdell of College Station (Texas) High. Tisdell was offered by Baylor on November 14 and the Red Raiders quickly followed up with an offer three days later. He visited Tech last weekend and is set to be in Waco this weekend.
Another key unofficial visitor in the 2023 class is linebacker Derion Gullette of Marlin, Texas. Gullette has a Baylor offer, but Texas A&M is believed to be the early leader for his commitment.
Some top 2024 recruits also will be on campus, including On3 Consensus four-star receiver Micah Hudson of Temple (Texas) Lake Butler.
A top senior target is expected on campus for an unofficial visit – On3 Consensus four-star receiver Matthew Golden. Golden has developed into a big-time recruiting battle between Texas and Baylor. He'll be in Austin on Friday for the Longhorns' game with Kansas State, then in Waco on Saturday. Golden is officially visiting Baylor on December 10.
Other key visits
+ Jadyn Davis, the No. 1 sophomore in the country per On 3, will make another unofficial visit to South Carolina for The Palmetto Bowl. The coveted quarterback out of Fort Mill (S.C.) Catawba Ridge has taken a number of visits this fall, including recent trips to Clemson and Penn State. Now it's the Gamecocks' turn to impress on a game day.
+ Darius Clemons, one of Oregon's top remaining targets in the 2022 class, will be in Eugene for an official visit this weekend. Clemons is the No. 46 player in the country and the top overall player in Oregon, according to On3. The Ducks have moved into the prime position to keep Clemons at home, and this weekend's trip could help seal the deal.
+ Bedlam will be heavy on underclass local prospects, with most of the state's top 2023 and 2024 prospects expected to be on campus at Oklahoma State. A few names to keep an eye on are the top sophomore in the state, David Stone of Del City, and Bai Jobe, the No. 4 junior in Oklahoma. Stone has early offers from Texas Tech, Oklahoma State, Iowa State and Memphis. Jobe is one of the more heavily recruited 2023s in the state.