INTEL: Ranking the contenders for 4-star Wesley Yates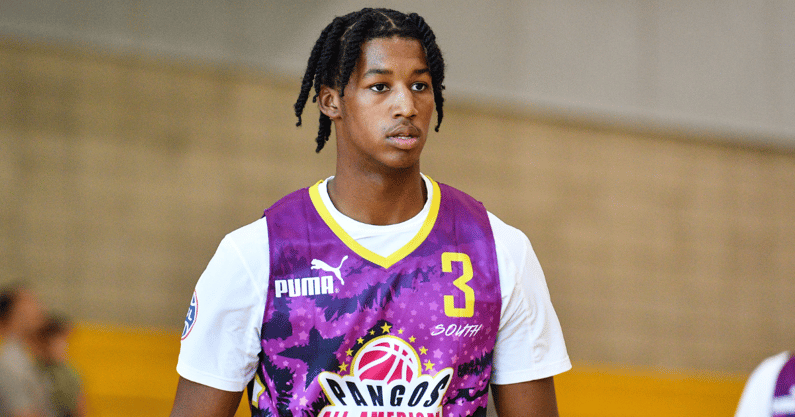 News broke on Monday that four-star guard Wesley Yates will announce his college commitment on October 5. Yates is the 2023 On3 consensus No. 29 player in the class.
This summer, the 6-foot-4 guard averaged 15.0 points on 1.6 threes made for the Liv On Fleur de Lis team on Nike's EYBL Circuit.
Yates took junior year official visits to Auburn, Stanford, and Washington. He has taken senior year official visits to LSU and Texas.
With this recruitment winding down, let's take a look at the intel to see where things are leaning for yates.
1. Washington
Yates is related to Washington assistant Quincy Pondexter on his mother's side. The four-star guard got a good look at the system and style of play while on his visit. Everything seemed to check the boxes.
Washington's chances: 60 percent
2. LSU
Yates quickly became a top priority for new LSU head coach Matt McMahon. Yates was able to experience the full student body atmosphere by attending a football game on his visit. Also, Baton Rouge is less than three hours from Beaumont, Texas.
LSU's chances: 40 percent
Final thoughts
While Yates has announced a final nine, this one feels like it is coming down to a two-team race, LSU and Washington. The family factor at Washington is an interesting piece of the puzzle. There is a comfort factor there.
Also, the style of play and system fit plays well at Washington. On the flip side, Yates has spoken highly about Ja Morant for a while. New LSU head coach Matt McMahan coached Morant at Murray State. The Tigers were able to show Yates just how they would use him while on his visit. LSU has also let it be known that Yates is their top target.
On his visit to Seattle, Yates was able to see how Mike Hopkins uses his guards. They have a lot of freedom and a lot of ability to make plays and get shots.
The feel here is this one may not be over, as things wind down. Washington is the leader in the clubhouse, but over the next week this could be a tug-of-war match.
On3's Recruiting Prediction Machine
I have placed my expert pick in On3's Recruiting Prediction Machine (RPM) for Wesley Yates to choose Washington. I set my pick with an 60 confidence level.
The On3 engineering group teamed up with Spiny.ai to create the industry's first algorithm and machine learning-based product to predict where athletes will attend college. Starting from the ground up, On3 built an entirely new product that utilizes data, human expertise, and machine learning.