What 12-team College Football Playoff would look like in 2021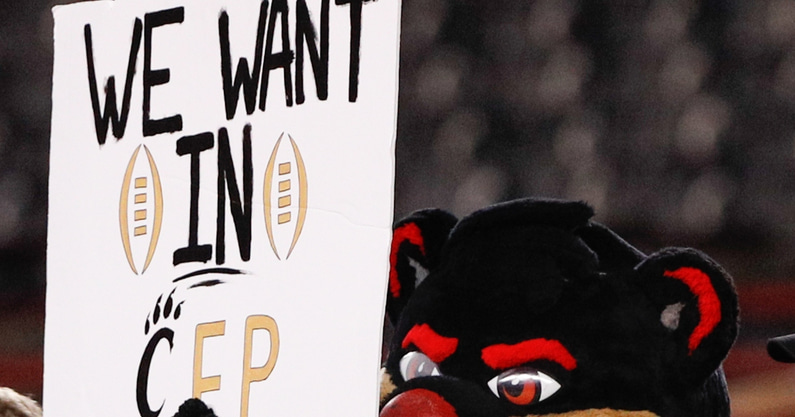 Of all the storylines that make headlines in college football, the expansion of the College Football Playoff is one of the most controversial. While many are against expanding to 8 or 12 teams, it's inevitably on the horizon for the future of the sport.
This season, only four teams will have a shot when the College Football Playoff begins. Still, it's entertaining to examine what a 12-team College Football Playoff would look like in 2021.
Evidently, the Georgia Bulldogs would still be the overwhelming favorite to win it all. However, many teams would be greatly aided by additional tickets to the dance.
Chances to reach a 12-team College Football Playoff, per ESPN:
1) Georgia Bulldogs: 100%. Barring an epic collapse, Kirby Smart's squad would've already clinched their spot in the College Football Playoff if it featured 12 teams.
2) Alabama Crimson Tide: 96%. Even though they were upset by Texas A&M, the Crimson Tide have a great chance to make the College Football Playoff. However, they would almost certainly be entered into a 12 team playoff.
3) Oklahoma Sooners: 91%. They haven't played their best football yet this season, but replacing Spencer Rattler with Caleb Williams could catapult the Sooners.
4) Michigan Wolverines: 90%. Jim Harbaugh has a chance to have his best season at Michigan yet, but it all comes down to some huge Big Ten games.
5) Cincinnati Bearcats: 84%. Could Luke Fickell lead the Bearcats to the College Football Playoff? It would be borderline impossible to keep them out of a 12-team set-up, but it may be tough to leave them out regardless.
6) Ohio State Buckeyes: 81%. After recovering from their loss to Oregon, the Buckeyes are back to being one of the nation's scariest teams.
7) Iowa Hawkeyes: 78%. As the No. 2 team in the country currently, it's a surprise to see the Hawkeyes follow Michigan and Ohio State in their chances to make a hypothetical 12-team Playoff.
8) Michigan State Spartans: 58%. One of the biggest surprises of all, the Spartans can shock the world if they win out and make it impossible for the committee to overlook them.
9) Notre Dame Fighting Irish: 51%. The Fighting Irish have escaped defeat on multiple occasions, but a loss to Cincinnati may be their undoing. However, they would still have a fantastic shot if the Playoff was expanded.
10) Pittsburgh Panthers: 51%. Perhaps the final hope for the ACC, Pittsburgh is dangerous as any team with Kenny Pickett as their signal caller.
11) Penn State Nittany Lions: 47%. If it wasn't for an injury to Sean Clifford, many believe the Nittany Lions would've left Kinnick Stadium victories. However, all hope isn't lost for Penn State.
12) Coastal Carolina Chanticleers: 41%. Imagine if Coastal Carolina and Cincinnati were both in the College Football Playoff? If 12 teams were selected, it would be a real possibility.