What a 12-team College Football Playoff field would look like after CFP rankings update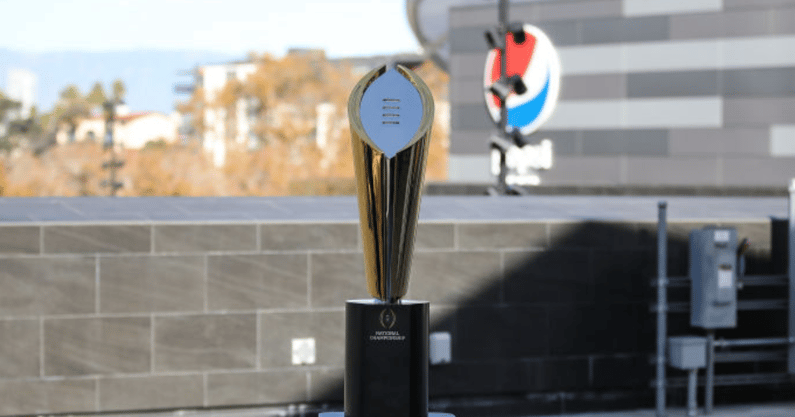 The College Football Playoff Selection Committee revealed its updated rankings after a rivalry week shook up the CFP picture with more big upsets and program-defining wins across the country. While some fell off the playoff bubble with their losses, in a few short years a new format will offer a second chance to some of those who drop a game or two along the way, as LSU and Ohio State did on Saturday.
As the College Football Playoff expands to 12 teams, the conversation surrounding the rankings will surely change with it. While the focus of the night and the season remains on the four teams on top, it is always fun to look forward at what things could be like.
Check out how the Week 14 CFP rankings would fill out a 12-team playoff field which would let more big-name teams like Alabama and Clemson into the conversation again.
Seeds with byes
Under the new format, the top four teams will receive a first-round bye, giving them extra time to prepare for the upcoming matchup versus their competitors. However, unlike the current system, each of these teams must win their respective conference. That does not play a factor here with conference leaders representing each top-four spot.
1. Georgia
2. Michigan
3. TCU
4. USC
Remaining seeds
(conference champs *)
The remaining eight teams in the 12-team CFP field will feature the remaining Power Five champion, along with at least one Group of Five school ranked the highest in the country.
5. Ohio State
6. Alabama
7. Tennessee
8. Penn State
9. Clemson*
10. Kansas State
11. Utah
12. Tulane*
First-round games:
Game 1: No. 12 Tulane @ No. 5 Ohio State
Game 2: No. 11 Utah @ No. 6 Alabama
Game 3: No. 10 Kansas State @ No. 7 Tennessee
Game 4: No. 9 Clemson @ No. 8 Penn State
Quarterfinal games:
Game 5: Winner of Game 4 vs. No. 1 Georgia
Game 6: Winner of Game 3 vs. No. 2 Michigan
Game 7: Winner of Game 2 vs. No. 3 TCU
Game 8: Winner of Game 1 vs. No. 4 USC
Semifinal games
Game 9: Winner of Game 5 vs. Winner of Game 8
Game 10: Winner of Game 6 vs. Winner of Game 7
CFP National Championship game
Game 11: Winner of Game 9 vs. Winner of Game 10