What is Ohio State getting in four-star Devin Royal?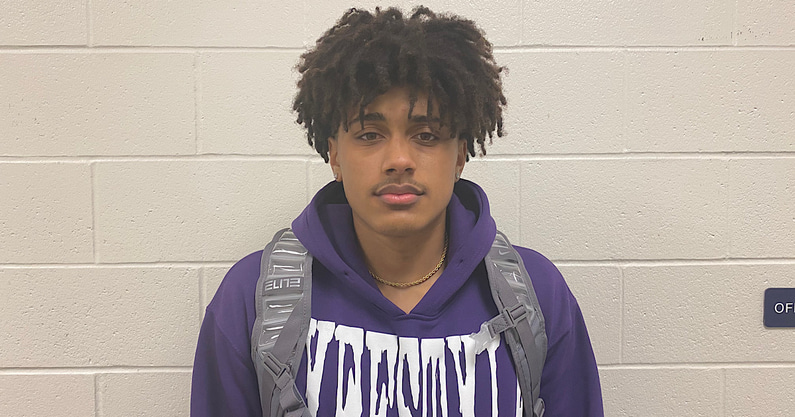 Just last year EJ Liddell won his second of back-to-back first-team All-Big Ten awards. He was the 41st pick in the 2022 NBA Draft. Liddell was 6-foot-6 and 220-pounds coming out of high school On3's No. 26 ranked Devin Royal is 6-foot-6 and 210-pounds heading into his senior season.
This comparison is one that the Ohio State staff brought up throughout Royal's recruitment. It is also a comparison that Royal heard loud and clear.
"They want me to be a wing player, like an EJ Liddell," Royal told On3 at Peach Jam. "Make an impact like he did."
Devin Royal is a skilled player who has taken a considerable jump over the last 12 months. He was unranked at this time last year. While he had a handful of mid-major offers, Royal did not pick up his first power five offer until July 26, 2021, when Penn State stepped forward.
Just a little over twelve months ago, the current No. 26 ranked player in the class was unranked and had no high major offers to his name. Within the last twelve months, the high major offers started flowing in. Royal ended up with almost 20 high major offers and over 25 overall offers.
But why the sudden jump in notoriety? It had to do with Royal's frame. Royal has naturally long arms and broad shoulders. What was fluffy was turning into tighter muscle. This transformation opened up everything for the Pickerington (OH) Central High forward.
Royal's game
For starters, Royal's game fits what has seen a lot of success in basketball recently. Twenty-five years ago, Royal's position was considered a big wing. However, that big wing has morphed into a skilled four in today's game. In previous eras, a player may have been considered a tweener, not big enough for a four or not quick enough for a three. That same player is valued for their versatility today.
Versatility is exactly what Royal takes pride in with his game.
"I'm very versatile," Royal told On3. "I can do whatever they ask me to do"
Royal is 6-foot-6, but his long arms and strong frame make up for a possible lack of height. He also has good instincts and a nose for the ball, both in the passing lanes and with rebounds.
Offensively is where Royal's versatility shines. In his 13 EYBL Circuit games logged into Synergy, Royal averaged 18.4 points and shot 54.8-percent from the field. The analytics software graded Royal's 0.950 points per possession out as 'excellent' among his peers.
Royal has a natural feel with the ball in his hands. He is a threat from multiple spots on the floor. Royal can line up from the high and mid-post, face up and dribble, shoot, or pass in traffic. He is a catch-and-shoot threat from beyond the arc or can get to his spots off the bounce. Royal cuts well off the ball, flashes, and cuts with purpose in the half-court.
Royal has a soft touch, shown by his almost 80-percent free-throw shooting on Nike's EYBL Circuit. He is also a good passer from multiple areas on the floor. Royal averaged 2.9 assists per game in his seven Nike's Peach Jam games.
While he is an opportunistic defender, his lack of lateral quickness is a question mark. During Peach Jam, Royal did average 1.4 blocks per game. He has timing, and he has long arms. Royal also is a good team defender; he understands footwork and switching concepts within a defensive possession.
Synergy graded Royal's defense on the EYBL Circuit as 'average.' He gave up 0.83 points per possession, putting him in the 35th percentile among his peers.
Royal is an even-keel player. He never gets too high or too low, often staying right in the middle. Often this can be taken as having a poor motor. However, when you look at his incredible production, night in and night out, you see the game – at times – may just come easy to him.
Royal's recruitment
While Devin Royal claimed this was a three-team race, most saw this recruitment as a Michigan State vs. Ohio State battle. Interconference, midwestern recruiting battles can get interesting, especially when the player's recruitment is kept close to the vest. On3 was the first log an expert pick in this recruitment. Even while the general consensus was Michigan State, the pick was logged with 75-percent confidence to Ohio State. The industry soon followed.
Royal attends Pickerington (OH) Central High, just 20 miles away from the Ohio State campus. The fact that many thought Michigan State was in the lead was big news. Michigan State offered Royal almost six months after Ohio State did. Royal has spent plenty of time on the Ohio State campus, and there was a familiarity with its players and the program.
Michigan State is four and a half hours away from Royal. They got a late start on the process and did a great job even positioning themselves in the mix. A quick look at head coach Tom Izzo's success with positional tweeners like Royal, Denzel Valentine, Miles Bridges, and Draymond Green shows why Royal's interest was piqued.
Ohio State's 2023 class
Devin Royal is the third commitment the Buckeyes have in 2023. He is the first four-star in the class. Ohio State is currently the favorite to also land four-star SG Scotty Middleton.
Three-star CG George Washington, III
Three-star C Austin Parks
Final thought
A quick scan through today's highest level of basketball, you see players who have the most success are not the biggest or the most explosive; it is the players with the most feel. In a high school class that lacks top-end, sure-fire talent, a steady performer like Royal, who makes the game look easy, can often be overlooked.
On3 currently has Royal No. 26 in the 2023 class. When you average the other three major scouting company's rankings of 76. 78, and 87, Royal's industry-standard On3 Consensus ranking is 61. The forward is going to a system fit who has shown proven success with players like Royal in a league that sets up well for his skill set.
Chris Holtmann set his sights on his man and locked him in at the end of the day. As long as Royal continues to progress, there is no reason not to envision him making an early impact in Columbus.