Where Big 12 recruiting classes stand in On3 Consensus Team Rankings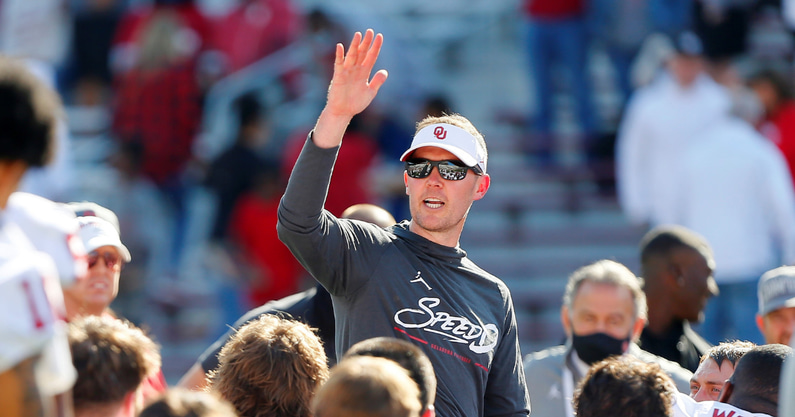 The 2022 class, while not yet finished, features a lot of familiar faces – and one familiar league – at the top of the On3 Consensus Team Ranking. But there's also a lot to like about a few Big 12 Conference teams with around 40 days left before the start of the early signing period.
According to the On3 Consensus Team Ranking – the most advanced and accurate team ranking in the industry – the Big 12 has two classes in the top 10 in the country and more than half of the league is in the top 35. However, coaching changes at two of the schools are shaking things up dramatically.
Here's a look at the Big 12 recruiting classes for 2022 as of Nov. 3, according to the On3 Consensus Team Ranking.
No. 10 Kansas
Consensus Score: 80.956
On3 Consensus Team Ranking: 92
Commitments: 5
Top pledge: Kaleb Purdy
KU coach Lance Leipold knew the rebuild project was going to be tough in Lawrence. But few would have anticipated the Jayhawks with only five commitments heading into the final stretch before the start of the early signing period. KU has worked hard to build inroads throughout the state of Kansas, in Kansas City, St. Louis and Texas. But top targets have been reluctant to jump on board this early in the rebuilding process.
With so few pledges on board and plenty of holes to fill, don't be surprised if the Jayhawks hit the transfer portal hard (again) this offseason.
No. 9 Kansas State
Consensus Score: 83.510
On3 Consensus Team Ranking: 66
Commitments: 12
Top pledge: Tobi Osunsanmi
Some K-State fans have been disappointed with the recruiting return in the 2022 cycle under Chris Kleiman. But savvy Wildcat fans understand the next few weeks are critical in K-State's overall class success.
Several key targets are set to make decisions. If they go K-State's way, then they have a chance to shoot up in the class rankings.
That being said, there's a long list of local prospects K-State targeted and a few defections that ended up at other schools that make the overall mood about the class somewhat sour. That being said, K-State insiders love the success they've had in Georgia, especially with players like On3 Consensus three-star linebacker V.J. Payne.
No. 8 Texas Tech
Consensus Score: 84.666
On3 Consensus Team Ranking: 60
Commitments: 9
Top pledge: Maurion Horn
Texas Tech recruiting is currently stuck in the neutral after the Red Raiders fired coach Matt Wells. There have been committed prospects that have backed off pledges and others that are starting to look around. That's chipping away at a solid foundation that was in place with the 2022 cycle.
Whoever is hired in Lubbock is going to have to hit the ground running and fire up the fan and recruiting base throughout the Lone Star State. There's enough talent in Texas for the Red Raiders to recruit top-35 level classes consistently. That type of effort will be needed to win long-term at Tech.
No. 7 Baylor
Consensus Score: 86.481
On3 Consensus Team Ranking: 43
Commitments: 19
Top pledge: Kaian Roberts-Day
It's almost unfortunate that Baylor had so many commitments in place before the start of the season. The Bears have been one of the feel-good stories of college football this season and are in the thick of the Big 12 title hunt in early November. Yet, with so many commitments on board, the Bears haven't been able to use the success as a bolt of enthusiasm on the recruiting trail in the 2022 class.
There's a lot to like about what the Bears have assembled, especially with Roberts-Day and On3 Consensus four-star IOL George Maile. But we might see the biggest boost from the successful season with Baylor's recruiting efforts in the 2023 class.
No. 6 TCU
Consensus Score: 86.709
On3 Consensus Team Ranking: 38
Commitments: 8
Top pledge: Jaylon Guilbeau
Early on it appeared TCU was building a special 2022 class. It had top 25 written all over it. There were whispers that several elite Texans were seriously considering the Horned Frogs, which could have boosted it even higher.
However, TCU is now going backward after Gary Patterson was let go and the Horned Frogs are looking for a new head coach. Rival recruiters are already chipping away at committed players like On3 Consensus Guilbeau and coveted running back Major Everhart. Plus, TCU has lost commitments from four-star Matthew Golden and three-star safety Ja'dais Richard.
The bleeding will continue until a new head coach is hired. But the good news is that Patterson built a foundation for whoever gets the new job to have recruiting success.
No. 5 Iowa State
Consensus Score: 87.274
On3 Consensus Team Ranking: 33
Commitments: 19
Top pledge: Hunter Deyo
Matt Campbell has made a living by recruiting players that are high on potential and developing them into star players once they arrive in Ames. That trend continues in the 2022 cycle. There's a lot to like about Deyo, an in-state defensive lineman that ranks in the top 300 prospects in the country.
And the Cyclones have struck gold at receiver, landing quality prospects like On3 Consensus four-star Greg Gaines and high three-stars Andrew Keller and Jason Essex. They all fit the Iowa State system perfectly.
All in all, there's a lot of substance and needs filled with this Iowa State class.
No. 4 Oklahoma State
Consensus Score: 87.760
On3 Consensus Team Ranking: 30
Commitments: 14
Top pledge: Talyn Shettron
There's a lot – and we mean a lot – to like about the Oklahoma State 2022 recruiting class. The Cowboys have gone heavy on the offensive side of the ball. They've hit paydirt with a range of prospects that should keep the OSU offense clicking in the future. The headliner is On3 Consensus four-star receiver Shettron, who flipped from rival OU. But four-star running back Ollie Gordon and four-star quarterback Garret Rangel also have big-time potential in the OSU system.
The Cowboys have also added more speed to their class with quality commits from in-state four-star athletes CJ Brown and Braylin Presley. The Cowboys would like to continue to add a few pieces along the offensive and defensive line down the stretch.
No. 3 West Virginia
Consensus Score: 87.896
On3 Consensus Team Ranking: 27
Commitments: 17
Top pledge: Travious Lathan
Without a huge recruiting base to work within their own backyard, the Mountaineers have shifted their focus to the Southeast. They've had a lot of success in Florida and Georgia. WVU has three quality commitments from players in Florida, headlined by Lathan, an On3 Consensus four-star prospect out of Miami. Georgia has also been kind with three pledges, including four-star running back Justin Williams.
There are a few quality linemen in the class, but 2022 was all about upgrading skill on both sides of the ball. It's safe to say it's mission accomplished for coach Neal Brown.
No. 2 Texas
Consensus Score: 91.985
On3 Consensus Team Ranking: 8
Commitments: 22
Top pledge: Brenen Thompson
There are still a lot of moving parts to the Class of 2022 recruiting class for the Texas Longhorns. But the pieces are in place for the Horns to rank in the 10 and potentially climb much, much higher if things go right for them over the next month.
Texas has done a good job of adding playmakers to the class, headlined by Thompson, a small-school star that will bring speed to the lineup immediately.
There's also much-needed help at the defensive line coming with four-stars Jaray Bledsoe, J'mond Tapp, Justice Finkley, Kristopher Ross and Aaron Bryant all committed.
Even with the foundation in place, there is a sense of excitement about what's yet to come. The Horns have some major targets – like five stars Evan Stewart, Harold Perkins, Devon Campbell, Denver Harris and Kelvin Banks – that will eventually determine how successful this class is.
No. 1 Oklahoma
Consensus Score: 92.417
On3 Consensus Team Ranking: 5
Commitments: 16
Top pledge: Gabriel Brownlow-Dindy
OU has landed elite players at almost every key position in the 2022 class and the headliner is five-star DL Brownlow-Dindy out of Florida. Running back is also a strong part of the class with California star Raleek Brown and Colorado four-star Gavin Sawchuk bringing different styles but the same explosiveness to the class.
The Sooners have also reloaded on the offensive line and picked up some solid receivers that they covet because of how they fit the OU offense. Fourteen of the 16 Sooner commitments rank four stars or higher. And what's crazy is that OU isn't done yet.
The Sooners are still in the hunt for On3 Consensus five-star offensive linemen Devon Campbell and Josh Conerly Jr. And On3 No. 1 overall recruit Marvin Jones Jr. visited and lists OU as one of his favorites. There are others, too, but either way, it's a special group heading to Norman that expects to get even better before signing day.