Where do Georgia's best stand in On3 2023 top 100 rankings?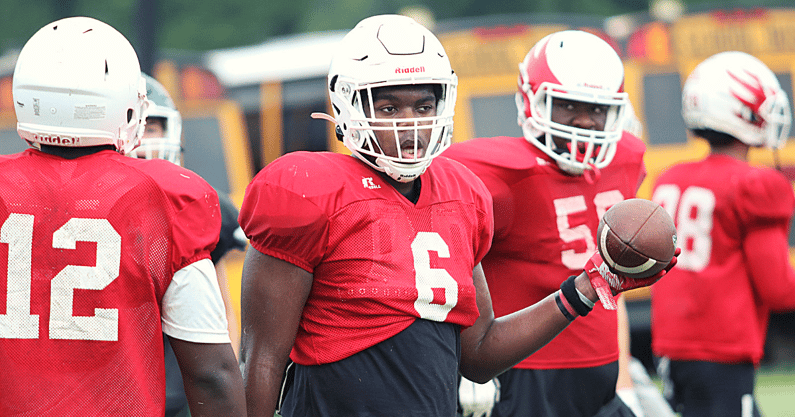 Georgia is common in On3's top 100 players in the class of 2023 rankings with nine of the 100 players from Georgia. The highest-ranked player from the state is Lebbeus Overton of Milton. Read why he's ranked on top, and how the other top players from the Peach State stack up.
Lebbeus Overton
6-5, 270, DL, Milton High School
Rank: No. 6 overall, Grade: 98
Overton has been a dominant presence for his team since he stepped on the field as a sophomore. Overton moved to Georgia from Alabama prior to his sophomore season.
He holds 26 offers. All of college football's major players are chasing this dominant defensive lineman.
On3's Director of Scouting Charles Power has been high on Overton for a few years.
"He's powerful and very explosive with a penchant for finishing plays behind the line of scrimmage," Power said. "Thirty-eight tackles for loss at that level of competition is pretty remarkable."
Vic Burley
6-5, 270, DL, Warner Robins High School
Rank: No. 12 overall, Grade: 97
Burley is considered south Georgia's best prospect. The Warner Robins High School star holds 15 offers at the moment.
"Vic Burley brings length and athleticism as a disruptive pass rusher on the interior," Power said. "I watched a few Warner Robins games from last fall, and he consistently flashed, both at the beginning and end of the season. As early as Week One he was sacking Miami quarterback signee Jake Garcia multiple times. Burley is advanced in terms of his production and athletic markers but still has considerable physical upside."
Marcus Washington
6-0, 170, CB, Grovetown High School
Rank: No. 14 overall, Grade: 96
Georgia commitment
Washington burst on the scene in 2020. He's already committed to Georgia. His father, Marcus Washington Sr., played for Georiga from 2005-2009 as a linebacker and defensive lineman.
"Marcus Washington is arguably the most athletic corner in the cycle as things stand right now," Power said. "The Georgia commit and Bulldog legacy has an electronic 4.46-second 40-yard dash in addition to a 10.76-second 100-meter time. That athleticism combines with his cover ability (both on Friday nights and camps) and his verified 6-foot stature."
Caleb Downs
6-0, 190, S, Hoschton (Ga.) Mill Creek
Rank: No. 15 overall, Grade: 96
Downs has been a starter since his freshman year at Mill Creek. He's grown into a defensive stopper for his team.
Downs will make an impact on the offensive side of the football in 2020. His older brother, Josh Downs, is a wide receiver at North Carolina. His father, Gary Downs, played six NFL seasons as he split time with the New York Giants, Denver Broncos and Atlanta Falcons.
"Caleb Downs is already a pretty complete safety prospect from a skill perspective," Power said. "He can cover like a cornerback but is also instinctual and physical in defending the run and quick passing game. Downs plays like he's an older prospect. I'm looking forward to seeing him get some touches on offense this year."
T.J. Searcy
6-5, 240, LB/DL, Thomaston Upson-Lee
Rank: No. 48 overall, Grade: 93
Searcy is a massive outside linebacker for his Upson-Lee High School team. He'll add a few pounds over the next few years, but his natural explosiveness will remain. That makes him one of the elite defensive lineman prospects in the 2023 class.
"T.J. Searcy has an intriguing combination of size, length and athleticism," Power said. "He primarily played as an off-ball linebacker as a junior but projects as a defensive lineman long-term. Searcy is a very fluid mover at 6-foot-5.5, 240 pounds. He's also strong and explosive, as evidenced by a 47-plus foot shotput throw. There's considerable physical upside here."
Kayin Lee
6-0, 160, CB, Ellenwood Cedar Grove
Rank: No. 51 overall, Grade: 93
"He's highly instinctual in his ability to track and locate the ball and has an innate ability to time his jumps," Power said. "He's also checked in as an above-average athlete at the position."
Justice Haynes
5-10, 190, RB, Roswell Blessed Trinity
Rank: No. 66 overall, Grade: 92
"The first thing that comes to mind with Justice Haynes is his production," Power said. "He's carved up the competition in his first two years at Blessed Trinity. He's a patient, but tough runner with some outstanding contact balance."
Shamurad Umarov
6-6, 280, OL, Alpharetta Denmark
Rank: No. 82 overall, Grade: 91
"A high upside offensive tackle who is just coming into his own," Power said. "He has a sizable frame at 6-foot-6, 275 pounds with a stout base, yet considerable room to fill out in his upper body. We really liked his ability to anchor on contact. There's a strong power base there to go with his movement skills."
Zachariah Keith
6-5, 245, EDGE, Douglasville Douglas County
Rank: No. 100 overall, Grade: 91
Georgia Tech commit
"He makes some high-end plays in pursuit with his ability to track down ball carriers from across the field," Power said. "Combine that athleticism with his 6-foot-4, 240-pound frame and long arms and he's a prospect we're willing to bet on from an upside perspective."