Where would GG Jackson project in the 2023 NBA Draft if he reclassifies?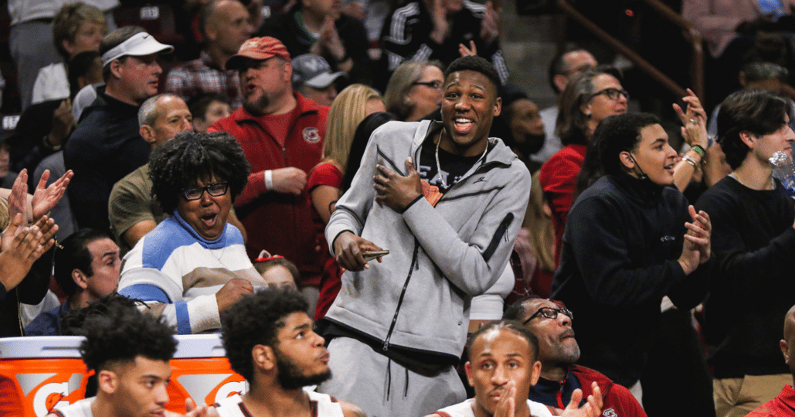 Earlier this week, On3 broke the story that 2023 On3 Consensus No. 1 GG Jackson was exploring the possibility of reclassifying up to the 2022 class. His December birthday would allow Jackson to be a part of the 2023 NBA Draft.
Looking around the landscape, no one is mocking Jackson in the 2023 draft right now. Does it make sense to come out early? I asked some friends who are prominent in the business where they would put Jackson if he were to become a part of the 2023 NBA Draft.
Here is what the draft experts had to say.
Evan Tomes of NBADraft.net
I would personally place GG Jackson as the 3rd pick behind Wembanyama and Henderson. I think Cason Wallace is currently the top incoming freshman, and I think Jackson is a better prospect than him.
Jackson reclassifying to the 2022 high school class would place him as a projected top 10 NBA Draft pick for the 2023 NBA Draft, possibly higher. He would be the youngest one and done caliber freshman as he doesn't turn 18 until December. Jackson is currently averaging a double-double on the Nike EYBL with 12.5 points and 10.5 rebounds per game. While he doesn't drift to the perimeter too often or fall in love with the 3, he's currently shooting 38.5% 3PT%. With some post-scoring and his go-to fade away, there's definite hope in him translating his inside-out offensive game at the NBA level, possibly in the mold of a Rasheed Wallace type. Not only can Jackson put the ball on the floor, but his ability to shake defenders and move with the ball at his size is rare for his age. With his athleticism and high motor skills, his mobility, finishing, and shot-blocking are all a plus and project to translate. Jackson's had some up and downs this summer as a free throw shooter, but the foundation and touch are present.
*Follow Evan Tomes and NBADraft.net
Matt Pennie of the Game Theory Podcast
Oh, I like this. GG Jackson would certainly be a top ten pick. I like Ausar Thompson and Nick Smith. We will see how Cason Wallace does this year, but I like GG Jackson right in the mix of those guys as a prospect.
*Follow Matt Pennie and subscribe to the Game Theory Podcast
Derek Murray of Babcock Hoops
I would project GG Jackson from picks No. 5 through 15 in the 2023 draft.
He moves really well with an ideal frame for the modern NBA. He'll need to put on muscle, but he has the frame to do so. Jackson has long arms, is bouncy, and the skill improvements give a great window into the next level. He continues to get better as a shooter and looks fairly comfortable putting it on the floor when attacking face-up and off the dribble.
Jackson will probably float between inside and out on offense at the pro level, making him highly coveted. Thanks to his mobility, he has the tools to be a plus defender in the NBA, has good instincts, and can defend in space.
He is definitely worth an 'upside' play, and likely worth picking in the lottery were he to be in the 2023 draft.
*Follow Derek Murray and Babcock Hoops