While offensive coordinator changes are happening nationally, Iowa fans continue to wait on news about Brian Ferentz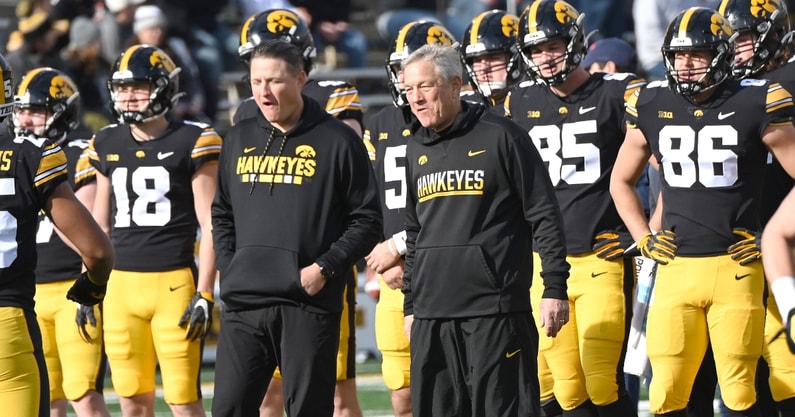 Clemson, Texas A&M and Kentucky have all made marquee offensive coordinator changes. 
Alabama moved on from Bill O'Brienand still has a vacancy to fill. Miami has a fresh opening after Mario Cristobal fired Josh Gattis. 
Plenty of other programs (see: TCU, Arkansas, North Carolina and UCF, among others) have hired new OCs as the coordinator/assistant carousel started spinning again, creating a domino effect across college football and the NFL. 
But there's one very notable school that's made no such change. At least not yet. 
Despite a cacophony of complaints — for years now — Iowa head coach Kirk Ferentz has not moved on from his son Brian Ferentz, the Hawkeyes' beleaguered offensive coordinator. 
Again, at least not yet.
Much like how Saban found a relocation landing spot for O'Brien, Iowa fans continue to cross their fingers that Brian Ferentz parachutes back to the NFL, too. There have been multiple reports that it could happen, perhaps even reuniting with O'Brien in New England. 
But for now, could is doing some real heavy lifting in this instance. 
Kirk Ferentz clearly doesn't want to fire his son. And that's totally understandable. But it would be a dereliction of responsibility if Iowa does make major changes to its offensive staff this offseason. 
Describing Brian Ferentz's current relationship with the Iowa faithful as beleaguered was perhaps too generous. Even much-maligned or embattled might be an understatement.
He's a lightning rod in a web of ineptitude, nepotism and unaccountably.
Ferentz has served as Iowa's coordinator and playcaller for the last six seasons, and the Hawkeyes have averaged more than 30 points per game just twice during that span.   
That they continue to be a winning program (18 victories since 2021) is remarkable considering they've played one-handed the last two seasons. It's a credit to the consistency Kirk Ferentz has established in Iowa City, but imagine how good the Hawkeyes might be if they played true complimentary football — as Ferentz loves to proclaim they do?
Iowa was dominant defensively in 2022. Dominant. 
It led the nation in yards per play allowed (3.99). It ranked No. 2 in scoring (13.3). The Hawkeyes were fantastic on 3rd downs and were once again a takeaway machine (23 total). 
Yet the end results was still a frustrating 8-5 season where they were lampooned on a weekly basis for truly dreadful offensive showings. 
In the Year 2022, the Hawkeyes purposely played offense in a phone booth. When you add in conservative play-calling and misusing personnel (see: tight end Sam LaPorta or Charlie Jones catching 39 passes in three seasons at Iowa, transferring to Purdue in 2022 and hauling in 110 receptions and 12 touchdowns to lead the Big Ten), you get historic results. 
They beat South Dakota State 7-3 in the season-opener with two safeties and a field goal. They lost two games in which they allowed 10 points or less. 
Iowa's offense required no punchline. It was the joke. 
In 2021, the Hawkeyes had one of the most anemic offenses in the country — 100th nationally in scoring (23.4 points per game) and No. 120  in yards per play (4.67) — and it somehow got worse in 2022. 
Iowa flirted with rewriting the record books for offensive toothlessness, scoring just 17.7 points per game (No. 123 in the country) and finishing last (and second-worst nationally) among all Power 5 schools in yards per play (4.24). They ranked No. 127th in success rate and No. 130 in EPA/game. 
It was statistically the worst offense in the Big Ten in close to a quarter century.
The Hawkeyes had a defensive back who nearly scored as many touchdowns (three) on pick-sixes as the team's leading receiver (four). Iowa threw for fewer than 150 yards seven times. They had 26 red zone possessions — POSSESSIONS — all season. 
There are plenty of other gory stats, but the point is made. 
The Hawkeyes are set to return many of their key pieces from last season's elite defense. They added former Michigan quarterback Cade McNamara and Wolverines starting tight end Erick All from the transfer portal. They grabbed a couple receivers from the portal, too. 
With just an average offense and a schedule that doesn't include Michigan or Ohio State next season, Iowa could legitimately compete for the Big Ten title in 2023. 
But that requires changes. That requires Brian Ferentz moving to a different role (he's regarded as an excellent OL coach) or moving on entirely. 
Yet the chessboard hasn't changed. For more than a month there's been no movement on Iowa's offensive staff, so Hawkeye fans continue to wait, wishing for movement that isn't guaranteed to come.