Why Auburn could — and should — be in the market for a transfer quarterback this summer after Hugh Freeze's latest comments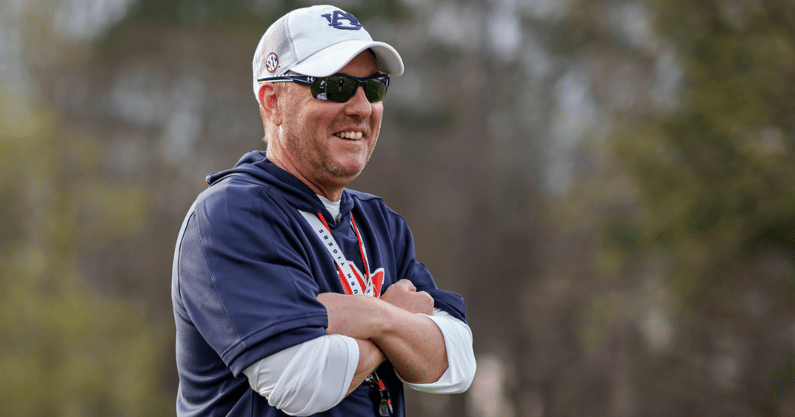 Roughly three weeks into spring practice, Hugh Freeze offered up a stark assessment of Auburn's current quarterback situation. 
The coaching hasn't quite been up to snuff, and the play from Robby Ashford, T.J. Finley, and Holden Geriner, particularly the lack of consistency, isn't where it needs to be, either. 
"Truthfully I wish we were further along after watching Friday's tape," Hugh Freeze said.
Eek. 
That's not what Tigers fans want to hear after witnessing some of the worst quarterback play on The Plains in recent memory. 
Three Auburn quarterbacks combined for the nation's 119th passing attack in 2022. They were last in the SEC in passing touchdowns with nine. Navy, a service academy running a triple-option attack, had as many. 
Finley opened the 2022 season as Bryan Harsin's starter, but he got dinged up early and quickly lost his job after throwing just one touchdown to four picks over the first three weeks of the season. 
In stepped Ashford, who provided Auburn some real juice with his legs (709 yards and seven touchdowns) but he struggled mightily as a passer, too. The Oregon transfer finished the year with an even touchdown-interception ratio (7:7) and a completion percentage at 49.2 — the worst by a Tigers quarterback in close to 25 years. Ashford averaged just 6.5 yards per attempt and had seven starts with fewer than 150 yards passing. 
So the group's struggles this spring aren't overly surprising. Ashford isn't in a position to showcase his athletic dynamism in a green jersey in spring practice, but if he doesn't demonstrate significant growth as a passer that doesn't really matter. Meanwhile, Finely has been around a 57 completion percentage passer for three seasons now, and Geriner has all of three career attempts. 
Freeze was quick to compliment the group's desire to get better, calling them "very coachable" and "encouraged by the willingness to listen." He also stressed he wants more from his staff — namely offensive coordinator Philip Montgomery and analyst Kent Austin — to help the quarterbacks more. 
And yet, it's a red flag that Freeze also acknowledged that he and Montgomery purposely have not installed too much offense this spring because they didn't want to overwhelm the group — but the quarterbacks are still struggling with decision-making and execution on even the most basic RPO calls.
"I've liked their attitude and I've liked their work ethic, and I've liked that they have a desire to be coached," Freeze said. 
"I don't like the inconsistencies that I have continued to see through six practices and again, I want to say that I think part of that is on us, the staff, to get fixed. I've challenged myself and the quarterback coaches to, let's get some of this fixed, the inconsistencies, and see if it's the- I don't want those inconsistencies to be because of indecisiveness or lack of understanding. That falls in our lap. So, we've got to figure out and make sure that's not it first. Hopefully, by the end of the week, we see it being more consistent."
He continued, "We weren't planning to install a ton because it's so new and I wanted us to get really good at our base stuff. But, I am hoping by the end of this week we feel like their eyes are in the right spot, their decision was really good. Now, did they execute it? And, we've got to handle the first two. We've got to have their eyes in the right spot whatever the progression and decision-making has to be done correctly. 
"I mean, the quarterback should be making the correct decision, if he's going to be your guy, 85-95% of the time. Then, you judge the execution and then you start knowing who your quarterback is based off those. Right now, we're having too many of the eyes in the wrong spot and decision-making is not exactly what it should be."
It was overshadowed a bit by some of the flashier moves within the conference, but Hugh Freeze did a solid job supplementing Auburn's roster with instant depth at several positions of need during the initial transfer portal window. 
The Tigers signed three likely starters for an offensive line desperate for bodies. They grabbed multiple plug-and-play pieces for the front seven. Tailback Brian Battle averaged 6.74 yards per carry for nearly 1,200 yards and eight touchdowns for USF last season. 
But Freeze was frozen out of the QB market.
The Tigers went hunting. They just came up empty. 
They kicked the tires on Coastal Carolina quarterback Grayson McCall, but the situation was unable to materialize. They recruited NC State's Devin Leary, but he opted to go to Kentucky. Spencer Sanders picked Ole Miss over Auburn. Others were in the mix, too. Freeze did flip former Liberty commit Hank Brown to Auburn, and the 3-star quarterback from Nashville will enroll in the summer. 
Considering Freeze's current assessment of his QB room, if the Tigers want to go bowling in 2023 they need to add more competition to the mix once the second transfer portal window opens in May. 
There's likely to be no shortage of options for Freeze to pick from, either. With QB battles happening all over the country this spring, lots of guys are going to explore their options come May. 
There's three blue-chippers battling it out 180 miles west at Georgia. Will all three guys really stick around until the fall?
What about the competition unfolding at Alabama? The Tide signed two true freshmen in their 2023 class, so could Ty Simpson or Jalen Milroe head elsewhere if one gets a hint the other is the frontrunner for the QB1 job?
Elsewhere, multiple guys are in the mix at NC State, Ohio State and UCLA. 
Perhaps Freeze finds a guy who projects as a Day 1 starter. Or maybe he simply adds another quality arm to the room and that guy either pushes Ashford to be better or takes the job outright. 
Regardless of who Auburn lands, the why has become obvious. Freeze's initial inclinations about his QB room have been proven correct early this spring. The Tigers need another option at the most important position, so when the portal opens back up in May, Hugh Freeze should be first in line to grab his guy.