Why Deion Sanders should be a legit Power 5 head coaching candidate at Georgia Tech, Arizona State and eventually Auburn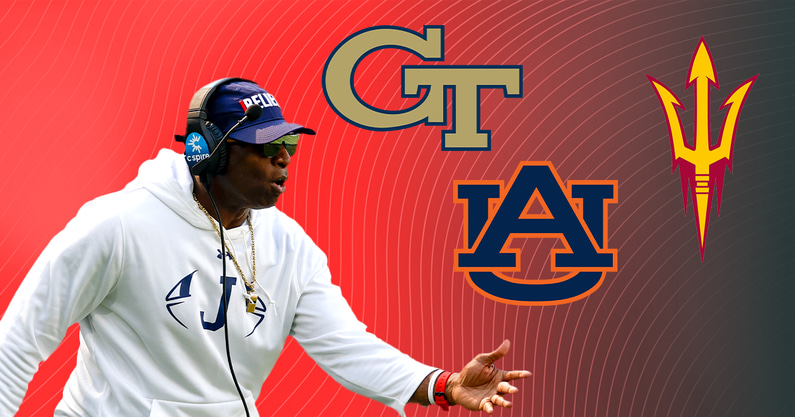 Primetime in the Desert. Primetime in the Magic City. Primetime on the Plains. Deion Sanders is and should be a legitimate head coaching candidate in the 2022 cycle. 
Arizona State is already open, and now so is Georgia Tech. Bryan Harsin's days are numbered at Auburn, which means Sanders could be pursued by as many as three programs this fall. 
Good. Let's see what happens. 
To some, hearing Deion Sanders, 55, linked to major college football seems like a stretch. He's only been a head coach at Jackson State for three years, going 19-5 — including 15-2 in his last 16 games. 
But Sanders has transformed a wayward program into an FCS power. He won the SWAC in 2021 and is sitting undefeated through four games in 2022. By embracing Sanders' flash, fun and bravado, the Tigers are blasting teams with a winning margin of 38 points this September. 
It certainly helps to have better players, but that's part of Sanders' strengthening resume, too. He's recruited a roster that doesn't look like an FCS team. Just last year, he engineered the biggest signing day stunner in recruiting history when cornerback Travis Hunter, the No. 1 overall prospect from the 2022 class, flipped his commitment from Sanders' alma mater Florida State to the HBCU program. 
Sanders beat out FSU, Alabama and Georgia for Hunter, who was the first-ever 5-star recruit to sign with an FCS program out of high school. By going head-to-head with Nick Saban and Kirby Smart, Sanders did something that Bryan Harsin hasn't pulled off in nearly two years at Auburn. Sanders signed a Top 25 recruiting class at JSU!
Let's find out what Deion Sanders can do at a program with more resources and more primetime pressure. 
Why Deion Sanders would be a fit at Georgia Tech, Arizona State or Auburn
Sanders' coaching resume isn't flawless. His failed 'Prime Prep Academy' — a charter high school football program in Dallas — proved to be a disaster, and was known more for its fraud and academic malfeasance. But Sanders has already overcome that, and his success at Jackson State has only made him more attractive to some ADs.
Some in the industry see his rapid ascent as a celebrity coach "skipping the line," but his name isn't Chuck Clark. It's Deion Sanders. That's the point. He's perhaps the greatest cornerback in football history with a cache that still resonates with 17 and 18-year-olds.
In the NIL era and transfer portal world, Sanders could clean up in recruiting at a Power 5 program — both with prospects and their parents who remember his playing days. And again, Sanders isn't just some celebrity head coach that's all glitter with no plan or work ethic.
Don't think of Sanders like Lincoln Riley or Kirby Smart. He isn't a "primetime candidate" because he's a wunderkind offensive or defensive coach. Deion Sanders is more like Sam Pittman at Arkansas or Joey McGuire at Texas Tech. Thus far, Sander has shown he will operate like a CEO, building a competent staff to do the Xs and Os, while he is the visionary and voice of the program. He connects well with players and clearly can recruit. 
He has multiple veteran coaches on his Jackson State staff, including former NFL defensive coordinator Dennis Thurman and offensive line coach Mike Markuson, who has more than a decade of experience in the SEC at Arkansas and Ole Miss. Sanders would need to further entrust — and empower — more coaches with FBS experience at any next stop, but that would be part of his pitch to ADs.
Could Primetime fizzle in a bigger spotlight? Absolutely. 
But for Arizona State, Georgia Tech, and (eventually) Auburn, it's worth the gamble. Scott Frost was considered a home run, can't miss hire at Nebraska. How'd that turn out? There's risk in all these hires.
After one of the wildest cycles in coaching history last year, there's not a ton of obvious candidates looking to move jobs in 2022. That's why so many retread names and ex-coaches currently bloviating on TV are listed atop most hot boards. 
Try something different, ADs. Give Deion a call. 
Sanders interviewed at TCU and Arkansas last cycle, but neither were considered serious opportunities. "I should've gotten them," Sanders told Dan Le Batard last year. 
Maybe he will this time. 
Sanders would be a great fit at Tech, where he already has extensive ties to the city, playing for the Atlanta Falcons, who drafted him No. 5 overall in 1989, and Atlanta Braves (1991-94). He famously played in an NFL game and MLB playoff game on the same day in October of 1992. Geoff Collins tried his darnedest to make Georgia Tech cool. But Deion Sanders just is cool to kids. 
In one of the best-recruiting footprints in the country, he would keep some talent on The Hill. 
At Auburn, Sanders might actually have the chestiness to navigate and control a constantly meddling group of boosters. I don't know if he'd still argue about who's the GOAT in AFLAC commercials with Nick Saban, but he'd ensure Alabama's head coach at least had to spend some more time on in-state recruiting. 
Arizona State might be the best of all of Sanders' options. Less pressure and competition than Tech or Auburn, but a unique opportunity for upside, visibility and marketability. 
The Sun Devils are a program in a locale that screams flash and flair. The Valley of the Sun just needs the right entertainment attitude. With Deion Sanders, Pac-12 After Dark could just become Primetime. 
Ultimately, Deion Sanders may not want to leave Jackson State right now. He's embraced and elevated the HBCU platform, advocating for change to improve the way those schools operate. He's fought for more money and resources for those institutions, not just at JSU. Perhaps is mission remains incomplete. 
But if Deion Sanders is looking for a new challenge, then Coach Prime should be juggling a number of different opportunities later this fall.