Why the Sam Pittman contract won't become the norm for the rest of college football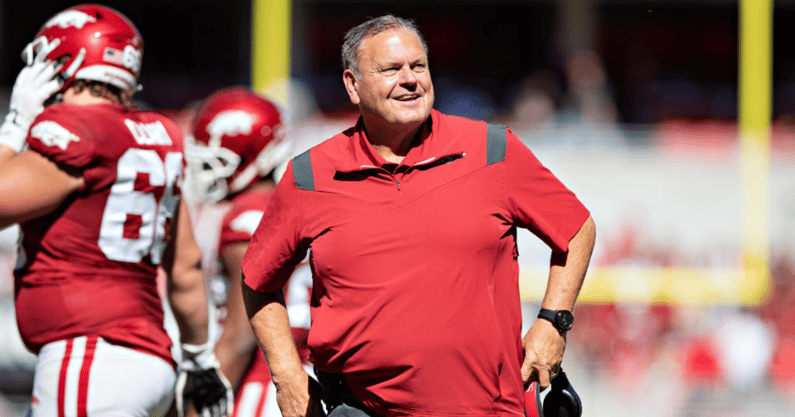 Sam Pittman signed the richest contract extension in the history of Arkansas football recently, becoming the Razorbacks' first $5 million coach following two impressive seasons and bubbling optimism for Year 3 in Fayetteville. 
The extension was a no-brainer, but the details make the deal a bargain for Arkansas, as it inked Pittman to an incentive-laden contract that avoids the pitfalls of a massive buyout. 
Pittman received a $2 million bump in annual compensation, with a slew of escalators "based on the number of wins per season and incentive bonuses based on postseason success." Much like the Mark Stoops deal with Kentucky, if the Hogs win seven games (including a bowl), Pittman gets a bonus (250K for each win) and auto extra year on his deal attached. He gets a retention bonus north of $1 million annually. Most interestingly, Pittman's buyout was tweaked where he'd still be owed 75% of his remaining contract should he be terminated, but that figure drops to 50% if Arkansas' winning percentage is below .500 at the date of termination.
That's a biggie.
Super agent Jimmy Sexton is known for fleecing ADs, but the structure of Pittman's contract makes it a completely palatable deal for both parties. 
"The program is different than it was a couple years ago. With contracts, we all want to be treated fair. That's it. Sometimes the eye of the beholder is not realistic, and maybe I was, I have no idea, but I was very, very pleased and happy with the contract and the incentives in," Pittman said Tuesday in his first public comments on the extension. 
"If I want to get paid more money then we need to win more football games. If we don't then it goes down 50% of the buyout if they happen to fire me. I thought it was fair for both sides. I was cautious that I wanted to be fair for the university as well. I think it put me about ninth in the SEC (in terms of coaching salaries). I've only been a head coach for two years. To me it was fair. I was ecstatic to get it. I thought Jimmy Sexton did a wonderful job with his communication through myself and Hunter. I'm pleased this will be my last coaching job."
Sam Pittman also has an interesting "non-compete clause" in the deal — notably one at his request where he cannot leave the Razorbacks for another SEC head coaching job. He's in a perfect marriage with Arkansas. He needs them and they need him. Neither really work without the other, so "might as well sign something in there."
"I shot my mouth off on (SportCenter) with Scott Van Pelt," Arkansas' coach said regarding the insertion of the clause. 
"We're one of eight of 130 programs that has the head coach and two coordinators coming back for the third-straight year. The portal has been around a long time for football coaches, so I thought we could sell some stability with it. This will be my last job, so I wanted a piece of paper to confirm what my mouth said…
"The non-compete in the SEC is basically stating that stability. That's what I wanted. I wanted to use it in recruiting and we certainly have — as recently as five minutes ago."
That same day, the Razorbacks received a commitment from 3-star tailback Isaiah Augustave. 
In the days since the deal was announced, many have argued that Pittman's new-look contract should serve as the blueprint or framework for future programs. An example of how to avoid the cataclysmic buyouts of the Ed Orgerons ($16.8 million) and Will Muschamps ($13 million) in recent memory. 
I wholeheartedly agree — but am extremely skeptical ADs will change the way they dance. Most only know one move, and they'll raise the roof until the lights come on. They can't help themselves. 
They've been negotiating against themselves for decades and the deals only continue to look worse and worse each offseason.
Sam Pittman's $25 million deal is like Robin Hood money compared to the gargantuan King Rich(ard) deals (extensions or new contracts) handed out in just the last 12 months — all in the midst of a pandemic mind you.  
Mel Tucker and Jimbo Fisher each received close to a $100 million guarantee. Same for Lincoln Riley and Brian Kelly. James Franklin is 11-11 the last two seasons but received a big-money extension from Penn State this offseason. Ryan Day just got paid, and Kirby Smart is about to become a very rich man, too. 
The natural pushback is those programs — Ohio State, Georgia, Texas A&M, LSU, USC, Penn State, etc. — are all in a different stratosphere as Arkansas. And that's true, but those contracts still have a trickle down effect for the rest of college football. 
Billy Napier will make north of $7 million annually at Florida in his first season in the SEC. Last year, that figure would've ranked fourth overall in the conference — behind only Nick Saban, Fisher and Ed Oregon — three coaches with a national title on their resume. Lane Kiffin's recent contract extension pays him more than $7 million annually now, too. 
At least 25 coaches will make over $5 million in 2022. Close to 10 coaches are on 10-year contracts. Most all of them have obtrusive buyouts. 
What was the line from The Mandalorian? "This is the way." 
The recent explosion of TV mega-deals will only give these ADs further license to spend like drunken sailors. In two years, every SEC program will receive north of $70 million annually from TV money just because they have those three letters stitched into their uniforms. Until some of that money goes to the players, I don't foresee coaching contracts getting any smarter. Perhaps a few ADs will be able to sneak in similar buyout language to Pittman's contract, yet history suggests otherwise. The added TV revenue could make ADs act even sillier considering the majority of these insane buyouts are paid by private donors anyways. 
Sam Pittman and Hogs AD Hunter Yurachek agreed to a fantastic contract that worked for both parties. But don't expect the rest of college football to take note and proceed in similar good-faith negotiations.