Wyoming transfer wideout Isaiah Neyor has trio of visits scheduled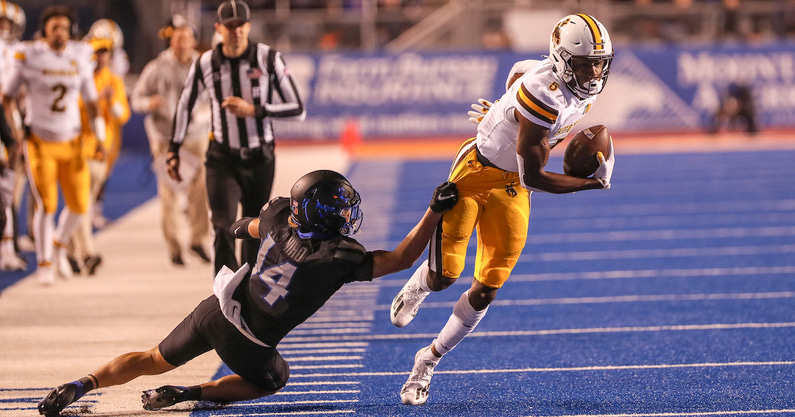 Wide receiver Isaiah Neyor has become one of the most heavily recruited receivers since entering the transfer portal on December 22.
The Wyoming transfer has been contacted by over a dozen Power 5 schools including Tennessee, USC, Baylor, TCU, Texas and most recently, Florida.
With plans to enroll for spring practice, the 6-foot-3, 210-pound pass catcher with high-end athletic ability is facing a quick decision on his future. 
This week will be a monumental one is the decision making process. According to a source close to Neyor, the former track star out of Arlington (Texas) Lamar has three visits on deck this week.
USC will host Neyor Tuesday and Wednesday. He will then return home to Texas and visit the Longhorns before making a visit to Tennessee during the weekend. 
Neyor went from almost completely off the recruiting radar and signing with Wyoming to one of the most coveted players in the portal in two years. 
After catching eight passes for 248 yards as a freshman, his second season All-Mountain West Conference honors. He hauled in 48 passes for 878 yards and 12 touchdowns in 13 games. 
His best play to date came in the last half of the 2021 season. He caught 24 passes for 533 yards and eight scores in the final six games. That included a touchdown in all six games,and two games of 100 yards or more. 
Isaiah Neyor earned Second Team Class 6A All-District honors as a senior at Lamar. He caught 39 passes for 858 yards and had eight touchdown receptions in 2018 helping Lamar High to an 11-2 overall record.
Transfer portal background information
The NCAA Transfer Portal, which covers every sport at the Division I, II and III levels, is a private database with names of student-athletes who wish to transfer. It is not accessible to the public.
The process of entering the portal is done through a school's compliance office. Once a player provides written notification of an intent to transfer, the office enters the player's name in the database and everything is off and running. The compliance office has 48 hours to comply with the player's request and that request cannot be refused.
Once a player's name shows up in the portal, other schools can contact the player. Players can change their minds at any point and withdraw from the portal. However, once a player enters the portal, the current scholarship no longer has to be honored. In other words, if a player enters the portal but decides to stay, the school is not obligated to provide a scholarship anymore.
The database is a normal database, sortable by a variety of topics, including (of course) sport and name. A player's individual entry includes basic details such as contact info, whether the player was on scholarship and whether the player is transferring as a graduate student.
A player can ask that a "do not contact" tag be placed on the report. In those instances, the players don't want to be  contacted by schools unless they've initiated the communication.
The portal has been around since October 15, 2018, and the new calendar cycle within the portal begins each August. For example, the 2021-22 cycle started August 1.
During the 2020-21 cycle, 2,626 FBS football players entered the transfer portal (including walk-ons). That comes after 1,681 entered during the 2019-20 cycle and 1,709 during the abbreviated 2018-19 cycle. In comparison, 1,833 Division I basketball players entered the portal during the 2020-21 cycle after totals of 1,020 in 2019-20 and 1,063 in 2018-19.